The MVP of your company just put in their two weeks notice – do you have an internal candidate who can step into their role?
Employee turnover is something every company has to deal with at some point. What sets the best companies apart from the rest is how prepared they are to deal with an employee quitting.
If you are having trouble thinking of an internal candidate who has the skills needed to be internally promoted, you might have a serious talent management problem on your hands. It is your job as an HR professional to be prepared for situations like the one listed above.
So, how can you ensure that you're never left blindsided by an employee's resignation? By creating a comprehensive succession planning strategy.
What is succession planning?
Succession planning is the process of identifying, training, and cultivating the talent of skilled employees with the end-goal of internally promoting them when more senior roles become available.
Maybe you're not worried about hiring an internal candidate for an open position and you're confident in your ability to hire new talent. While that may work in the short-term, there are a lot of long-term problems that succession planning can solve.
Why is succession planning important?
The first step to creating a successful succession planning strategy is to understand why it's important. Here are three high-level reasons you should consider integrating succession planning into your talent management strategy:
It keeps your company running smoothly
There's a serious disconnect between the average time an employee is expected to give when quitting (two weeks) vs the average time it takes to fill an empty job. According to an article from Hirevue, it takes an average of 42 days to fill a job.
This means that even under the best circumstances, you'll have a vacancy for almost a full month before a new hire starts. This is only if you find the perfect candidate, interview them, offer them the job, and they accept all within the two weeks that the employee who is leaving is still there.
Let's face it: it takes longer than that to find good external talent and hire them. You may even have to post the job several times to finally find the right person for the job, all the while time ticks away with a vacancy in one of your senior level roles.
Succession planning takes care of this problem. If you plan ahead and cultivate internal talent before someone quits, you won't be blindsided when an employee leaves for a new opportunity.
It offers clear career development to employees
Succession planning isn't just about staying ahead of employee turnover, it's also about offering growth opportunities to your current employees.
A lack of growth opportunities or clearly outlined career paths is the number one reason employees are quitting their jobs for new opportunities. Employees who feel as though their talent is being cultivated are less likely to quit or find a new job. Succession planning is your way of showing employees that there is room for growth at your company.
Succession planning is also perfect for young, ambitious employees who may not be ready for a promotion but whose drive you don't want to discourage. Succession planning can give more junior employees the opportunity to learn from senior level employees and explore what they want to do in their career.
When you incorporate succession planning into your talent management strategy, you signal to your employees that there is a path for growth and success at your company if they are willing to put in the work.
6 steps for successful succession planning
Now that you understand why succession planning is important, it's time to create your very own succession plan. As with most internal processes, this won't be quick but it will be worth the time and energy it takes to implement.
Let's take a quick look at how to create a succession plan: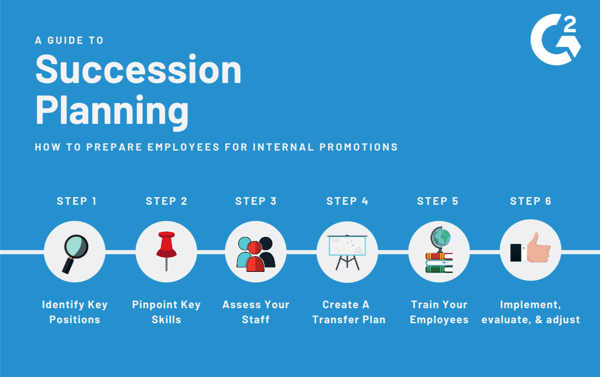 If that seems confusing, don't worry. We've put together a detailed, step-by-step guide for you to follow. Check it out.
1. Identify key positions
The first step for successful succession planning is identifying key positions to your organization. Identifying key positions means understanding which positions would do the most damage to your company if left unoccupied. It can also mean identifying positions that you know will be vacant soon, e.g. if you know someone is going to be promoted in the next six months, you will need someone to replace them once they've transitioned.
The biggest mistake people make with succession planning is not planning far enough in advance. You don't need to wait for someone to vacate their position to begin planning for their successor. If you only have one senior designer, you should be training a junior designer for that role even if there is no indication that your senior designer has plans to leave or be promoted anytime soon.
Meet with the managers of each department and pinpoint the most valuable positions and employees in your company. Decide which positions you'd want an internal candidate for should that position become available. This will serve as the foundation of your succession plan.
2. Pinpoint necessary skills for each position
The next step for succession planning is to identify the key skills needed for the positions you pinpointed in step one. Are there certain certifications this person will need? Are there certain software this person will need to know how to use? Are there clients this person will need to be familiar with?
Once you've identified the skills needed to be successful in that role, you'll know what to focus on for your employee development. Be smart about how you train your employees. Understanding the skills they need for growth in their career will benefit both you and the employee.
3. Assess your staff
Now that you've identified both the key positions and the skills they require, you need to choose the employees you're going to involve.
Don't make the mistake of limiting your scope on which employees you'll choose for succession planning. Some employees may be perfectly content where they are and don't want a promotion. Others may be interested in a different department entirely and you aren't aware.
You need to be transparent with your employees about this process and offer them the opportunity to raise their hand if they're interested. Encourage the managers in your company to speak with each employee about their career development and career plans. Get a sense for who seems ready for more responsibility and who might need more time.
It's vital that you communicate with your employees so that they understand what's going on. You want more junior employees to understand that this is a path to career growth. You also want senior employees to know they aren't being replaced or fired just because you're training other employees. It's a delicate balance and being honest is the best way to avoid fear or confusion.
4. Develop a succession and knowledge transfer plan
Once you've completed the first three steps, it's time to create the succession plan itself. Sit down with all of your employees (yes, every single one) and ask them to write up a description of their job responsibilities. Have them detail which accounts they work on, the reports they're responsible for, and the passwords to any of their company accounts.
Question: If one of your employees quit tomorrow without notice, would you have all the information you needed to put someone in their role?
The answer for most people is no and that's why creating a handbook for each position is important. This will act as a knowledge base for whoever takes over a new position. This ensures that whether you're surprised by an employee's departure, you'll always be prepared.
5. Use your downtime effectively
The longest part of succession planning is waiting for an opportunity to open up. It's not enough to promise younger employees that they might get a promotion some day. You need to spend the time that they're not being promoted to invest in their training and development.
Tip: You can't always offer your employees a promotion when they want one, but you can offer them career growth.
While a flashy new title may be nice, there are other things you can offer your employees. Create a career development plan and involve your employees in their career planning. Ask them what trainings they'd like to acquire. Guide them in the process of growing as a professional. Offer them new ways to challenge themselves at work. Set them up with a mentor at work.
If your employees still feel as though they are growing in the time they are waiting to be promoted, they are less likely to quit out of boredom or frustration.
6. Implement, evaluate, and adjust
Now when the time finally comes to transfer responsibility from one employee to another, you'll be ready.
You'll have already identified and trained another employee to seamlessly step into the role. You can use the two-weeks when your departing employee is still employed with your company to help with the transition. This allows them to shadow the job and ask any questions that come up before your departing employee leaves.
Once the transition is complete you should allow your employee a few months to settle into their new role and you should answer any questions they may have. You might find that your first attempt at succession planning leaves room for improvement and that's okay. Identify what worked and what didn't and improve for next time.
How to measure the success of your succession planning strategy
It can be tricky to implement an entire succession planning strategy on your own – that's why technology is your best friend. The right succession planning and management software can do everything from helping you create the physical succession plans to identifying and retaining top talent.
Succession planning software have a variety of tools that can allow HR managers to track employees' career aspirations, retain internal talent, and promote from within, thereby reducing costs associated with talent acquisition.
If you're not already using a succession planning and management software in your current talent management strategy, you may consider exploring your options.
HR Managers, browse the latest succession planning and management software on the market and read reviews from real users.
Don't wait until it's too late
Succession planning might seem like an uncomfortable topic to broach with your employees at first but it will save you a headache later on. If you approach succession planning with a clear strategy and are open with your employees, you will see results.
HR Managers, learn more about how you can improve your talent management strategy.