Coming up with an ingenious business idea is only half the battle.
The rush that entrepreneurs feel when they begin to figure out how to execute their plan can be exhilarating: determining the problem you'll solve, the product you'll sell, the people you'll work with, the logo you'll create.
It's not long before those same entrepreneurs come to the realization that all of their hopes and dreams won't come true without a little money.
How do startups get funding?
Startups can get funding in dozens of ways. There are a couple of programs that can help set startups up for success, but both types can be extremely selective. If those programs don't accept you and your idea, there are ways to get funding debt free as well as through loans.
An introduction to startup funding
First things first, funding a startup is not the same as funding a small business. It's important to understand that a startup is a type of small business, but moves at a much faster pace than what we traditionally think of when we think of small businesses.
Startup vs small business: A startup is a type of small business that pops up quickly and has a goal to grow aggressively, requiring a large amount of funding in a short amount of time. Other small businesses often start with a bit of a budget, a few people, and a plan for steady growth.
Startup funding can be seen as risky, because startups themselves are risky. Often in the tech industry, these ideas need to spring to life quickly, but not quietly. If you work in the world of startups, you know how much we love the word "disruptive".
Because startups are different than traditional small businesses by nature, the way they are funded is also a little different. Because of the risk that comes with both starting and investing in a startup, it's important that both the startup owner and investors take the time to make sure that they're a good match for one another. The process looks a little bit like this:
Startups approach executives of venture capital firms with their proposal
After research and further discovery meetings, the investor chooses to take the next step and invest
The first round of funding is called seed stage funding, which takes place during the initial launch of the startup
Rounds of funding following the seed stage are titled series A funding, series B funding, and so on
After the venture capital firm or individual venture capitalist invests for a set amount of time, they'll ideally begin to earn the money they invested back through mergers and acquisitions or sales of shares
The last step is especially important; those investors need to get a return on their investment in one way or another. Obtaining multiple investment partners means risking more debt.
Startup programs
Money isn't everything. If you're trying to get a business up and running for the first time, know that there are two places that startups can turn to for help: accelerators and incubators.
Both of these programs are there to offer entrepreneurs resources early on.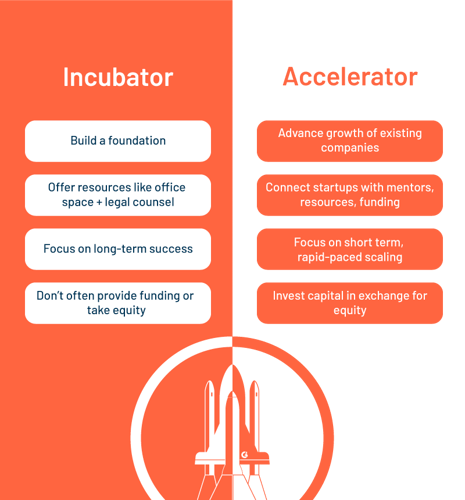 Accelerators
Accelerators are designed to have a short time frame that operates intensely, but it's worth the work. If you're lucky enough to be accepted into an accelerator, you'll have access to experienced mentors who offer support, resources, and check-ins. Startups who work with accelerators are typically given a seed investment. Accelerators are designed to help a startup gain the resources and knowledge that would typically take a couple of years in just a few months.
Incubators
Incubators are much less intensive than accelerators. They'll usually provide a mentor network, but they're often much smaller than the networks of accelerators. Incubators are less selective than accelerators and do not often supply seed funding. Incubators are there to focus less on the rapid growth, and more on long-term success. They'll help build the foundation for new startups and offer resources like office space and legal counsel.
Startup funding options
Accelerators and incubators are both extremely selective, so how do you get funding if you're not accepted into either program? There are many other ways that startups can receive funding, and we'll go over some of them below. Know that not every option works for every type of startup. Before we go into some of the choices, be sure you know how much funding you need, whether or not you have a community (or even one person) that can back you up and support you, and what your credit looks like.
It's always better to go into these options with as much information as you possibly can, rather than scrambling to figure out the answers later. Not only will it make you feel more prepared, but you'll be able to present yourself in a more confident manner when you begin making some moves.
Let's get started.
Debt-free startup funding
Getting funding for your startup without debts? What more could an entrepreneur ask for?
Below, we'll go over some of the ways that an entrepreneur can fund their startup debt free. Be warned: these methods won't be going without a little work, but they're worth considering before, during, or after your other funding methods.
Personal savings
Before you start sourcing from others, you should probably start by asking yourself to invest. After all, if you're not confident in your own idea, why should anyone else be?
Additionally, investing in yourself can be a good sign to investors as you begin to apply for loans (if necessary). For instance, when working with the Small Business Administration (SBA), seeing that the owner is investing in their own business can serve as a sign to loaners that they are treating the business seriously enough.
Crowdfunding
Need money for something? Crowdfunding is the number one place to go, for seemingly anyone, including entrepreneurs, to ask for money. Crowdfunding is an extremely social way to gather fans, find early adopters, and, yes, track down investors.
There are numerous platforms for crowdfunding to take place, but writing up a post that begs for money isn't going to do the trick.
As stated earlier, crowdfunding is social, meaning that if you don't market your idea, product, and post, it's not likely that you'll find much success. It's all about being persuasive and treating those who show interest in your idea like royalty. Often, crowdfunding doesn't bring one or two people who are willing to carry the funds of your startup. Instead, crowdfunding usually works by gathering a little bit of money from a lot of different people who support your mission.
Asking for money isn't going to secure it. More often than not, people want to know what it is that they're paying for. If you're planning on paying people back what they loan to you plus interest, make that clear in your statement. If you're offering equity in exchange for an investment, know that that offer might cause loss of freedom to do exactly as you want with your startup.
Equity financing
Equity financing is when a company issues shares of their stock, or ownership, in exchange for money.
Reminder that investors aren't just going to buy partial ownership of your company without some proof that there's some sort of value or plan. Without this, no investor will be confident enough to buy in.
Startup funding through loans
Business loans are a great way to access startup funding...if you qualify for them. Many business loans require a minimum time in business, meaning that you are required to have an operating business before applying.
This only makes sense; banks aren't just going to hand out loans to anyone and everyone that comes asking for one.
Not all hope is lost. The world knows that startups exist, and therefore, there are a few ways that yours can be funded without having been in the running for very long.
Angel investors
Angel investors are high networth individuals who invest in a business, startup or not, in exchange for partial ownership of that business. Technically, anyone can be an angel investor, making them pretty easy to find.
You may have someone in your network of friends and family that has funds they're willing to loan you to support your business. If you take this route, make sure, like any investor, they're aware of your business plan and the associated risks.
Additionally, there are independent angel investors and angel investor networks. In both of these situations, angel investors remain anonymous, but anonymity doesn't mean they can't be found. A simple search can land you the perfect match.
Business lines of credit
Between a credit card and a business loan is the business line of credit. With a line of credit, the lender can establish an amount of money with a spending limit. Those who opt into business lines of credit can draw from the pool for any business purpose in any amount up to the limit.
One of the most prominent advantages of a business line of credit is that interest is only paid on the money used. This means that if your limit is $50,000 but you only spend $5,000, you only pay interest on the $5,000 that you've used.
Business lines of credit are a great way to build business credit and provide flexibility. Higher rates are charged to those with lower credit scores, so it's important to keep track of your spending.
Spending that money on software for your startup? Keep track of that spend with a FREE G2 Track account.
SBA microloans
The Small Business Administration has an entire microloans program that acts as a matchmaking system. The SBA pairs qualified businesses with lenders who have volunteered themselves to be a part of the microloan program.
It's important to note that the SBA does not provide any of the loans themselves. SBA microloans are typically less than $50,000 and are designed to be for startups who may not have their leg up in the traditional way. For example, those being started by women, veterans, and minorities may have better chances through this program.
While some people have a better chance at receiving an SBA loan than others, it's not as if there are five people applying for these loans. In fact, it's the opposite: thousands of businesses are applying, and competition is definitely present. The process can be a lengthy one; don't expect to receive funding the day after you apply. It could take years to receive funding, making this option not necessarily the best for someone who's looking to get their business up and running immediately.
Equipment financing
Have you considered exactly what it is you need funding for? If the answer is equipment, there are specific ways that you can go about getting funding for that. Getting loans for equipment is particularly secure because the collateral is exactly what you're getting the loan for: equipment. In other words, if you don't pay the loan back, the tangible items you purchased (equipment) with that loan can very easily be repossessed by the loaner.
While it might not be every business's first thought for startup funding, getting equipment financing can cut you and your start up a little slack in terms of money for the other things you want to buy.
What now?
There are tons of options for funding for those looking to start their own business, no matter the industry. Remember that with little (or no) history, it's still possible to find funding with a little research, confidence, and a lot of hard work. No matter who you're asking to invest in your business, don't forget the importance of demonstrating value to those investors.
It's not hard to understand that lack of funding for a startup is a big mistake. Here are 5 more startup mistakes for you to avoid.