The time you put into your business is important to you.
Hiring is a full-time role in most cases, meaning you may not be able to dedicate the resources towards finding the best talent to grow your business. Thankfully, staffing agencies are here to help.
What is a staffing agency?
A staffing agency (known also as an employment agency) is an organization whose mission is to match employees to employers. Most countries have both public employment services as well as multiple private agencies for businesses to access job seekers.
Staffing agencies help facilitate job placements into various industries and oversee employment of candidates to ensure a successful agreement. Staffing agents collect information from hiring companies and organize available positions in job boards and other databases.
Using a staffing agency
Often, job seekers (mostly temporary or contract workers) will answer questionnaires or interview with a representative in an effort to determine their skillset, career goals, and any other relevant information. They will then be matched to appropriate listings at companies registered with the agency.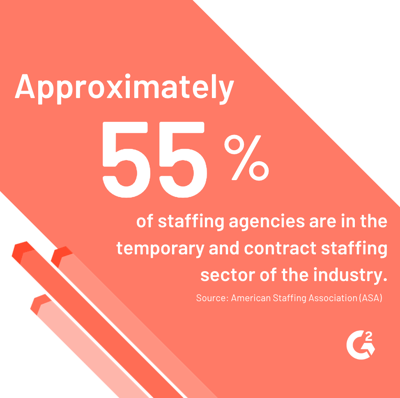 In the event of a job match, the agency will facilitate the exchange of resumes and other applicant documents, allowing businesses to screen applicants and contact them if they decide to pursue an interview or any next steps towards employment.
Many staffing agencies will maintain constant contact with both job seekers and hiring organizations, sending relevant updates or collecting feedback after job placements.
How to find a staffing agency
Some staffing agencies focus on one or several specific industries, while others have no restrictions on the job listings they can host. Administrators of staffing agencies often utilize staffing software to help organize, update, and maintain databases of available jobs, job applicants, and registered companies.
It may be hard to find the right staffing agency for your business, but G2 has you covered. With over 1700 staffing agencies listed on our site, you can browse real-time validated user reviews and find the right one for you.
It's a match!
A staffing agency is the answer to your hiring needs. Get connected with the right talent to help your company take off today.
Is enlisting a staffing agency not the right solution for you? Discover how you can make the best hiring decisions for your company with our hub of recruiting resources.