We can do more on the internet than ever before.
From making a purchase that arrives the very next day to streaming the latest must-watch TV show, the possibilities are endless.
This also means that we as internet users need to be more tuned-in to our cyber security efforts and the steps we need to take to ensure hackers don't end up with our personal information. This is easier said than done, but one thing you can do is make sure that your favorite websites are backed by an SSL certificate.
Unsure what that is? Or how to know if a site is secure? Let's explore the ins and outs of an SSL certificate and why your website should have one.
The basics of an SSL certificate
Before we can fully dive into SSL certificates, let's define them first.
What is an SSL certificate?
Short for Secure Sockets Layer, an SSL certificate authenticates the identity of a website and encrypts the information sent to the server using secure technology.
When you visit a website, there are four main signs that it utilizes an SSL certificate:
There is a lock icon next to the URL in the address bar

The URL begins with HTTPS, followed by the domain name
There is an SSL certificate badge on the site
The address bar of the website is green
If you see any of these signs, you can be sure that the website you're visiting is secure.
There are many components of an SSL certificate, and if you're purchasing one for your company's website, know that it will be made up of:
The certificate holder's name
The serial number and expiration date
A copy of the public key
How does an SSL certificate work?
The SSL certificate keeps personal information out of the hands of cyber criminals by encrypting, or scrambling, this data as it passes between a browser and a web server, which keeps it from being intercepted.
Once the data is sent to where it needs to go, it is encrypted and able to be read by the intended source.
The encrypted link between the browser and the server is what keeps the information passing through safe and secure. Think of the entire process as a handshake between the browser and the server. First, the browser requests a secure session. Then, the server, which houses the SSL certificate, sends the certificate to the browser. Next, the encryption key is sent back to the server, which then establishes a secure connection for your private information to pass through.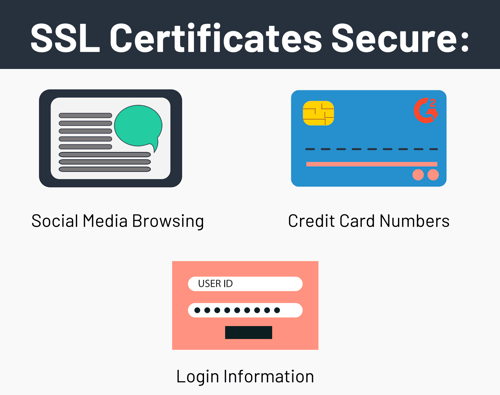 Why you need an SSL certificate
Utilizing an SSL certificate is a crucial step for protecting your website, even if it doesn't handle sensitive data, like login information or credit card numbers. Having an SSL certificate takes the necessary steps to provide privacy, critical security, and data integrity for your website and the personal information of its users.
Having an SSL certificate is a way for your website to build trust and online security. In addition to encrypting sensitive data, the benefits of using an SSL certificate are:
Activates the HTTPS and lock icon within the browser
Abide by PCI Compliance standards
Improve conversion rates
Prove that the website is a legitimate source
Build customer trust
Strengthen brand identity
Increase SEO ranking
Did you know? Google and other search engines reward websites that utilize SSL with higher rankings in their search results page.
Choosing the right SSL certificate
Now that we've established how they work, and why you need one, let's explore how to choose the right SSL certificate for your business and its website.
SSL certificate software will provide the information you need to both ensure the security of your visitors' information and abide by the current rules and regulations set into place by Google and other search engines. If you aren't sure which software tool to go with, check out our exclusive list! To be included, these products must:
Utilize trusted certification authorities
Delegate certificates across an entire domain
Provide SSL certificates
Lock it up
The next time you visit a website for the first time, check to make sure it's operating with an SSL certificate, especially before you enter any of your personal data, like your credit card number.
And, if you're thinking of taking the next steps in building a website for your business or brand, ensuring a secure URL is a vital step to take during the process. Your customers will notice!
Now that you know how to safely browse the web, learn more about other security scams out there, like phishing and spyware.