The world of podcasting is about to get even hotter, and for marketers of all types, it's time to strike while the iron is hot.
While podcasts really began to catch on in 2004, the popular audio-blogging method has seen a consistent – and huge – rise in recent years. There's a podcast out there for anyone, with thousands of topics and formats to choose form.
Spotify podcasts
Spotify is setting itself up to grow the podcasting business even further. The popular music-streaming platform announced today that it would be expanding its reach further into the podcast realm through deals to acquire Gimlet Media and Anchor.
Gimlet Media is a podcast production company with popular shows focusing on topics of all sorts, including the notable "StartUp," "Homecoming," and "ReplyAll" podcasts. Anchor is an app that many use to create, host, distribute, and monetize podcasts.
These acquisitions show that Spotify is serious about podcasts. With over 207 million monthly active users and nearly 20 percent of all Spotify listening being non-music content like podcasts, the market is sure to expand. This marks a perfect opportunity for brands participating in marketing through the podcasting medium.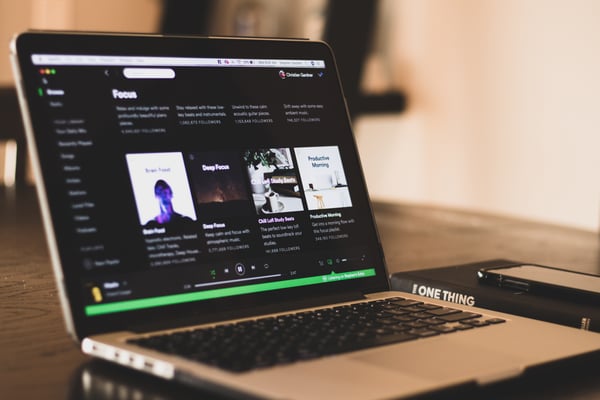 Spotify podcast implications for marketers
Many podcasts take in revenue through brand deals. It's common for a podcast episode to contain at least one 15-30 second advertisement every 20 minutes or so. Since podcasts are great at hyper-targeting niche audiences, this is a great way for marketers to build awareness around a business or product. Many companies are even starting their own podcasts as a form of thought leadership in their respective industries.
Sponsoring or starting a podcast has two huge benefits: harnessing the power of both influencer marketing and retargeting.
Hearing about a brand or product from a trusted podcast personality can influence an audience similar to the way so many micro-influencers are able to promote brands through Instagram. A podcast that has a new episode weekly will retarget the same audience every week with an advertisement for the same brand or product.
With podcasting expected to grow even further through these acquisitions, there's never been a better time for you or your marketing team to start utilizing the targeting power of podcasts. The audience of podcasts are often specific in demographic makeup, so interest-based advertising can be used as an incredibly effective tool.
Where to go from here?
As Spotify continues to expand its podcasting network and grow its user base, your business should consider starting a podcast or sponsoring one. Including podcasts as part of a multi-channel marketing strategy is sure to elevate brand awareness among other key marketing goals.
Want to start your own podcast somewhere other than Spotify?