There are endless social media metrics you can analyze. It's a little overwhelming.
You may be wondering what social media metrics are and why you should bother tracking them. These metrics encompass how well your business is performing on social media and can span every single platform you use to reach your audience. Keeping track of your metrics will help you prove your business' value within the industry.
But first, let's define what social media metrics are.
What are social media metrics?
Social media metrics are data reports that give you an inside look at your social media marketing performance and overall engagement online.
Some metrics, like views or likes, are easy to understand. But there are hundreds you can track and analyze. In this article, we'll cover the top eight social media metrics you should be paying attention to and how you can track them efficiently.
Interested in a specific social media metric? Jump ahead to:
Social media metrics you need to track
There may be metrics that you already track on Facebook, Instagram, or Twitter. Each of these platforms comes with a built-in analytics tool. If you're looking to brush up on reading your analytics, feel free to read any of our guides.
Let's look at the top eight metrics that you should monitor to keep yourself on track to achieve your business goals.
Reach
Reach (in the social media world) is the measure of how many people are viewing your content. Think of your reach as the number of people your business is being introduced to. Although this metric may be a guesstimation at times, it remains one of the most important metrics to track because it gives you an idea of how strong your business' presence is.
How to measure reach
It's pretty easy to measure reach across all of your social media platforms. Take Instagram for example. By accessing your Instagram Analytics, you'll be able to see your account's reach.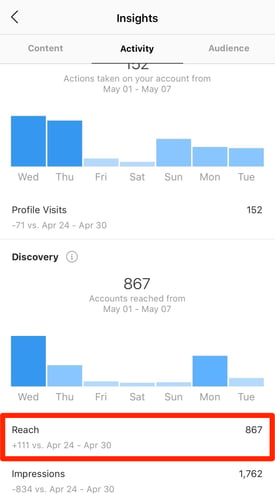 Over time, a successful Instagram account will see consistent growth with their reach. No matter if it's Instagram or another platform, monitoring your reach is crucial to ensure your marketing campaign is headed in the right direction.
Impressions
Impressions are the number of times your content, like a post or an ad, is seen by someone. It doesn't matter if that user didn't click on your post, their view still counts as an impression.
On any platform, having high impressions and low engagement is a bad thing. You want people to click on your post, so taking the time to create good content is important.
All major social platforms track your impressions. Within your Twitter Analytics, you'll see your impressions on the homepage.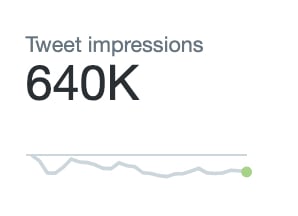 Keep track of this number every month. If it decreases (and continues to decrease), you can readjust your campaign and try something new to hopefully get more eyes on your content.
Engagement
Engagement measures how many people are interacting with the content you share online. There are various forms of engagement that include: likes, shares, comments, retweets, saves, and website clicks.
Engagement is everything. It's how the rest of the world knows that your business is important. If your content has good engagement numbers, you'll appear more credible to potential customers and competitors alike.
When you access your Twitter Analytics, you'll see your engagement broken out into easy-to-read categories. Your engagement rate tells you how interested people are in your content. If you notice that a certain type of content gets more likes, retweets, or shares than other types, you may try posting that content more and watch your engagement to observe if it increases.

Tracking this metric will allow you to see what's working and what's not. Once you know that, you can adjust your marketing strategy accordingly.
Follower growth
Listen, followers are important. Tracking your follower count is just as crucial as tracking any of these metrics. Measuring your follower growth is an easy way to gauge if you're connecting with your audience or failing to meet their expectations.
The more people that follow you on any social platform, the more eyes you have to advertise to. If you can prove that your Twitter, Instagram, or Facebook accounts are consistently gaining new followers, you'll be certain that you're executing a successful marketing campaign.
On Instagram, you can easily track your follower growth month-over-month. Within your Instagram Insights, you'll be able to see how many followers you gained in the previous week under the Audience tab.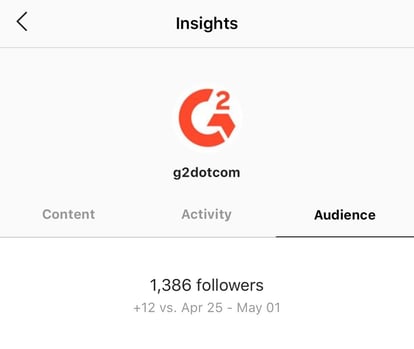 You can track your follower growth on any social platform by creating and updating a simple spreadsheet weekly. Monitoring your follower count will inform you of how happy your audience is with your content.
Social mentions
People talking about you on social media is a great way to know if the general public is excited about your brand. In your analytics, Twitter tells you the user with the biggest following that mentioned you during that month.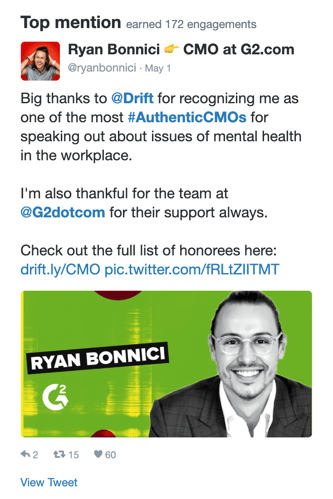 This isn't to say you should only pay attention to social mentions from people with a large following. Tracking mentions from everyone will help you determine how relevant you are online.
Tip:
Try tracking competitors' social media mentions to see how you're doing in relation to them. There's nothing wrong with some friendly competition.
Conversion rate
Your conversion rate is the number of people who clicked on the link in your ad or post and took further action on your website. This can include registering for your event, subscribing to your email newsletter, downloading content, or purchasing an item.
If your conversion rate is high, that's good! It means your content is compelling enough to get people to take time out of their day to spend on your website. This is usually because your content was what they were looking for and the headline wasn't misleading.
Tracking your conversion rate is important because this metric effects your total ROI (return on investment). When your conversion rate is high, Google will recognize that your content has value and invest more in your ads.
How to measure conversion rate
There are numerous ways to track this metric. Using Twitter as an example, log onto your account and access Twitter Ads. Click the Tools tab and select Conversion tracking from the drop-down.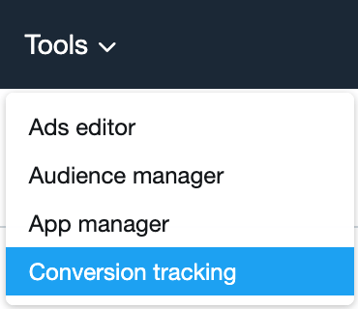 On this page, you'll see all your ads and how well they're doing on Twitter. To learn more, check out Twitter's conversion tracking guide.
Bounce rate
Bounce rate measures the number of people who clicked on your landing page and then immediately left without navigating to another page. If you notice that your bounce rate is high, it usually means that your audience didn't find the content they were looking for.
Why having a low bounce rate matters
When your website has a low bounce rate, this indicates that the content on your site is valuable to your audience. If they click on your page and discover that it wasn't what they were expecting, they'll leave quickly and when your audience leaves, you should be concerned. This enforces the importance of strong headlines.
When someone clicks on "Dog saves a drowning kid", they expect to see just that. If they click on that link and end up on a blog page that talks about the importance of water safety, they'll be confused, disappointed, and end up leaving. High bounce rates are a sign that something is wrong. Here's how you can track this metric.
How to measure bounce rate
You can measure your site's bounce rate with Google Analytics. Once you're on the Google Analytics homepage, click Acquisition > All Traffic > Channels.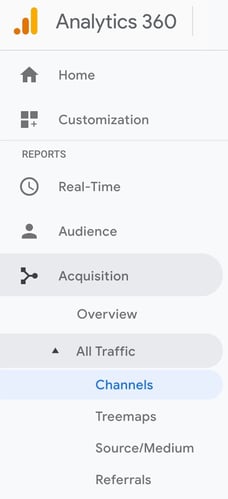 Once you've navigated to this page, you'll see a column titled Bounce Rate.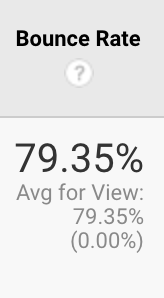 Below your initial bounce rate, you'll be able to see where your traffic is coming from. This is important because if your bounce rate is high and you notice that your highest traffic source is coming from your email subscribers, you may want to revamp your newsletter to better capture their attention.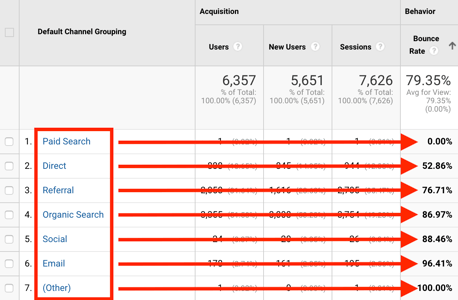 Overall, when you're tracking your bounce rate, the thing that really matters is writing valuable content and putting it in front of the people who are looking for it.
Click-through rate (CTR)
Click-through rate, or CTR, allows you to track how many people clicked on your content (usually an incentivized ad) and visited your website. If you run Twitter Ads, YouTube Ads, or LinkedIn Ads, it's a good idea to direct your audience to your website where they'll hopefully convert.
Tracking your CTR is crucial. If this metric is low, there's a chance that something is wrong and you should be brainstorming how you can better entice your audience to interact with your content. Another reason why tracking your CTR is so important is because it affects how much your ads cost.
Google and most social platforms recognize when your ads have a low click-through rate and will charge you more to continue placing ads. If your CTR is low, you'll be rewarded with better ad placement and lower costs per click.
How to measure click-through rate
To measure your click-through rate, divide the number of clicks by the number of impressions and then multiply that number by 100. Don't worry though, you won't need to calculate your CTR like this every time you want to check in on it. All social platforms calculate your CTR for you. Let's use YouTube as an example.
To find your click-through rate on YouTube, sign into your account and access YouTube Studio. Once there, click Analytics on the left-hand sidebar and then Reach viewers at the top of the page.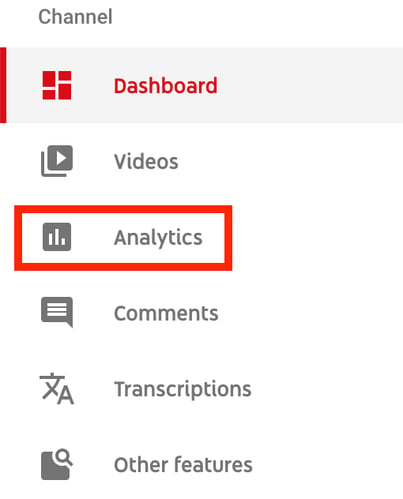 You should be looking at your funnel now. This graphic doesn't just list your CTR, it also breaks down your total Impressions, Views from impressions, Average view duration, and Watch time from impressions.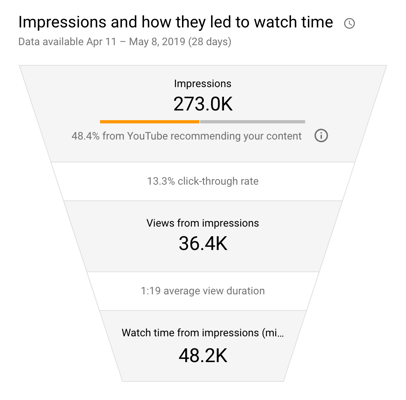 All of these metrics play a role in measuring your social success, so be sure to reference them regularly.
Using analytics software to track your metrics
Although we've been talking about the top eight social media metrics you should be paying attention to, there are dozens more that can be monitored. By utilizing social media analytics software, you can keep an eye on all the metrics that are important to your business, whether they made our list or not!
It's crunch time
When you track any metric, it really comes back to the goals you set for your business. Additionally, certain metrics will be more important to you while some don't help to inform you of anything. The important thing is that you're monitoring and tracking them in the first place, making sure you're aware of the people who made your business possible in the first place. Your followers.
If you're looking to revamp and organize your marketing campaign, check out our downloadable social media calendar and start planning your next big move.