Organization is at the core of a strong social media strategy.
Are you looking for a more efficient way to organize, plan, and post your brand's social content? Publishing said content is only a fraction of what goes into your social media marketing campaigns. What comes before is what really matters. Having a strategic plan when posting to your socials is crucial to your brand in order to see high engagement rates.
Creating a social media calendar can significantly ease the stress of scheduling your content and reduce the chaos of scrambling to post it on time.
What is a social media calendar?
A social media calendar can be a spreadsheet, application, or software that is used to schedule posts ahead of time. It can also be used to organize your copy, photos, and types of content in one place to help manage your campaigns and hit set deadlines.
You can use a social media calendar to schedule your social content months ahead of time and get rid of the constant anxiety that you may have forgotten to post something important. In this article, we'll take you through the ins and outs of how social media calendars can help you organize your brand's posts and ease your mind in the process.

Before creating a social media calendar…
Download our social media calendar
Tools to schedule social posts
Why should you use a social media calendar?
In the modern age of technology, brands across the world are taking advantage of the content calendar.
Sometimes, brands can jump onto social media and post a topical piece of content, but sometimes they can't. More often than not, it takes advanced planning for a brand to post something relevant and timely.
Say your brand sells chocolate. You may want to plan a post for #NationalChocolateDay weeks or even months ahead of time to be able to post it on the day. Maybe the marketing department wants to conduct a photo shoot of consumers enjoying your chocolates, schedule a Twitter takeover with a popular influencer, or shoot a promotional video for a new flavor you're launching. All of these things require organization and thorough planning.
The entire purpose of a social media calendar is to organize and schedule your posts in advance so that you're able to publish content when it's relevant for your brand. Your calendar is the framework of the content that you share with your audience. It allows you to come in later and respond to comments, like tweets, and engage with them manually. Just think of you and your social calendar as a team.
By the way:
National Chocolate Day is October 28th, so mark your calendars.
Before creating a social media calendar...
Now that you understand why implementing a social media calendar into your social strategy is essential, you'll need to think about a few factors that have a big impact on your content's success.
Where is your audience?
To make sure you're using your social media calendar efficiently, you'll need to know where your audience engages with your brand. You probably already have a basic idea of what platforms these will be, but check your social analytics before scheduling anything.
These can be tools like Facebook Audience Insights or Instagram Insights. Most social media platforms have an analytics tool built in for you to track your audience engagement and you should be paying attention and tracking your social progress.
Knowing your demographic and talking to your audience is important. The better you can understand them, the better you can run successful social campaigns.
When should you post?
Your brand shouldn't just post whenever it's convenient for you to do so. Posting is all about the people who engage with your content, so you'll want to post when they're most active. There's a lot of data that goes into finding the right time to post, and guess what? Every brand's post time will vary. To find your brand's best posting time, check out the articles below:
What content does your audience like?
Before you can create and post content to your social channels, you need to determine what content works best for your audience. One of the best ways to find out which content garners the most engagement is to look over your past posts to see which were the most successful.
Analytics will be the most useful tool to use when determining these factors, so make sure you're taking a good look at your posts from the last couple of months. For example, if you notice that short videos have been seeing great engagement on your Instagram page, plan to shoot something ahead of time so you can keep giving your audience what they enjoy most.
TIP: Writing quality content for social can be tricky, especially when you're tied to a maximum number of characters. Discover ways to make the most of your social media content strategy.
Set some goals
You should always set goals for yourself on social media. Setting goals for each piece of content you release can help you keep track of how successful your campaigns are going and if you need to retarget your audience.
First, try to track your growth over each month. Set numbers you want to hit for followers, traffic, subscribers, conversions, sales, and pieces of content posted. When the month is over, you can look over your successes and failures and discuss future goals with your team.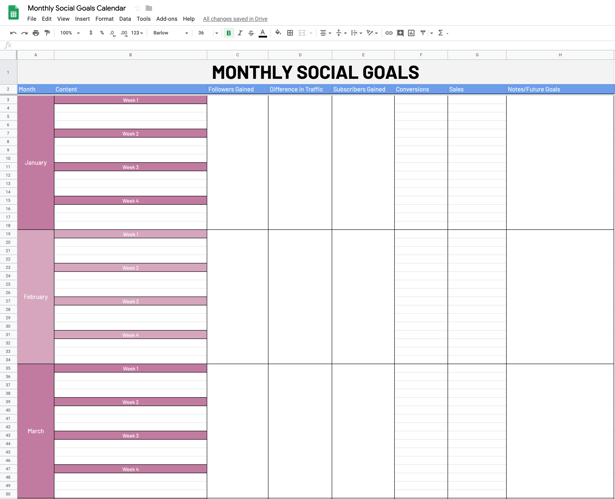 Download our monthly social goals tracking template below:
Download our social media calendar
Once you've decided where, when, and what to post, you can start creating your content calendar. If you're organizing your content by social platform, you can create duplicate calendars or create a master social media calendar to organize all of your content. It's up to you to decide what will work best for your brand.
For this example, we've created a weekly social media content calendar.
You can either create your own calendar after referencing calendars you find online or download our social media calendar template to start planning and organizing right now. It looks a little something like this: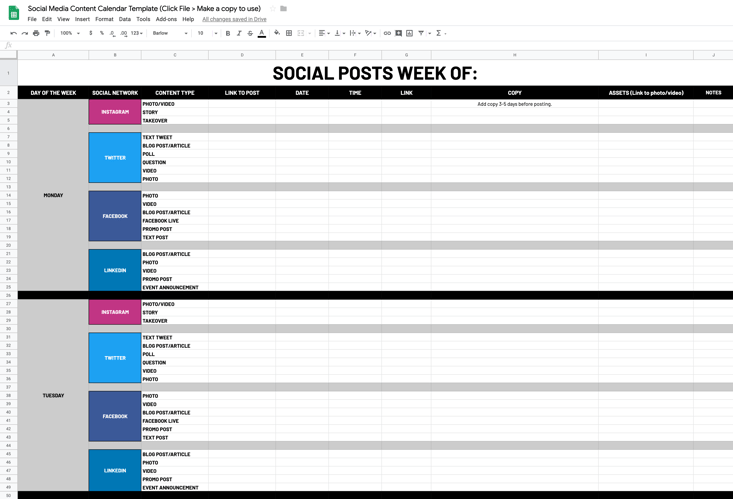 Download our social media calendar template below:
To use it, click the File tab, then select "Make a copy" to duplicate it for yourself. The content that goes into the calendar will be up to you. It's in your hands now, so get planning!
Tools to schedule social posts
Once your calendar is filled with scheduled posts, it's time to start putting your plan into motion. The easiest way to start scheduling your content is to do it in batches. There's a plethora of social media management software you can use to post on all your favorite platforms. It's always best to do a bit of research before choosing one to implement into your marketing strategy.
Some scheduling tools you may use include:

Hootsuite
(4.1 ★ based on 2,500+ customer reviews on G2)
Hootsuite is designed for organizations to execute social media strategies across multiple social media networks, including Facebook, Instagram, Twitter, Linkedin, Pinterest and YouTube. The tool has a 30-day free trial version of their software you can use to connect three social media accounts and schedule out up to 30 posts at a time across them individually. Their "Professional Plan" is $29/month and allows you to connect 10 accounts with unlimited scheduling.
Zoho
(4.5 ★ based on 1,400+ customer reviews on G2)
Zoho Social is a complete social media management platform for businesses & agencies. It helps you schedule posts, monitor mentions, create custom dashboards, and more. It includes a powerful set of features — such as, the Publishing Calendar, Bulk Scheduler, and Repeat Post. Zoho offers a free version that allows you to connect one team member, one brand, and six social channels. Their standard plan is $15/month and allows you to have two team members, serves you basic stat reports, scheduling, along with a variety of other features.
Sprout
(4.0 ★ based on 780+ customer reviews on G2)
Sprout features focus on three main functions: publishing, engaging and reporting. Sprout provides solutions for social marketing, social management, customer service and team collaboration. Sprout is a social media management software that acts as a hub for your social publishing, analytics, and engagement across all of your social profiles. Their standard plan is $99/month and allows you to connect five social profiles, assists you to publish, schedule, draft, and queue posts, provides a social inbox for all platforms, as well as keyword reports.
Buffer
(4.0 ★ based on 650+ customer reviews on G2)
Buffer has a suite of products for publishing, engagement, analytics, and team collaboration (Publish, Reply, and Analyze). They offer a free version of their software, but it limits you to connecting one social media account and scheduling only 10 posts at a time. Their starting premium plan is $15/month and allows you to connect eight accounts and schedule 150 posts at a time.
The options highlighted above are just a few of the tools available to you. Read real customer reviews on G2 and choose the right social media management tool for you.
Over to you
Using a social media calendar will help you to organize your content, set social media goals, and keep track of important content to be posted in the future. The most important part of creating a social media- calendar is knowing how to use it to your advantage.
Look through your analytics, track your progress, and do any re-adjusting that may be necessary to achieve the goals you set for yourself. Practice makes perfect and the best way to see an increase in engagement is to pay attention to your audience.
Looking for more tools to up your social media game? Consider using Instagram Stories to build your audience and read up on how to advertise on Facebook.