A few months ago, I got a text message from Metallica.
I don't know anyone in the band and I don't have any insider connections. I simply signed up for the band's short message service (SMS) marketing campaign, an effort likely powered by SMS marketing software. Many other bands stick to email marketing or social media marketing to connect with their fanbases, but Metallica takes it a step further. I even receive personalized replies from time to time.
Of all the methods of communication, why would a popular band, or even a business, opt to connect to consumers through text messages? The answer is simple: 90% of text messages are read within three minutes. That means campaigns reach a high-volume audience with little effort. With its ease of use and mass availability, it's no wonder SMS is the new email for millennials.
It's not just millennials embracing the simplicity of text messaging; consumers of all ages gravitate toward texting because it takes little effort to convey information and receive quick replies. Text message campaigns vastly increase the likelihood your marketing efforts will be seen. Not only that, text message marketing is permission-based, so consumers opt in to campaigns, allowing them to make a significant jump down the sales funnel.
And businesses aren't the only ones who gain from this marketing strategy. Consumers might voluntarily opt in to a business' marketing campaign due to advertised incentives, a personal interest in the subject matter or offerings such as calendar tracking and appointment reminders. There is plenty to gain on both ends.
---
2019 SMS marketing statistics
There are a lot of marketing myths out there, but with these sourced statistics, you'll see why SMS marketing can have a powerful effect on all types of businesses.
For more information about these statistics, check the linked sources.
---
General texting statistics
Not to be confused with newly popular internet protocol-based messaging services such as Apple iMessage and Facebook Messenger, texting is basic and straightforward and has been around since 1992. Better yet, SMS capabilities are available on virtually all smartphones. These statistics demonstrate the power of texting.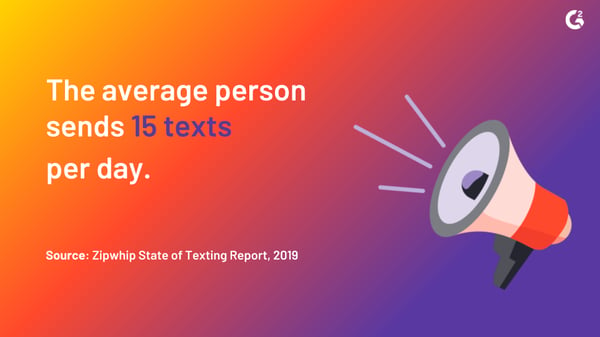 ---
Text marketing statistics
Businesses are starting to understand the power that text marketing holds in the digital age. Marketing campaigns that are seen are more valuable, which proves the usefulness of distributing campaigns via text message.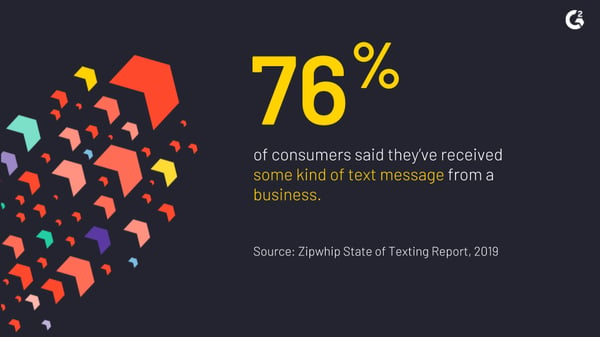 ---
Text engagement statistics
While it's important to ensure a marketing campaign is seen by the right audience, it's also important to encourage engagement, whether it's with a loyal customer or a prospective one. These statistics show the typical engagement rates related to text messaging.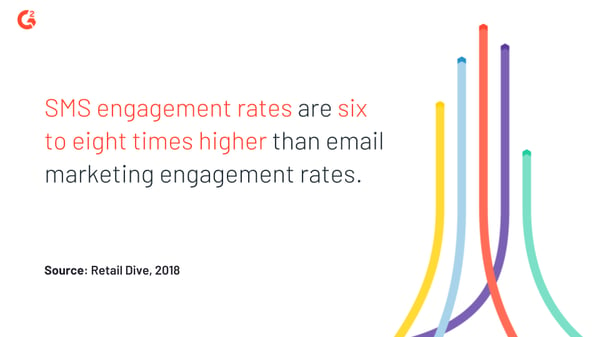 ---
Text loyalty communication statistics
Loyalty text messages are useful for consumers eager to receive easily accessible promotional incentives. Pulling up a coupon received via text is much simpler than digging through an email inbox or remembering to bring a paper coupon to a store. These statistics prove the popularity of SMS loyalty communications in the retail industry.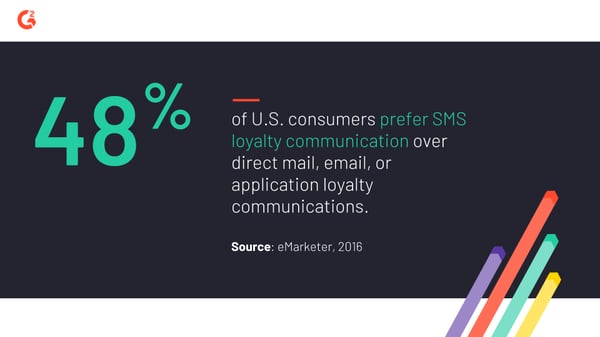 ---
Health care text marketing statistics
The health care industry is realizing the benefits of text marketing, too. The following statistics show the popularity of text communications between patients and health care providers. Features like appointment reminders help patients remember and confirm appointments and also ensures fewer "no shows" for providers.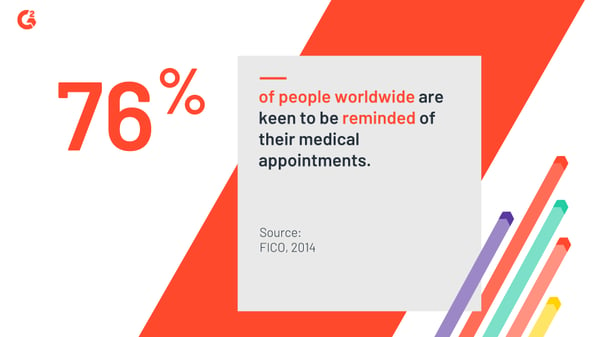 ---
Texting is an instant solution
By the end of 2018, 5.1 billion people around the world, or 67% of the world's population, were subscribed to mobile services. While mobile communication methods such as voicemail, direct mail and email have their benefits, there's nothing as remarkable as a text message for those who prefer instant attention. SMS marketing is an instant solution to gain instant attention.
Want to compare some of the highest-rated SMS marketing software tools? Discover the software that works for you right here:
Ready to dive deeper into SMS messaging? Read on to learn what is SMS and how it can help your business.