In an ideal world, a company would love if all its employees had in-depth knowledge of business data and how to analyze it. But that's just not a reality.
Business intelligence tools are often complex and can be difficult to adopt if the users don't have a data-heavy background. A recent study shows that roughly 70 percent of people that use BI tools on a regular basis are casual or standard users, meaning they have limited skillsets for interpreting data.
While this puts data analysts in hot demand, it can also add to the stress of IT departments and those tasked with examining large sets of data on a regular basis.
There is, however, a solution aimed at relieving the pressure of data teams while lowering the barrier to entry for everyday users. This solution is called self-service business intelligence.
What is self-service BI?
Self-service business intelligence allows users with limited technical skillsets to examine their business data in the form of charts, dashboards, drag-and-drop menus, and more.
Many of today's BI tools generally require the help of analysts or experienced professionals to query and interpret data.
But frankly, not every company is looking to bring on a team of analysts. This could be due to budget and time constraints, or simply because a full-scale business intelligence tool isn't a current priority. Thus, leading to the rise in self-service options.
Self-service business intelligence software has some obvious benefits, but like any tool, it could also have its challenges. Let's look take a look at each.
Benefits of self-service business intelligence
Perhaps the biggest benefit of using a self-service tool is its relatively low barrier to entry. By this, I mean deep background in statistics or analytics isn't needed to access self-service options.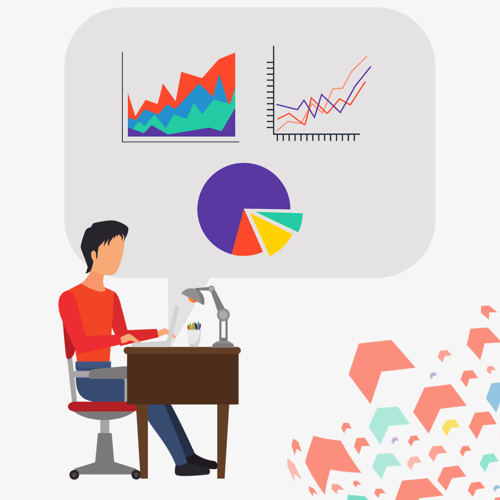 Instead, selecting a tool that's right for your company and bringing users up-to-speed is enough to generate simple data visualizations, dashboards, scorecards, and other common business intelligence themes. This is made possible with elements like drag-and-drop menus and low-code environments.
Another benefit to self-service tools is being able to generate reports quickly since fewer team members are needed – freeing up time for a company's IT department. Some tools even allow for reports to be generated on mobile, which is handy for users on-the-go.
Challenges of self-service business intelligence
Like any tool, there are some limitations with using self-service business intelligence.
The most prominent challenge is that visualizations and dashboards from self-service tools will only be as accurate as the user who queried the data. This is why it's important to adequately train those who will be using the tool regularly. Fixing inaccurate reports means dedicating time and resources that could have been spent elsewhere.
This plays to the strengths of data analysts, whose job is to ensure the quality, organization, and accuracy of business analytics. Analysts also have great business intuition, meaning they can identify key performance indicators (KPIs) and test new metrics.
How is self-service different from conventional business intelligence?
Let's break down your average business intelligence process to see how self-service differs.
It would likely start with submitting a ticket or scheduling a meeting to create a dashboard or report. In a hypothetical situation, this may be for seeing real-time closed deals by your sales team.
You'll need to lay out the dashboard or report requirements – like how the data should be visualized, its purpose, and who the owners are for this project.
After approval, your team will have to collect data from relevant sources, like CRM, ERP, marketing automation, and more.
Depending on the backlog, this process could take weeks.
For companies just getting started with business intelligence or need reports on-demand, self-service could be a great option that removes some additional layers listed above.
Is self-service the future of business intelligence?
Some would argue that self-service is the future, others would say the demand for data professionals far outweighs the need for low-code tools.
The reality is, it all depends on a company's requirements for business intelligence.
When it comes to fast and simple insights, self-service may be the route to go. For companies that lean heavier on business intelligence insights and like to dive deeper into their data, going with a full-scale business intelligence platform is probably best.
Regardless, one common theme with business intelligence is to expect voice search-friendly platforms to rise. You can thank advances in artificial intelligence in natural language processing for this.
Soon, users will be interacting with their software the same way they ask their Amazon Echo for local restaurant recommendations. Wouldn't that be neat?
Ready to learn more about the world of BI? Check out our comprehensive list of the 30 most important business intelligence statistics to know in 2020.