Miscommunication; mutual frustrations; under-deliverability.
Those who have ever worked on the front lines of or coordinated a project have most likely experienced scope creep. While you might be unfamiliar with this particular project management term, you would be hard pressed to find a project that didn't significantly derail at one point or another. Sometimes that derailing can be swiftly dealt with, and sometimes it points out inefficiencies in the original scope.
Usually, however, scope creep is a dreaded, wasteful element of any sort of project.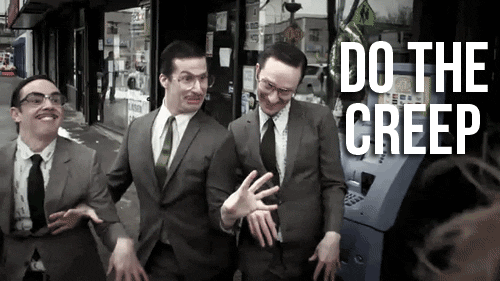 Source
But let's back up here a bit.
What exactly is scope creep? And why is it inevitable? How can project managers combat scope creep as well as reduce, if not completely prevent, it from becoming an overwhelming blocker?
What Is Scope?
Any project, regardless of industry, requires a scope. Scope is documentation that outlines major deliverables and all the work that must be done to deliver a project. Scope determines expected output as well as the functionalities and specifications needed to finish a project. Wrike, a common project management software, describes the importance of a scope: "In its simplest form, a project's scope is all about parameters … [It should be] a documented set of project boundaries, schedules, and major deliverables."
Scope creep, then, is when that initial scope gets derailed. And project managers are the ones who have to answer when stakeholders or upper-level management come a-knockin'.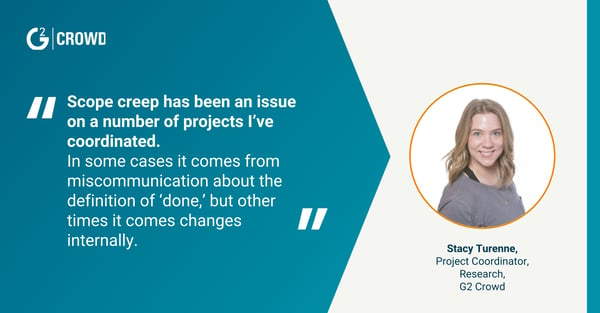 What Is Scope Creep?
The term "scope creep" describes a project that has started to extend, or, creep, beyond its initially agreed-upon parameters. It is the act of adding deliverables and requests to a project. A project team member may acquiesce to an offhand request, not realizing the manpower or extra steps it actually requires.
A stakeholder may prioritize client satisfaction, without taking into consideration bandwidth and realistic end results. A team lead may have misunderstood the project's schedule or cost. Team members may want to go above and beyond expectations.
Regardless of intention, scope creep directly impacts productivity, project profitability and effectiveness.
Scope creep is not 100 percent bad — after all, it is a byproduct of failing fast, pivoting quickly and reacting to feedback. However, poorly managed scope creep may damage client and team member relationships, harmfully impact team morale, or plummet a project into a painful loss.
Effective management of scope creep requires project managers to perform an effortless juggling act.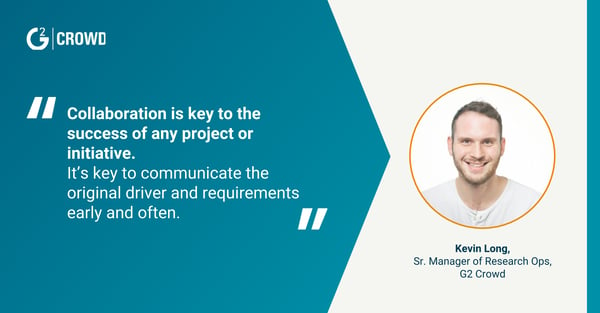 How Does Scope Creep Hinder Projects?
Just because you're an experienced project manager doesn't mean that you're immune to scope creep. It happens to the best of us. We have already discussed that change in projects is inevitable, especially if you work in a busy environment.
After all, agile workflows are becoming the standard in the software development world. Like its name implies, an "agile" working environment is ideal for an industry that emphasizes its ability to pivot. However, authorized versus unauthorized changes have vastly different results.
Authorized change requests become part of an updated scope. Unauthorized change requests present maddening challenges.
A few ways that scope creep can hinder projects include:
Devotion of energy and effort to a red herring

Original time and budget estimates go out the window

Approved features and deliverables are not completed

End-result of the project can look vastly different from original scope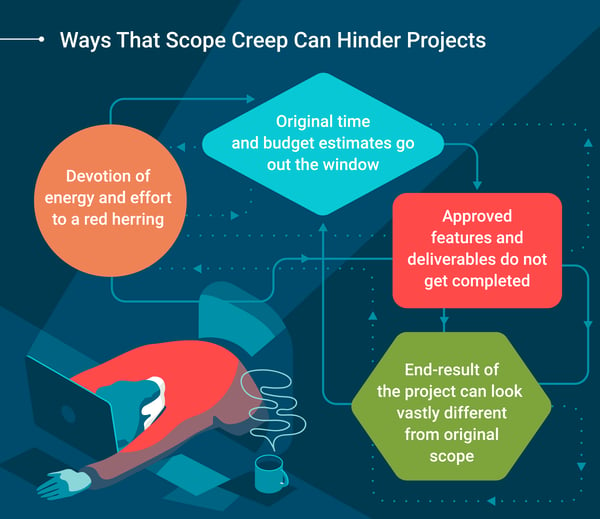 Common Causes of Scope Creep
The common causes of scope creep include the following:
Vaguely defined or documented Statement of Work (SOW)

Lack of clarity regarding initial scope/project objectives

Poor or insufficient communication between team members, team leads, project managers, stakeholders and clients

Clients or customers who try to take advantage of team members' abilities

Inflexible change control process

Weak leadership that is unable to say "no" or that consistently overpromises

Lack of support from the project sponsor, stakeholder or any other higher-up management force

Last-minute, irrelevant feedback

No project scope statement was developed in the early stages
How to Manage or Control Scope Creep
Stacy Turenne, project coordinator on G2 Crowd's research team, has had her fair share of scope creep.
"Scope creep has been an issue on a number of projects I've coordinated," Turenne says. "In some cases it comes from miscommunication about the definition of 'done,' but other times it comes from changes internally or from management. Both instances can be incredibly frustrating, but it's an inevitable part of project coordination, so I have a few techniques to combat it."
In the case of internal scope creep, Turenne recommends holding face-to-face conversations with everyone involved.
"It's important to differentiate between must-have and nice-to-have deliverables, and making sure that stakeholders and management are clear on how additional or changing deliverables will impact timeline, budget or other projects," she says. "If the new deliverable is a must-have that's more important than the existing timeline or budget, it's worked in. If not, it can be spun off into a new project or put into a parking lot to be considered later."
Kevin Long, senior manager of research operations at G2 Crowd, echoes Turenne's point about eliminating the game of telephone.
"Collaboration is key to the success of any project or initiative," Long says. "As more collaborators are brought into the fold, it's key to communicate the original driver and requirements early and often to ensure you keep the team focused and prevent any nice-to-have or unnecessary requirements from derailing the intended impact."
Strategies to manage scope creep
There are many other ways to manage scope creep before it ruins your well-laid plans.
Some of the methods include:
A good change control process with change request documentation, including cause and scope

Project management software that facilitates the creation of schedules and closely monitors project progress

Regular updates to the scope statement upon approval of change requests so that all relevant parties (including stakeholders) are in the know

Proper processing, documentation and communication of all changes to the scope and timelines

Consistent scrums

Collaboration with clients, sponsors and end users in addition to all relevant team members and stakeholders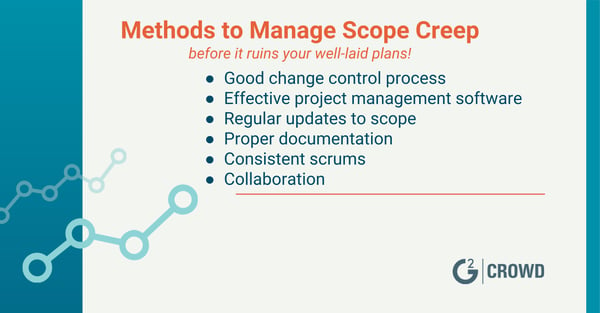 ---
Next Steps For Optimized Project Management
How have you dealt with scope creep? Has task management software or project management solutions helped you tackle or prevent it?
If your team still needs a solution to help manage project creep, check out the best project management software.