Salt Lake City has quietly been cementing its place in the technology world for almost 100 years now.
It was the home of the first electronic television transmission all the way back in 1927. That's right. Even decades before modern tech giants like Mark Zuckerberg were born, Salt Lake City was making moves.
But with tech giants like Silicon Valley, Salt Lake City has needed to prove itself over the years. As Josh James shared with CNBC, the idea of setting up shop in Salt Lake City was previously unthinkable. Back in 2006, a venture capitalist turned down the opportunity to visit James' office simply because he was located out in Utah.
These days, James is the CEO of the hugely successful business intelligence platform Domo, and Salt Lake City has earned itself the nickname "Silicon Slopes," due its overwhelming success in the tech world and beautiful mountain surroundings.
Salt Lake City can thank a few different factors for their skyrocketing success in the tech scene, one being a viable talent pool. Thanks to surrounding universities, such as Brigham Young University, Utah Valley University, Utah State University and the University of Utah, there is never a shortage of fresh talent. That talent has good reason to stay local. Dice's William Terdoslavich writes that while salaries may be 26.1 percent lower than the country's tech capital, Silicon Valley, the cost of living in Salt Lake City is a staggering 49 percent lower. Salt Lake City also encourages a healthy work-life balance.As Instructure's Starr Fowler told Terdoslavich, "We expect exceptional work, [and] you can do exceptional work and not be chained to your desk."
---
Salt Lake City Tech and Startup Highlights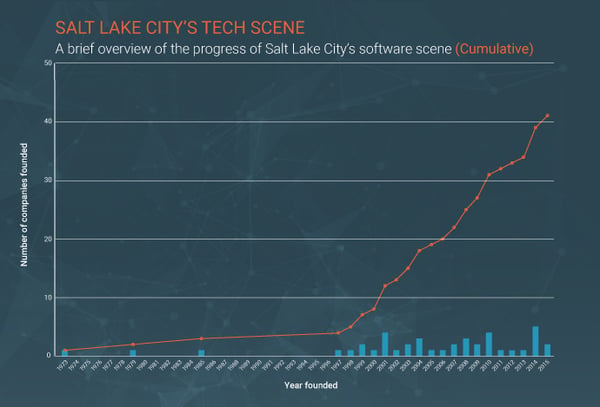 Note: Only software vendors on G2 Crowd with headquarters currently in the Salt Lake City area are included in graph.
---
Salt Lake City Tech Leaders on the City's Tech Scene
InsideSales.com
"We're incredibly excited to be honored among the top B2B technology companies in Salt Lake. It's amazing to see how much the Utah technology landscape has grown, and I'm happy to see InsideSales.com grow with it. This area has some of the best technical talent in the country, and as we continue to create amazing software, it will attract even more." Dave Elkington, CEO at InsideSales.com
Motivosity
"Silicon Slopes is exploding! I remember recruiting tech leadership 5-7 years ago and everybody was like, 'I'll work anywhere but Utah.' Fast forward to today and the landscape is completely different. Local tech companies are turning heads worldwide (and raising record amounts of capital) and companies from other tech centers such as Silicon Valley are moving to Utah because they've discovered that the B2B landscape is thriving and the natural landscape is amazing too. Motivosity is thriving in this environment because to attract and retain top talent, companies need to offer a world-class high-performance culture. Free food and parties are great … Motivosity is better." Scott Johnson, Founder at Motivosity
Grow.com
"The area from Salt Lake City to Provo is the birthplace of tech powerhouses Vivint, Ancestry.com, SirsiDynix, Qualtrics, and others. It's also home to several emerging companies like Jive Communications and Chatbooks. Like many companies in the budding tech hub, Grow.com is experiencing significant growth and looks forward to a bright future." Rob Nelson, CEO and Founder at Grow.com
Simplus
"Utah, home to Silicon Slopes, is best known for B2B software — the niche in which we're establishing an industry-leading and disruptive approach to enterprise consulting." Ryan Westwood, CEO at Simplus
Jive Communications
"The Silicon Slopes continue to produce some of the most elite tech companies. The area is filled with top tier talent talent and great ideas. I expect that the tech boom here is Utah is around to stay." Sterling Snow, Marketing Communications Director at Jive Communications
Ivanti
"Salt Lake City and the state of Utah provide an environment that fosters innovation and allows high tech companies to thrive. This is why the U.S. Chamber of Commerce Foundation ranks Utah number one in Innovation & Entrepreneurship and number two in High Tech Performance. Serving customers and the greater Silicon Slopes area for more than three decades, Ivanti is positioned as one of the industry veterans in this exciting entrepreneurial environment. This past year, we rebranded the company from Landesk to Ivanti and are committed to helping customers succeed through the Power of Unified IT." Steve Daly, President and CEO, Ivanti
---
We have compiled data on the state of the Salt Lake City B2B tech scene that includes all of the top-rated products on G2 Crowd which have parent companies headquartered in Salt Lake City. Our list is ranked by user satisfaction of a company's top-rated product. To qualify, a product was required to have at least 10 verified user reviews.
For each qualifying product, we created a company profile to recognize what that company is and does, as well as give a little insight into its history. The data relies on G2 Crowd's more than 300,000 B2B software and services reviews, or from public data sources such as LinkedIn, Crunchbase or each vendor's website.
---
Top B2B Salt Lake City Tech in 2019
** Editor's Note: This blog series recognizes up to the top 25 vendors, based on user satisfaction score, in each tech hub. The city of Jordan, UT, was missed in our data query. As a result, Lucid Software, Inc.'s, location was inadvertently missed and its product, Lucidchart, was left off the original list. It has been added at No. 26, though it otherwise would have been ranked in the top five vendors.
This learning management system was ranked a Leader in its category on G2 Crowd for Winter 2018. The Canvas Network offers more than 400 open, online courses delivered by more than 150 institutions. All courses are completely free of charge.
---
Victig Screening Solutions is a Leader for employment background checks. Features include a national criminal database, education verification credit reports and more. Using this solution, the average turnaround time for a background check is about two days.
---
Qualtrics is an enterprise feedback management tool that was ranked a Leader in its category on G2 Crowd for Fall 2017. This solution enables users to improve their product experiences, customer experiences, employee experiences, and brand experiences all on one platform. Organizations such as Netflix, Nike and GE utilize Qualtrics.
---
Podium helps users make interaction with their consumers simple by focusing on the communication channels they already use. Businesses can get more reviews on sites like Facebook and Google to increase invisibility. Podium serves more than 80,000 users across nearly 10,000 organizations.
---
This HR management suite was ranked a Leader in its category on G2 Crowd for Fall 2017. Fitbit and Squarespace are among the businesses that utilize BambooHR. Manage all necessary employee information with this tool.
---
ClientSuccess is a customer success tool that was ranked a High Performer in its category on G2 Crowd for Fall 2017. It's all about creating relationships with customers. This tool provides valuable insights, customer analytics, and best practices to reduce churn, increase revenue, and maximize the lifetime value of the customer.
---
Domo is a business intelligence platform that was ranked a Leader in its category on G2 Crowd for Winter 2018. Its business cloud is the first open, self-service platform to run your entire business. Domo stores data for customer relationship management, enterprise resource planning, human resources and more.
---
This business intelligence platform automatically cleans, organizes and connects your data. Numetric was ranked a High Performer in its category on G2 Crowd for Winter 2018. All you need to do is click to filter through millions of rows of connect data instantly.
"I relocated my first startup from Silicon Valley to Silicon Slopes back in 2013 and haven't looked back! I've been blown away at the caliber of talent in the Silicon Slopes area. They are drawn to the area by the incredible outdoor activities, affordable cost of living and family friendly environment. I love how young and vibrant the technology startup scene is here. Silicon Slopes used to be a "hot tip" in the VC world, but thanks to companies like Pluralsight, Instructure and Qualtrics, it's not a secret any more." Robert Sweeney, CEO at Numetric
---
ZipBooks is a billing software that is completely free to use. It is the only accounting software with built-in credit card billing. ZipBooks allows you to manually enter in transactions, integrate bank accounts, track all aspects of your business's value and more.
---
Simplus was started by a group of people who simply love Salesforce and what the platform could do for businesses. This firm has completed more than 400 quote-to-cash implementations, which is more than any other Salesforce partner.
"We're honored that our dedication to progressive solutions is making a monumental difference for our 2,000+ clients. We aim higher every day, and there's no greater win than seeing our clients succeed." Ryan Westwood, CEO at Simplus
---
11. Experlogix

Product: Experlogix CPQ
Category: CPQ
City: Salt Lake City
Founded: 2002
Employees: 43
Experlogix CPQ delivers the scalability and flexibility to handle any CPQ requirement. Hundreds of companies across a variety of industries rely on this tool. Experlogix CPQ was ranked a High Performer in its category on G2 Crowd for Fall 2017.
---
This project management solution was ranked a Leader in its category on G2 Crowd for Fall 2017. Workfront offers comprehensive resource, workflow and project management tools. With these functions, users can plan, execute, track and report on their work.
---
EveryoneSocial can help teams increase brand awareness, drive more qualified leads, enable your sales team, retain talent and more. By providing these functions, this tool allows you to set up your employees for success. EveryoneSocial was ranked a High Performer in the brand advocacy category on G2 Crowd for Fall 2017.
---
Built for Teams is a Core HR tool designed to help streamline common HR tasks. Functions include tracking PTO, employee documents, job applications and more.
---
HireVue is a video interviewing solution that helps companies discover, hire and develop talent. This tool offers interviewing, assessments and coaching all within one platform. With HireVue, your business can quickly find the best applicants for your organization.
---
16. Jive Communications

Product: Jive
Category: VoIP
City: Salt Lake City
Founded: 2006
Employees: 569
This VoIP tool provides cloud-based phone systems and Unified Communication services to businesses. Jive features include a PBX call routing system, automatic call distribution, broadband internet and more. This solution was ranked a High Performer in the VoIP category on G2 Crowd for Fall 2016. Jive was also named on the of the top free VoIP platforms in 2017.
"Our product being recognized as a leader by our customers is extremely validating. We've built our company and products around what the customer needs and wants. This award represents thousands and thousands of hours of hard work by our team." Sterling Snow, Marketing Communications Director at Jive
---
This employee engagement tool was ranked a High Performer in its category on G2 Crowd for Fall 2017. Motivosity is a social platform that allows employees to give each other bonuses for positively contributing to the company. Motivosity's goal is to encourage productivity, experience less turnover and improve workplace relationships.
"Our mission is to make people happier about being at work. If we fail at that, we fail at everything. Integral to that is software that is so easy to use and so compelling to use that people naturally gravitate to it. We are humbled at the amount of love our users have for the product; it really keeps us energized internally." Scott Johnson, Founder at Motivosity
---
Big Cartel is a shopping cart solution designed to help artists sell their work. This tool also allows you to build an online store and grow your business.
---
NUVI is a social media suite that was ranked a High Performer in its category on G2 Crowd for Winter 2018. This tool provides real-time social media analytics and allows brands to see what is being said about their business on social media platforms.
---
PlanPlus Online was ranked a High Performer in the CRM All-In-One category on G2 Crowd for Fall 2017. Manage customers, sales opportunities, projects and more with this solution. PlanPlus Online uses a culture of productivity to connect companies and provide clients with methods to the FranklinCovey Method.
---
Grow.com offers business intelligence platforms for small and medium-sized businesses. Track metrics and reach your goals with this tool. Grow.com was ranked a High Performer in the data visualization category on G2 Crowd for Winter 2018.
"While Grow.com offers clients powerful data visualization to help them run their companies better, Grow ultimately wants to help people become more-confident company leaders. Being recognized as one of the highest-rated B2B software products by users tells us we are achieving that goal." Rob Nelson, CEO and Founder at Grow.com
---
Socrative is a classroom management tool designed for K-12 institutions. This instant response tool helps teachers measure levels of student understanding in real time so that they may target students who require additional assistance.
---
InsideSales Platform is a sales analytics solution built on Neuralytics, which is a self-learning engine that prioritizes sales activities to target the most promising leads for your organization. Functions of this platform include sales communication, email tracking, and gamification.
"These last few years we've invested a lot into creating a five-star user experience for our customers and it's paying off with positive reviews. No company can be successful without putting their customers first and seeing our name as one of the top-rated companies in Salt Lake City, is a validation of our AI growth platform for sales and the commitment we make to our customers." David Elkington, CEO at InsideSales.com
---
24. Ivanti

Product: GoldMine
Category: CRM
City: Salt Lake City
Founded: 1985
Employees: 1,374
GoldMine is a CRM tool that was ranked a High Performer in its category on G2 Crowd for Winter 2017. Over one million users leverage GoldMine to improve customer relationships. This tool enables users to accelerate goal achievement by up to 15 percent.
"Customer opinions are the ultimate metric to determine if your company is doing the right things and is charting a successful course. G2 Crowd provides an invaluable service to both customers and companies by creating a forum where real users can share their experiences and honest, no-nonsense feedback. To be recognized as a Top 25 company in G2 Crowd's State of B2B Salt Lake City Tech is a tremendous validation that Ivanti takes our products and customers very seriously." Steve Daly, President and CEO, Ivanti
Entrata is a property management tool geared toward the multifamily housing industry. It offers a wide array of functions, including websites, mobile apps, lease signing and accounting. Entrata serves more than 20,000 apartment communities across the country.
---
**26. Lucid Software, Inc.

Product: Lucidchart
Category: Diagramming
City: Jordan
Founded: 2010
Employees: 308
This diagramming tool was ranked a High Performer in its category on G2 Crowd for Spring 2016. With Lucidchart, users can collaborate in real time while building flowcharts, mockups, UML diagrams and more. This solution is utilized by more than nine million users that include major corporations such as Comcast, Target, NASA and Netflix.
---
Other B2B Salt Lake City Tech Companies
While we recognized only the 26 best-reviewed software exports from Salt Lake City, there are still an abundance of other B2B tech companies impacting the region's tech scene. Here's a rundown of other Salt Lake City B2B software companies with their founded dates and total funding.
For any questions about the methodology or data included in this piece, or to request that your Salt Lake City B2B tech company be added, please reach out to Editorial Team Lead Jakub Rudnik at jrudnik@g2crowd.com.