Have you ever heard the saying "always be closing"?
If you work in sales or business development, that phrase has probably been ingrained in your mind since you began your career. There is never enough time in the day, and the little time you do have should be dedicated to closing as much business as possible.
As it turns out, you can't "always be closing" if you don't have enough pipeline to work with. How do you ensure you have enough sales pipeline?
It all begins with effective prospecting.
When it comes to a salesperson's day-to-day, prospecting gets a bad rap for being boring, monotonous and time-consuming. While those things may be true, prospecting is one of the most important parts of the sales process. But what exactly is prospecting? How do we get better at it?
Luckily, I'm here to break it all down for you. This article is your comprehensive guide to sales prospecting.
Sales prospecting definition
Sales prospecting is the process by which you search for and identify new potential customers, or prospects. The goal is to generate new sales opportunities in the hopes of converting prospects to customers.
In this guide, we'll take a deeper dive into sales prospecting, learn why it's important and share best practices for maximum efficiency.
What is sales prospecting?
Prospecting is essentially the first step in the sales process. In a perfect world, you would have a constant stream of qualified, interested prospects filing through the sales funnel and converting to customers. As you can guess, this isn't a reality for most businesses. In order to continuously generate new opportunities for revenue, salespeople have to actively be searching for them.
What is a prospect?
In short, a prospect is a person or organization that fits a seller's criteria to be a potential customer.
With every business, you aim to find an ideal audience to target. This audience will fall into a specific category that makes them a good fit to buy what you are selling. The people and organizations that are in this category are considered prospects.
When you are prospecting, the goal is to identify and engage with these potential customers in the hopes of turning them into paying customers.
What is a lead?
A lead is a person or organization that has expressed interest in buying what your business is selling.
When leads first enter the sales funnel, they are unqualified. This means that although they may be interested in your product or service, they are not currently fit to make a purchase.
Inbound prospecting vs. outbound prospecting
The two main types of sales prospecting are inbound and outbound. Below, we'll take a look at the main differences between the two methodologies.
Inbound prospecting refers to any prospecting activities being done to engage with leads. In other words, these potential customers came to you and expressed interest in buying what you're selling.
For example, an individual comes on your website and fills out a form to request a product demonstration. As a sales rep, you want to follow up with them immediately to see if there is potential for this lead to convert to a qualified prospect. This is inbound prospecting.
Outbound prospecting is when a salesperson reaches out to prospective buyers without any sort of prior engagement. This is the more traditional way of prospecting, and is commonly done through cold outreach.
Many organizations will employ both strategies, while some may only choose one. This varies entirely based on your business and sales process. In this article, we'll remain focused on outbound sales prospecting.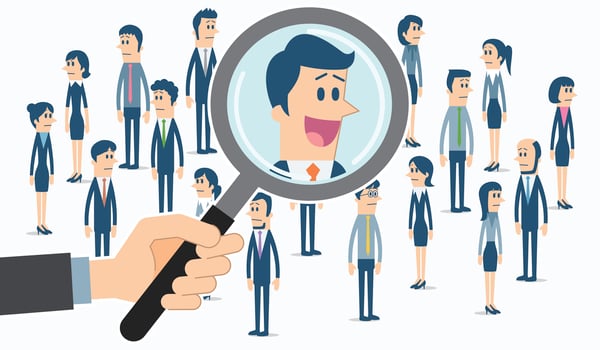 The sales prospecting process
Now that we've gone over definitions, let's look at steps in the sales prospecting process.
As a sales rep, you have a variety of responsibilities in your day-to-day. Your primary focus is closing business, but before you can get anywhere near closing a deal you have to establish relationships with your prospects first. At one point, every customer was just a cold contact living somewhere in a database. Through prospecting, you make initial contact and start to build the foundation for a long term buyer-seller relationship.
1. Gathering contacts
This might seem obvious, but you need to gather contacts and build out a database before you can start reaching out to people. The easiest way to do this and stay organized is by using a CRM software.
Gathering contacts allows you to put names and faces to the people that you want to go after. From there, you can go a step further by grouping these contacts in ways that will help target your outreach more strategically.
For example, let's say Company X only sells their product to marketers. The product helps both event and demand generation marketers, but these people have different needs and you want to reach out to them with messaging that will be relevant to their specific persona. Group these contacts separately by title, and tailor your message to provide value to both groups in different ways.
2. Conducting research
In today's digital age, prospects are getting spammed with messaging across all applicable channels. The best sales reps know that one of the easiest ways to stand out and cut through the noise is by doing research.
This stage in the prospecting process may seem daunting, but it doesn't have to be as time-consuming as it appears. Prior to starting any outreach, spend 5-10 minutes researching the company, and looking at your prospects' social media profiles. People post about things they care about and find interesting – use this to your advantage. Just by scanning through a company's social media, you can infer what their main pain points are. Based on your findings, come up with an outreach strategy that shows how your product or service will help solve these problems.
3. Outbound outreach
Qualified prospects exist, but it's likely they know little to nothing about your business. As a salesperson, one of your primary responsibilities is to educate prospective buyers and engage with them. Now that you've gathered a list of target contacts and completed preliminary research, you're ready to kick off your outbound messaging strategy. At this stage in the prospecting process, the goal is to make a connection.
Sales outreach is conducted in two primary ways: email messaging and phone calls. The most effective outreach strategies will include a mix of emails, phone calls and social touches.
It's very rare that a cold contact will engage with you after the first touch. In general, it can take anywhere between 5-15 touches before you make a connection. While this may seem daunting, it's important to remain persistent and continue to respectfully pursue prospective buyers even when they are not immediately responsive.
TIP: Discover the most popular sales qualifying questions.
Who is responsible for prospecting?
In most cases, prospecting falls on the shoulders of a company's sales force. Sales reps are responsible for generating leads at an individual level to help them meet their targets. These efforts are often complemented by any demand generation activities led by the marketing team to bring in even more leads.
At some companies, primarily in SaaS and B2B, the prospecting process is owned by a business development team. This strategy ensures that business development representatives (BDR) become experts at prospecting and qualifying leads. This way, they set up the more senior sales reps, sometimes referred to as Account Executives, with qualified meetings that are more likely to lead to a close.
Best practices for effective sales prospecting
Without an effective sales prospecting strategy, identifying potential buyers can be a big time suck and very labor-intensive. Many of the prospecting methods you employ will depend on your company's sales process, but here are some general best practices to follow that will likely result in success.
Get creative
When coming up with messaging, think outside of the box and don't be afraid to show your personality. People aren't dumb – they know that you're trying to sell them something. Consider using humor or witty language to humanize your outreach and make it less sales-y.
Note: Don't get me wrong, a creative pitch won't make up for a bad product or a lazy sales process. However, you
can
use this strategy to come across more likable in your outreach and stand out.
Double-check your work
The same goes for phone calls. Always be sure to double-check the name of the person and company you're calling before you call them. This may seem obvious, but mindless mistakes like this happen more often than you'd think. Double-check your work

Nothing will make you lose credibility in front of a potential customer quite like making a careless blunder. When typing out an email, always double and triple-check your work before sending it out.
Always add value
A common mistake made by many sales reps is putting too much focus on their own product and business, instead of the buyer's. This can happen throughout many parts of the sales process but it can be especially fatal when done while prospecting.
Your messaging and cold call scripts should always revolve around what you can do for the buyer, not what they should be doing for you. Remember to consistently provide value in your outreach, and put the buyer first.
Know when to move on
In sales, persistence is key. While prospecting, however, you can waste a lot of time chasing a prospect that will never buy.
Although it's important to always follow up with multiple touches, it's even more important to know when to move on to the next. If a buyer is completely unresponsive, include a breakup email at the end of your cadence and make a note to come back to them down the line.
Always be prospecting
Whether you're just beginning your career as a BDR or are a seasoned Account Executive, effective sales prospecting is key to reaching your goals. If you can master the art of identifying and engaging with prospective buyers, your sales pipeline will never be empty. In order to "always be closing", you need to always be prospecting.
Now that you now the basics, learn how to upgrade your sales prospecting strategy in 2019.