If you can't measure it, you can't manage it.
The saying might be overused, but it doesn't mean it's not true. In sales and business development, metrics are key to tracking individual and team performance. Ask any BDR – meetings and pipeline don't just appear out of thin air. It takes a lot of hard work over time to see results, and these activities need to be tracked in order to see what's working and what isn't.
Although every organization is different, there are five sales metrics that can apply to most business development teams.
Key sales metrics for tracking BDR performance
Prospecting activities
Level of engagement
Number of sales meetings booked
Number of opportunities
Total amount of pipeline generated
In this article, we'll look at each metric in more detail to understand why they're important and how to keep track of them.
5 essential sales metrics for tracking BDR performance
Sales metrics are an important part of an effective business development team. Most commonly, metrics are tracked using a CRM software that stores the data and publishes it on dashboards, allowing everyone on the team to see where they stand. Data pulled from these metrics is important for predicting overall sales pipeline, as well as determining performance on a more granular level. All of this is taken into account when looking at overall team performance, and equally as important for tracking progress on an individual level.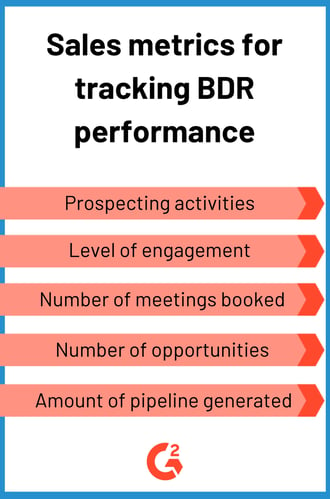 1. Prospecting activities
Sales prospecting activities are any sort of action taken to engage with prospective buyers. This includes making phone calls, sending emails, and social selling. In short, this is a glimpse at what your team is doing on a daily and weekly basis.
It's important to set clear expectations for how many prospecting activities the BDRs on your team are expected to accomplish. For example, you could set the individual goals at 100 dials, 300 emails, and at least 50 LinkedIn InMails per week. As time goes on, ask your team for feedback and re-assess whether or not these day-to-day goals are realistic and attainable.
2. Level of engagement
Level of engagement is the number of connections or interactions that are made as a result of the prospecting activities the reps on your team are carrying out. Think about it – it's great if your team is exceeding their cold email goal, but if the response rate is zero, then their efforts will never lead to legitimate pipeline.
By looking at engagement, you have insight into whether or not the prospecting strategy your team is using is actually effective. This can be tracked by looking at email open and response rates as well as the number of cold calls where the rep actually had a conversation instead of leaving a voicemail or disconnecting.
3. Number of sales meetings booked
The end goal of prospecting and measuring engagement is to book sales appointments. This metric is really the high-level goal of everything your business development team is trying to accomplish month-by-month.
Additionally, you can get more granular by segmenting this data in two ways: number of meetings booked and number of meetings that ran. Your team can be booking countless meetings, but it's equally as important to make sure the meetings themselves are actually running and prospects are showing up to them.
4. Number of opportunities
In sales, an opportunity refers to a potential deal. By this point in the sales process, an Account Executive has run the initial discovery call and sees the potential of that meeting turning into a deal down the line. You might be asking, "how does this affect the BDR team?"
Well, looking at the number of opportunities generated from meetings booked by the business development team is a direct reflection of the quality of those meetings. Of course not every sales appointment will turn into an opportunity for a variety of different reasons, but you still want there to be a decent conversation rate. For example, you may notice one of the BDRs is crushing their monthly goals but none of their efforts are turning into opportunities. That says a lot about the quality of the work they are producing and indicates that it might be time to take a closer look at their approach.
5. Total amount of pipeline generated
When all is said and done, the main goal of any sales or business development team is to make the company money. Although the BDR team isn't closing any deals, they are directly tied to sales pipeline and responsible for generating as much of it as possible.
This final metric ties in everything else we've talked about and is the biggest indicator of overall team performance. You want the efforts of each BDR to be reflected in a dollar amount that represents the pipeline they generated, which could potentially turn into a closed deal. As a sales rep, it's extremely rewarding to see that all the hard work you're putting in each day is paying off and contributing to overall company goals.
Bottom line
As is turns out, you really can't manage what you can't measure. And that's why assigning sales metrics to BDR activities is so important. This way, you can hold yourself and your team members accountable and have something concrete to point to when you leave the office everyday. After all, the proof is in the pudding.
Now that you know how to track BDR performance, learn best practices for boosting your team's sales productivity.