A thriving sales team doesn't happen by luck; it's meticulously thought out.
Sales organizations need to be able to predict their short-term and long-term performance. They need to accurately and efficiently manage their data, often using a CRM software solution. Teams need to be able to stay on top of competitors and economic trends.
This is all done through sales forecasting.
What is sales forecasting?
Sales forecasting is the process by which a company can estimate its future sales. With an accurate sales forecast, businesses can make informed decisions regarding a number of different functions within their businesses. A sales forecast provides a business with insight into how it should manage its workforce, sales pipeline, cash flow, resources and more.
Businesses use historical sales data, the sales team's estimates, and various tools such as conversation intelligence technologies to create these forecasts. This background information allows management to identify problems and opportunities for the upcoming quarter, half or full year. Overall, businesses can more efficiently manage their team with a sales forecast.
---
Why do you need a sales forecast?
If your business is new, a sales forecast is absolutely vital. New businesses need loans or startup capital to get their business off the ground. This is necessary for things like office space, employee salaries and more. No bank will give you the funding you need without a proper business plan, and a sales forecast is one of the central parts of that plan.
Because new businesses won't have any historical data to work with, the data that is presented will all be research focused on competitors in a similar market. And that research will need to convey that your new business is capable of edging out your competition. This needs to be expressed in numbers, such as profits, losses and sales forecast. That way, the bank can easily follow the plan that your business has in mind.
As your business grows, a sales forecast helps you measure your organization's overall health. Some businesses can even benefit from multiple sales forecasts; an example is a report broken down by each individual salesperson. Investors can keep an eye on these numbers to see if your business' predictions line up with actual performance.
Even once a business is established, a sales forecast is necessary for a vital future. Without an idea of what your business' future is going to look like, a business cannot manage revenue or a growth plan. And even if it's not perfect, a sales forecast is still valuable. Even a general prediction of where your cash flow will be in the future will prove massively beneficial in the long run.
---
How do you create a sales forecast?
While it isn't necessary for a sales forecast to be perfectly accurate, it's important that it is done right. There are of course different methods to creating a sales forecast, but the following is one method to consider:
1. Develop a sales projection
If your business sells a product by unit, create a projection based on units. If not, just break down your product or service as far down as possible.
2. Use previous data
Past sales data might very well be your best aid in creating a sales forecast. Statistical analysis techniques can enable a business to take that data and project it into the future.
3. Compare yourself to the competition
If previous data cannot be used for your product or service, find something comparable that is already on the market and look at those numbers. An educated guess is better than no prediction at all.
4. Break down your sales
Take environmental factors into account. For example, if a restaurant is creating a sales forecast, it would be wise to investigate the sales of neighboring restaurants.
5. Project prices
It's important to project how many products or how much of a service your business will sell. It's just as necessary to include the projected price of the product or service so that your forecast is as accurate as possible.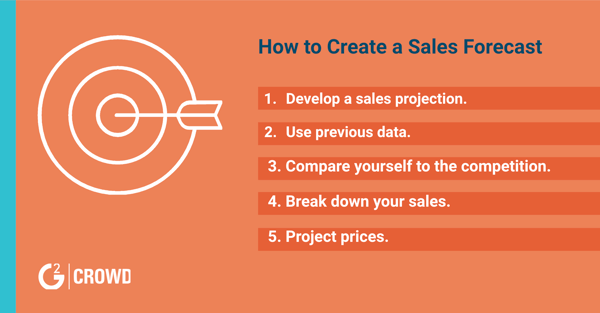 Of course, sales forecasting models are not a one-size-fits-all sort of deal. Depending on your type of business, there are different areas you can focus on.
You can focus on your lead generation capacity to forecast sales. If you are specifically an online business, you will need to utilize different tools and focus on factors that brick-and-mortar businesses don't need to take into consideration.
---
Sales forecasting software and tools
We've discussed the importance of a sales forecast and varied methods to execute that forecast. Once you're ready to put that plan into action, software can be used to aid your business in creating a sales forecast. From sales analytics software to AI sales assistant software to CRM, these tools provide specific functionality to create sales forecasts.
Infor CRM
G2 Crowd star rating: 2.9 out of 5.0 stars with 51 reviews
Overview: This CRM is designed to connect you to customers by tracking prospect calls, updating sales forecasts and more. Infor CRM allows for vast integration options and flexibility that ensures it will work for your specific needs.
Pricing: Contact Infor CRM directly with pricing inquiries.
What users like
"I think the best part is that you can start small and then configure and customize the product for any purpose, turning it into a system that allows for very different audiences to access the same [database]."
— Infor CRM review by Felix Maximiliano O.
What users dislike
"Updates come in slow and with the rapid speed that other companies are moving, I feel that they lag behind them and therefore we have to lag behind [then] too."
— Infor CRM review by Paul Robert L.
Recommendations to others considering the product
"We stopped updating the versions, as they never fixed what should have been fixed on the releases, so we vowed to not pay them any more money."
— Infor CRM review by an Administrator in Environmental Sciences
---
SalesDirector.ai
G2 Crowd star rating: 4.8 out of 5.0 stars with 12 reviews
Overview: This tool is an AI-enhanced sales forecasting solution designed for enterprise sales teams. It also offers sales coaching to transform your sales department into an unstoppable machine.
Pricing: Contact SalesDirector.ai directly with pricing inquiries.
What users like
"It makes my life easier and the life of my sales team easier. I have full visibility on how each opportunity is tracking and the current trend for that particular month/quarter from an easy to use view. For me, the ability to see through some of the fluff and feel very confident about my weekly sales forecast [is] priceless."
— SalesDirector.ai review by Scott T.
What users dislike
"Some of the features are a work in progress but we enjoy being on the journey with them and testing what they come up with next!"
— SalesDirector.ai review by Amanda W.
Recommendations to others considering the product
"It helps provide insight your out-of-the-box CRM is incapable of without a significant level of effort of development on the back end through coding and reporting. This tool for me is akin to having another employee on my team."
— SalesDirector.ai review by Neil M.
---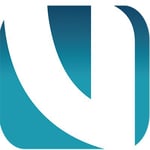 Vortini
G2 Crowd star rating: N/A
Overview: This sales forecasting platform can increase accuracy and reduce the time and effort needed to create a sales forecast. Vortini can integrate directly to your business' CRM of choice.
Pricing: Contact Vortini directly with pricing inquiries.
What users say
Be the first to leave a Vortini review!
After you have chosen and implemented your new solution, be sure to leave a review! Your insight can help peers in your industry create the most accurate sales forecast for their business as possible.
---
Next steps for predicting a sales forecast
You now have the knowledge and tools to successfully forecast and predict your sales. For beginners in the sales field, be sure to familiarize yourself with other key sales tools from the best sales software in 2019.