You might be thinking that a sales development representative is just a typical sales job, right? Wrong.
A sales development representative (SDR) is an inside sales professional who focuses on creating and nurturing a sales pipeline of qualified prospects.
As an SDR for Directive, a B2B enterprise PPC agency, my day is spent outbound prospecting through phone calls, emails, and social media. Sometimes I'm given a list of prospects who have been pre-qualified by our marketing team.
What is a Sales Development Representative (SDR)?
A sales development representative is defined as a type of sales representative that only works on outbound prospecting of new clients. SDRs help qualify leads and move them through the pipeline, handing them off to other sales professionals and aren't measured on closing deals.
My goal is to book meetings with prospects to understand their pain points and further qualify them. If the prospect checks off all of the necessary boxes, I then introduce them to one of our account executives who are tasked with closing the deal.
The definition of a sales development representative will differ between organizations, but they always play a key role in generating new business. They also double as a first impression, an educator, a relationship builder, and the key to a well-qualified sales pipeline.
Helpful advice for a sales development representative
Learning is key in any role, but especially for SDRs. Using internal and external resources will amp up your sales game and catapult you past the competition.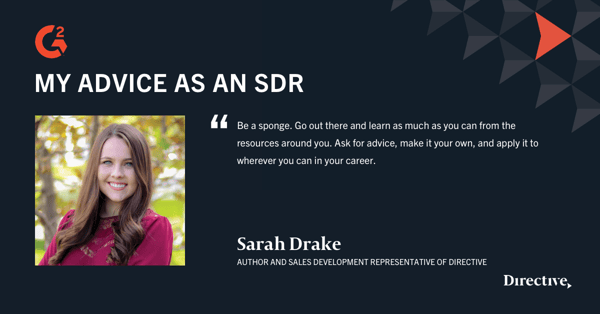 12 tips from sales experts
Since I want to practice what I preach, I've asked for advice from today's most influential sales gurus and have compiled them here. If you want to crush your goals as an SDR, start paying close attention to what these experts have to say.
1. Max Altschuler
Max Altschuler, CEO of Sales Hacker and VP of Marketing at Outreach.io, stresses the importance of investing in self-growth.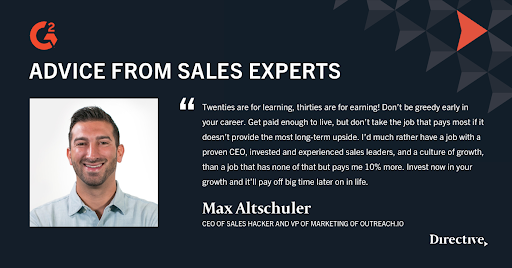 Follow him on LinkedIn.
2. Richard Harris
Richard Harris, Founder of The Harris Consulting Group, speaks to the influence of strong leadership.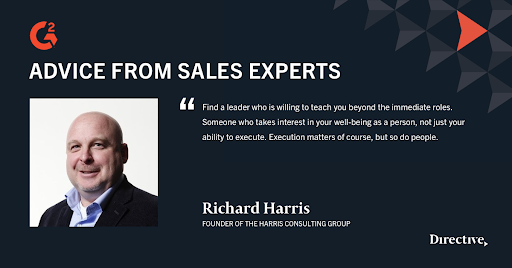 Follow him on LinkedIn.
3. Lori Richardson
Lori Richardson, Founder and CEO of Score More Sales, expresses the value of constant learning.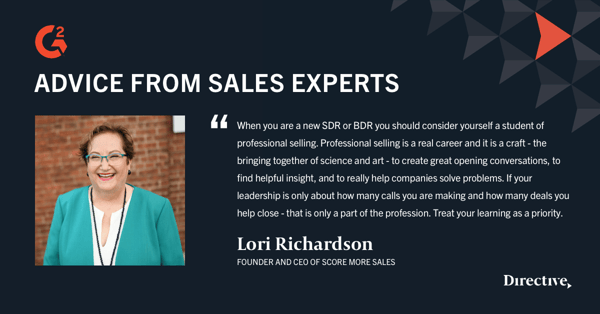 Follow her on LinkedIn.
4. Morgan Ingram
Morgan Ingram, Director of Sales Execution & Evolution at JBarrows Sales Training, challenges you to start thinking like a business owner.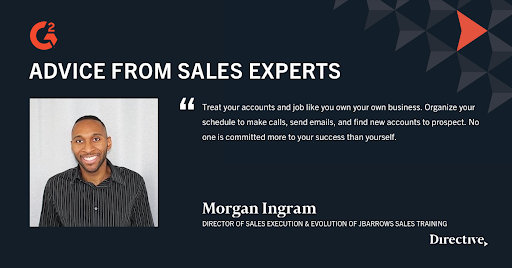 Follow him on LinkedIn.
5. David Dulany
David Dulany, Founder and CEO of Tenbound, explains what it takes to be a value provider.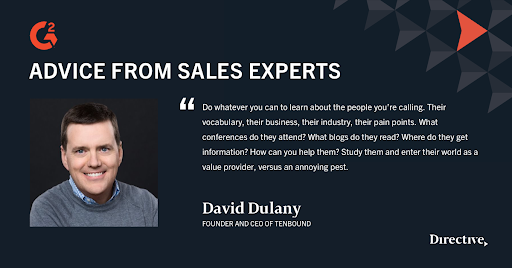 Follow him on LinkedIn.
6. Lauren Bailey
Lauren Bailey, Founder of Factor 8 and #Girlsclub, wants you to keep it real. Don't be afraid to bring "you" to the conversation.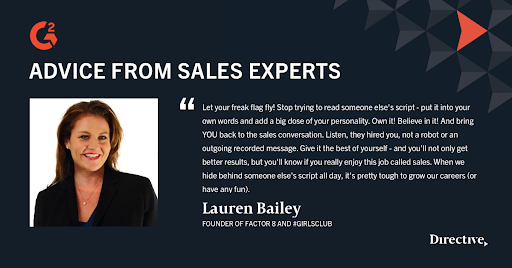 Follow her on LinkedIn.
7. Sam Nelson
Sam Nelson, the blue-haired SDR Leader at Outreach.io, encourages you to connect excellence in your role to your long-term goals.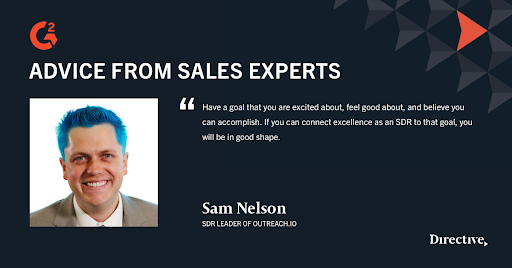 Follow him on LinkedIn.
8. Brandon Bornancin
Brandon Bornancin, Founder and CEO of Seamless.ai, shares the benefits of absolutely crushing your activity quota.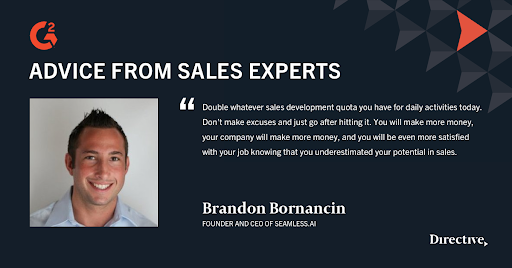 Follow him on LinkedIn.
9. Kevin Dorsey
Kevin Dorsey, VP of Inside Sales at PatientPop, knows that practice makes perfect (and can even save you money).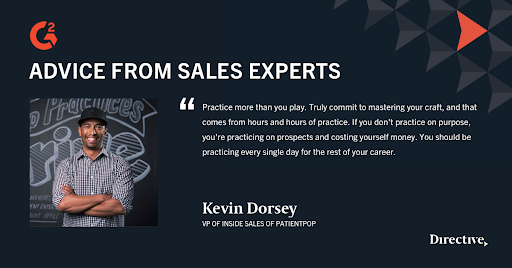 Follow him on LinkedIn.
10. Jake Dunlap
Jake Dunlap, CEO of Skaled, always tells it like it is. Imitation, after all, is the sincerest form of flattery.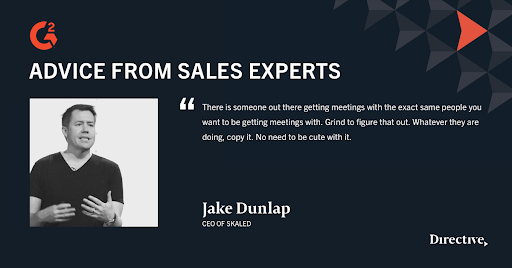 Follow him on LinkedIn.
11. Kyle Willis
Kyle Willis, Sales Director at Directive, reveals that success as an SDR comes with backing into your goals.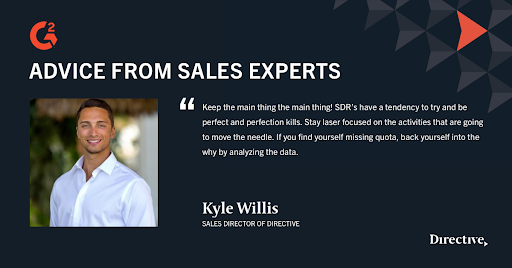 Follow him on LinkedIn.
12. Josh Braun
Josh Braun, Founder of Sales DNA, reminds us that when all else fails...have a heart.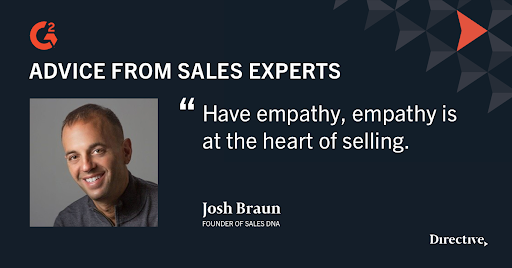 Follow him on LinkedIn.
Bottom line of being an SDR
Being a sales development representative is challenging and arguably one of the hardest positions out there. If you're an SDR, I hope this article gives new perspective on your role. If you're not an SDR, I hope you can take the advice given here and apply it to your own career.
Moving forward, don't be afraid to ask for advice from leaders and innovators in your industry. You can learn from that advice to succeed in your own career (and maybe even write an article about it!).