When running a small to midsize company, there are times when you're caught in the crossfire between the marketing and sales departments.
We've all been there. The sales team will point the finger at the marketing team, blaming them for low-quality leads. Marketing strikes back with equally grave allegations about sales reps being too lazy to nurture incoming leads so that most all of them are lost.
If your marketing and sales team are in a cat and dog relationship, don't take sides. We compiled the necessary steps that will help you align the marketing and sales departments.
Sales and marketing alignment: defining the strategy and key metrics
The biggest issue in marketing and sales communication is misunderstanding the meaning of the same definitions. To help both teams stay on the same page, you need to realign them towards the same revenue goals and involve them in strategy development. If both teams will help define the general strategy, they will know their roles and clearly see the consequences of any action taken. The general keys to define include:
Service Level Agreement (SLA)
One of the crucial steps in the revenue cycle, SLA is a document that defines the marketing goals and sales activities in every stage of the conversion funnel. Even if you don't want to make this agreement official, you should develop one with the help of both the sales and marketing departments. The concrete goals consisting of logical steps will help form a smooth customer journey, where a hot lead wouldn't be left unnoticed.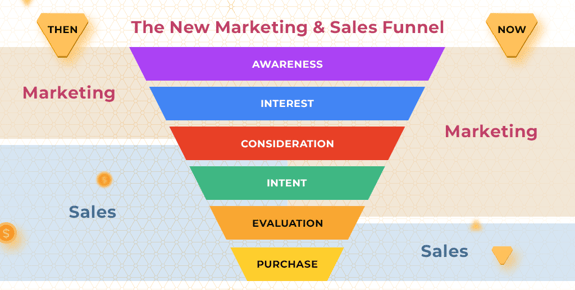 Service level agreement increases the commitment of every department and minimizes the frustration in out-of-the-box cases. What does the salesperson have to do with a new incoming marketing lead? How many follow-ups should they use? Which special offers should marketing create to bring back bounced leads?
Lead scoring
Lead scoring is the process of ranking incoming leads into numerical points to determine which are the most valuable. Lead scoring is based on the analysis of different attributes to define what makes someone more likely to become a customer. Take a closer look at your leads that became customers and see what they have in common. Then, examine the historical data of your lost leads and customers: traffic source, initial data about the user, their requirements, and the reason why they fell through the cracks. This data will help both the sales and marketing team to decide the main focus of your strategy and clarify your buyer persona.
Lead generation metrics
Marketing and sales have different lead evaluation processes. A hundred marketing leads won't convert into an equal number of customers. After the lead scoring process, sales and marketing reps are able to qualify the leads and abandon those that aren't likely to convert. Start with the basic metrics, such as conversion, retention rate, churn rate, and more (we'll address each of them in detail a bit later).
Implement a CRM
The next essential question you may have is, "where do I keep all information about leads and how do I calculate all the metrics?" Customer relation management software (CRM) was created to improve communication across departments and keep all the data in one place. The right CRM helps the marketing team to see how the incoming leads are processed by sales and evaluate the efficiency of their marketing strategy.
Unsure which CRM is right for your sales and marketing team? Check out our comprehensive roundup of your choices when it comes to CRM software.
Advantages of using a CRM for the marketing and sales teams include:


Amplified contact management
Handy interface for cross-department collaboration
Ability to create and monitor sales pipelines
Features for automated bulk emails and follow-ups
A powerful platform for sales management
Storing all customer details such as purchase history, the reason for their last call, etc.
Reliable reporting for every department
Increased customer satisfaction
CRM software helps map out the whole customer journey from inquiry to sale and track the effectiveness of all marketing channels. When the sales team logs every email or call data into the CRM, everyone is able to see the effort given in every incoming lead.
Which metrics can a CRM track?
Conversion rate is the percentage of leads who became customers from multiple attribution channels at a given time.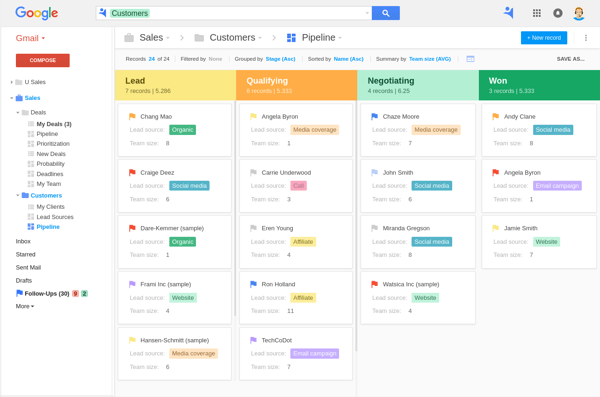 Customer retention rate is the percentage of returning clients the salespeople have retained over a fixed period of time.
Lead value defines the amount of money of the average sale multiplied by your conversion rate. If you sell only one simple item/service, eg. conditioners at a price of $400, and your conversion rate is 4%, the math will be as simple as: Lead value = 400 x 0.04 = $16
Churn rate is the percentage of customers that were lost by your company over a given period of time.
Win-back rate is the percentage of inactive or lost customers, who made a purchase over a certain period of time. This metric is especially important to the marketing team: to keep the win-back rate high, they can use remarketing or set up the chain of follow-up letters.
If you are new to the CRM universe and feel distracted with the options available, start with something easy-to-implement. The majority of midsize businesses communicate via Gmail, so consider the Gmail-based CRMs as a good start for no-pain integration.
Communicate the results
Even the most effective goals and CRM implementation aren't enough to preserve the marketing-sales balance for long. Develop milestones and check the results with both teams on a regular basis.
According to Hubspot's research, 40% of sales reps are sure that prospecting in 2019 is significantly harder than 2-3 years ago. On top of that, they waste 64% of their time on non-selling tasks.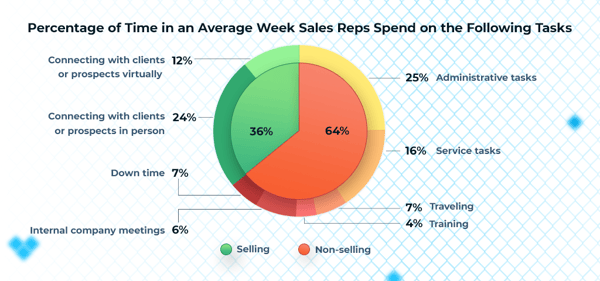 CRM implementation can minimize the routine and increase productivity across your departments. Your strategy must be flexible enough to adapt to the new stats and market changes. If you see that one of the attribution channels isn't doing well, the data in your CRM can reveal the bottlenecks in the lead generation process.
The three major steps of aligning the marketing and sales departments include defining flexible strategy and clear metrics, CRM implementation, and regular result-checking. The major goal of any business is to keep the customer happy and increase the percentage of loyal users. Using a CRM reduces the risk of losing your incoming leads. "Review, refine, repeat" is the golden marketing rule for every business in the process of going from good to great.
Better together
When your sales and marketing teams are aligned and see everything eye-to-eye, your business will flourish in new ways. Don't underestimate the power that these two teams will have when on the same page.
Traditionally, a brand's online presence is a marketing effort. But, both marketing AND sales teams can leverage it, to spread awareness and get leads respectively. See how G2 can help with both.
Ready to expand your knowledge even further? Find out how a prospect and a lead are different.