The idea of the inventor is one of the most celebrated characters in the American cultural cannon.
From Thomas Eddison and Hedy Lamarr to Steve Jobs and Dr. Patricia Bath, our current social epoch has been shaped in innumerable ways by extraordinary individuals who pulled the curtain back from what we thought possible and showed us new possibilities for our lives, often becoming fabulously wealthy in the process. It is the most enduring example of the cultural 'carrot at the end of the stick' that has inspired countless Americans to chase fame and riches since the 18th century.
But focus on these undoubtedly exceptional individuals ignores the crucial fact that no genius, no matter how brilliant, can conjure their revolutionary devices from the void. Like every pioneer, they rely on the countless incremental steps made by unsung inventors and engineers who do just as much to push the horizons of the possible each and every day.
What is a robotics engineer?
A robotics engineer is someone who works as a back-end designer and developer of single, autonomous robots as well as large-scale robotic systems. The end goal is to find new, efficient ways to accomplish tasks in a safer, more efficient manner than human workers. Their creations have revolutionized almost every industry from medtech to industrial production and remain a pivotal driver in exciting new technological breakthroughs to this day.
How much money do robotics engineers make a year?
Robotics engineers can earn anywhere from $60,000 to $100,000 annually depending on industry, experience, and level of education.
However, the major defining feature of every job comes down to the nitty-gritty of what they do and how they accomplish it.
What does a robotics engineer do?
The vast majority of the job of a robotics engineer is centered around designing, building, and testing new robots in order to solve problems and iterate and improve upon existing robotic solutions. Generally, the job can be broken down into three segments.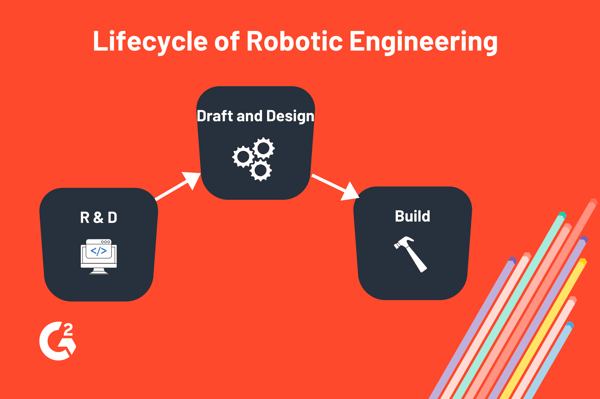 Research and development
The first phase of robotic engineering is where new robots are designed and theorized. Robots aren't just created for the sake of making new automatons; most inventions are born of a desire to solve a particular problem, be it increasing the output of a factory via industrial automation to designing medical robots that can facilitate less invasive surgeries.
Digital drafting and design
Before a new robot can be built, schematics have to be drawn up, edited, and revised to make sure there is a solid plan of action for when the engineer sits down to get their hands dirty. In the days of Nikola Tesla, this was done with good, old-fashioned pen and paper, but these days most blueprint designing is aided with a variety of 3-D design software to help the engineer better visualize their creation before committing resources to it's construction.
Interested in exploring some of the best 3-D Modeling Software on the internet? G2 has hundreds of real user reviews to help you find the best solution for your needs:
Building
The life of a robotics engineer isn't all theory and design. Much of the practical application of this profession comes with the hands-on construction of the robots themselves. In addition to more traditional manufacturing tools, this section of the process is increasingly using new fabrication technology such as 3-D printing to expedite this process.
How to become a robotics engineer
Unfortunately, you need more than a vague desire to make robots in order to become a successful robotics engineer.
You'll need at least a bachelor's degree in engineering from an accredited university to even get started walking the road of the robotic engineer. Not only will this equip you with the skills you'll need to excel, but it will signal to potential employers that you're able to complete rigorous, long-term projects.
While in school, you should focus on robotics courses that will give you an introduction to hydraulics, pneumatics and other critical elements of robotic locomotion, as these serve as the basis by which a robot can do basically anything.
Additionally, most upper-level positions will require you to obtain a master's or doctoral degree in a robotics subfield, as being an academic authority on your subject is one of the most important elements of being truly successful in this field.
All systems go
With that, you now know what you need in order to set yourself on the path towards becoming a robotic engineer. Understanding the nuts and bolts of the job alongside the required fields of study will be critical to your success should you wish to pursue this career.
Interested in learning more about how robots are shaping our world? Check out our guide on the types of robots for everything you need to know!