Request for Proposal is the process of documentation and solicitation that communicates your organization's need or availability for a certain service and invites various vendors to submit proposals in consideration for the opportunity.
Maybe you've heard the phrase, "If you build it, they will come" from the 1989 baseball film "Field of Dreams." This story's crux was that if Kevin Costner's character blew his small farmer's budget building a backyard baseball field, famous deceased players would return and play a "ghost game," giving fans an opportunity to see the greats play one last time.
It sounds out there, but I promise you, the film has heart.
What is an RFP?
RFP stands for request for proposal. An RFP is a document that lists out all the requirements and needs of a project. Companies create an RFP for upcoming projects, as a form of proposal to potential contractors and agencies. These contractors and agencies then bid to win the contract, based on the requirements of the RFP.
Costner had no idea what he was doing. His town thought he was crazy, and even his family started to question his judgment. But he formulated a plan for developing this field, followed through, and eventually reaped a great reward.
A request for proposal is like your company's own field of dreams. Your request for proposal is the field you build. Interested vendors are the historic players who come to check out what you created and then offer you something in return.
What we'll cover in this request for proposal guide:
If your company is frequently contracting outside hires to accomplish projects, it's important you understand how to write an RFP, how to distribute it, and how to evaluate the RFP responses. An RFP is how your company presents itself to professional contacts, and you should take great care that it's done correctly.
RFPs are a worldwide practice, and industry alone may not excuse you from having to complete or respond to one. They are relevant documentation any time an organization is ready to contract a team for successful completion of a project.

Creating an RFP is a multi-step process that involves external communication and RFP contract negotiations. From an amateur's perspective, there are countless ways to get this wrong.

If you're feeling this apprehension, you have ended up in the right place. We're going to walk through the entire RFP process together, making sure you're confident in your ability to compile these important business documents. We'll also provide you with information on the best RFP tools to guide you along the proposal path.
What is an RFP?
RFP's are a mutually beneficial process. For the stakeholders, they create an atmosphere of competition where hopeful candidates can put their best feet forward in an attempt to win attractive opportunities. RFPs tell invited bidders, "Our door is open, come and make your best case."
For vendors, RFP's are a rare chance to look at clients and their project descriptions before any contracts are signed. This gives a vendor greater independence in choosing who to serve. Imagine discovering a client has no direction or professionalism BEFORE you've decided to work with them and being able to run full stop in the other direction.
Additionally, having expectations ironed out from the start will help your agency or organization determine if you're really a good fit. While getting paid is great, getting paid for a job your team delivered on perfectly is even better.
Who writes the RFP?
A request for proposal is an employee's opportunity to advocate for themselves, their team, and what they need. Being so, an RFP should be written by the main stakeholders in a project.
For example, you wouldn't ask the head of finance to write an RFP for a new website design. This would be assigned to the team that most often works with the company website, such as the site administrator or the content team, depending.
The person or team who writes the RFP should be knowledgeable about the project and have some clearance for decision-making. Part of the RFP process is choosing a vendor to carry out the project, and only those invested in its success can make the best decision possible.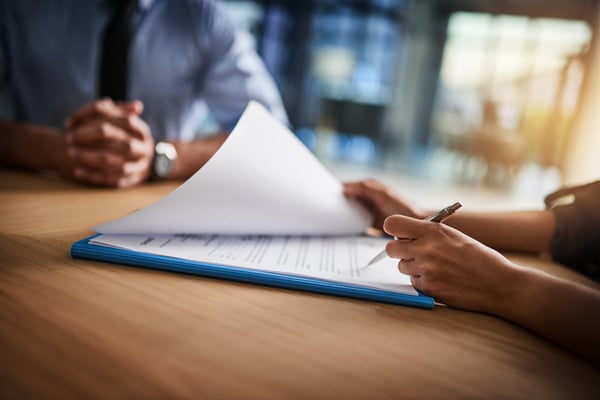 While CEOs and other higher-level executives may have daily visibility into the process, they are not often the ones expected to make the request.

Another part of writing an RFP is including questions for vendors to answer or address in their response. These questions can be things such as, "what is your strategy for website design," or "what is your success rate at completing a project during the given timeline?"
A higher-level executive may not have the best insight on what kinds of questions will help determine a good winner, which is why the best person to author an RFP is invested in the project and its outcome.
A RFP process overview
We will dive into the specifics of this process in following chapters, but here is an overview to provide quick understanding into the key steps of creating an RFP.
Determine needs: When writing an RFP, you're essentially writing a "help wanted" ad. You should be able to communicate things about the project such as skills needed, objectives project, and the timeline in which it should be completed. Clearly communicating your needs will help narrow RFP applicants down to the most qualified.
Write the RFP: Like a CV or resume, an RFP has a format. They'll change from one author to the next, but it's wise to follow a common formula so vendors know what to expect from the document. There are many templates online that can help you correctly piece together your RFP, and there's more information in chapter 4.
Distribute the RFP: Distributing your RFPs is a fine art. You want to send enough to get a decent response but not become overwhelmed with proposals.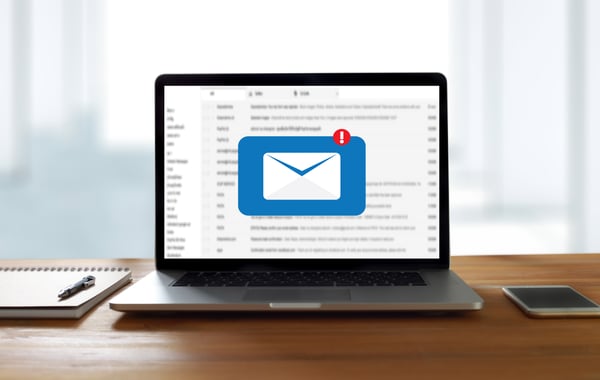 When coming up with a list of recipients, you should consider the realities where either not enough or too many organizations respond.
Evaluate Responses: This process is time-consuming but important. Your team of stakeholders should go through every response carefully to determine the best candidates. The process of narrowing down candidates is called "shortlisting."
Once you have your shortlist, or a smaller group of applicants that submit proposals, you can begin scrutinizing them more carefully. If your organization submitted an RFI, you may have already created a shortlist and sent your RFP to a previously narrowed list. Either way, the evaluation step will look similar.
Evaluate Further: After shortlisting your options, there are still more questions to ask. Compare this to a second round of interviews. Vendors should be ready to provide additional details and perhaps even a demo. Pricing, as well as terms of the agreement, come into play here. At this step, stakeholders should have all information necessary to make a final decision.
Make a Decision: This process will vary between teams and organizations, but stakeholders should look at all options and information presented, and decide which vendor can best deliver on their expectations.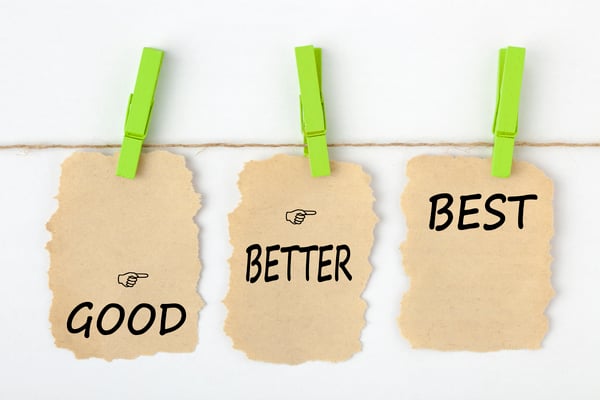 In short, you should now be more familiar with what an RFP is and the elements that are included. You've not yet learned enough to draft your own version, but the various sections have been revealed.
Types of RFP requests
RFPs exist across a multitude of industries, and can sometimes be classified according to the industry they relate to. Here are a few examples of the various types of RFPs, although this should not be viewed as an exclusive list. Any given industry can have its own genre or style of RFP.
Marketing RFP: Presented to marketing agencies for the purpose of creating marketing material such as case studies and how to make an eBook.
Branding RFP: A request for proposals toward branding agencies to help your organization build brand guidelines and expectations. Agencies can also help you build branding content such as logos and customized slide decks
Design RFP: Seeks to employ graphic artists to aid in website enhancement or the development of graphic materials
Website RFP: Seeks to employ web developers in website development or enhancement instead of learning how to make a website yourself.
Workplace RFP: Looks to bring in technology to help offices operate more efficiently on behalf of employees, like meeting room displays.
Public Relations RFP: A solicitation for help from a PR firm to aid in how to write a press release, press release distribution and strategies, as well as brand protection
Government RFPs: Exist for government agencies looking to contract external organizations to carry out projects, such as domestic social improvement or international gender relations
In addition to the types of RFPs, there are also other types of requests that fall either before or after the proposal process. It is not mandatory to complete each of these steps, but they can be a huge help to organizations in their overall decision-making process. Types of requests are listed below.
RFP request types and general timeline
Request for Information: A request for information, or an RFI, is useful for organizations or teams that need a little help before they're truly confident they know what they're looking for. An RFI is sometimes referred to as an expression of interest (EOI).
Image courtesy of SlideShare
An RFI sometimes indicates that the stakeholders are on the fence about purchasing these external services, and they need more details or information before they can truly decide. Because of this, vendors may not put as much effort into providing the information as they would into drafting a proposal.
While information might be vital to your company determining what direction to take a project, you also want vendors to feel their time is being used wisely. Consider beginning with your own research and issuing an RFI for things you just can't figure out on your own.

Request for Proposal: Does this look familiar? Good! It's what we've been talking about this whole time. After receiving the information you needed, it's time to send out those RFPs. These are also often referred to as RFOs, or a request for offer. Don't be confused if you see the two interchanged throughout your research or solicitation process.
Image courtesy of SlideShare
RFPs indicate that you're looking for submissions to help you reach a solution to your business problem or venture. Because RFPs are more actionable than RFIs, vendors may feel more of an incentive to respond. By the time you're ready to send out an RFP, you should be certain that, as an organization, you are ready and able to put money down on this project.
Request for Quote: So you have everything you need to know except for the price tag. If numbers are the only thing keeping you from hiring a vendor, submit a request for quote (RFQ).
This is basically a document stating, "I know what I want, I'm committed to investing in this project, and I need to know how much you would charge for it."
Request for Tender: A request for tender, also referred to as a request for invitation, is more common in reference to government projects or proposals.
An RFT serves the same purpose as an RFQ and indicates a stakeholder is confident in their decision to purchase the goods or services they seek.

I bet you weren't prepared to learn a new language as part of the RFP process. Rest assured, it's not as complex as it may seem. Just like Costner's character had to learn to plow his land and construct a baseball diamond, I have full confidence you can learn the lingo that is popularly associated with this process.
TIP: Learn more about another form of an RFP, called a grant proposal.
Preparing to write an RFP
Writing is not everyone's strong suit, and some people can get lost or overwhelmed trying to make an impression with their words. For this reason, it's important to start making plans before the writing process even begins.
Drafting the proposal can be easier if you set yourself up with effective strategies. Going in blind can result in a lot of oversight and the need to redo or re-evaluate parts of the proposal. You have to remember, the quality of your request could affect a candidate's interest. If you want to receive positive attention and feedback, consider the following before submitting. During this process, you and your team should be taking a lot of notes, sharing ideas, and collaboratively developing a group mind for what this RFP should contain.

Select the right team: We discussed this briefly earlier, but a huge part of writing a quality RFP is having the right people in the room. What's worse than knowing someone ignorant to your needs has control over documenting the project expectations and guidelines?
An RFP can be created by one person, or it can be spearheaded by a team of people, all depending on the nature of the company, project, and budget.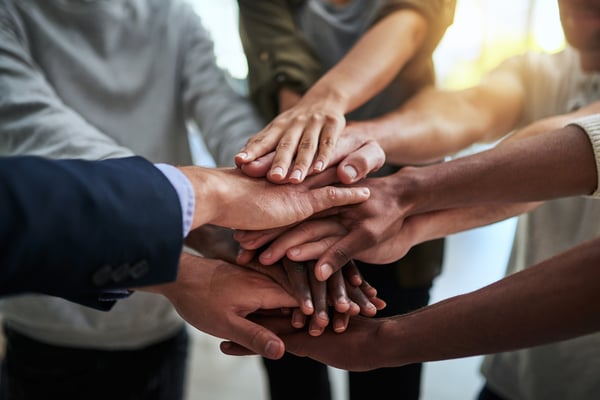 If your company consists of 10 employees, you probably don't want seven of them spending days on this document. But if you have a larger company, you may be able to assign an entire team to the quality completion of your RFP.
You may also want employees across team lines to participate in the construction of this document. Although a project may be spearheaded by the marketing team, it could affect sales or development. If a marketing team is outsourcing new marketing material, that content could be used to enhance sales pitches. For this reason, it might benefit your company to assign employees holding different roles to work on the RFP.

Determine Goals and Measurements of Success: What does your team want out of this project? Perhaps you're hoping to contract a successful marketing agency to help you build out an effective Facebook ad campaign. How will your team determine your definition of an effective campaign? Is it by leads developed, clicks that draw traffic back to your main website, or by total return on investment (ROI)?
Don't write an RFP unless you know how you'll measure the project's success. Approaching business ventures without clear expectations or goals is a good way to waste your money and effort. Even a project as seemingly insignificant as redoing your office's floors should have clearly defined goals, such as completing the project within a strict timeline and under a certain budget.

Determine Project Requirements: A project's requirements are the specific steps or expectations that will help your organization meet its aforementioned goals. Say you're hiring an agency to redesign your website.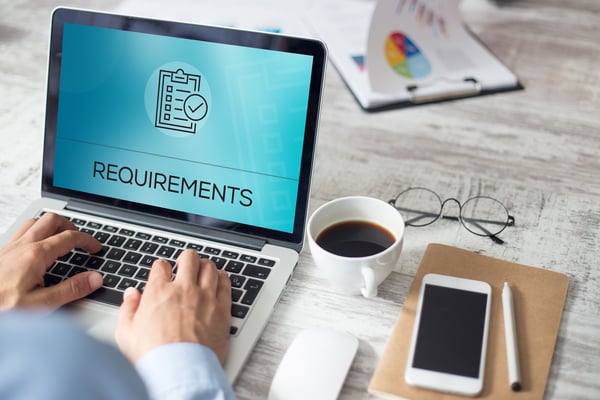 Do you have a platform for them to design the website on, or will they need to find one for you? Do you need them to have their own design equipment, or will you be providing that for them? Are there any compatibility requirements for your software or operating system to work with theirs?
These are just a few examples of things to consider when outlining the expectations that will help ensure you get only the most qualified candidates in response.
Build out your Timeline: Planning, writing, and sending out RFPs can endlessly drag on if you haven't created a realistic, strict timeline. This process involves communication between two separate entities. The stakeholders are creating the RFP, and vendors are expected to respond with their proposals. Failing to communicate clear expectations on when proposals are due will unnecessarily extend the process. Here are the steps in the RFP process that should be considered when determining a timeline:
RFP process steps
Request for Information, if necessary

Determination and finalization of requirements, as well as the determination of author(s)

Writing the first and final drafts of the RFP

Issuing the RFP to desired candidates

Waiting for candidates to issue their intent to respond, if interested

Deadline for completed submissions

Comparisons and evaluations by qualified team members or stakeholders

Final negotiations, demos if necessary, or issuance of an RFQ

Final decision made and communicated

Project implemented or begun

Project deadline or completion date
Know your budget: People don't want to work for free, and they don't want to work for less than what their time is worth. It's possible you're submitting an RFP for something you have no experience with.
For example, maybe you're submitting an RFP for PR firms to respond, but you've never had any dealings with press releases up until now. A few of your options are to do independent research or submit a request for information that might include financial details.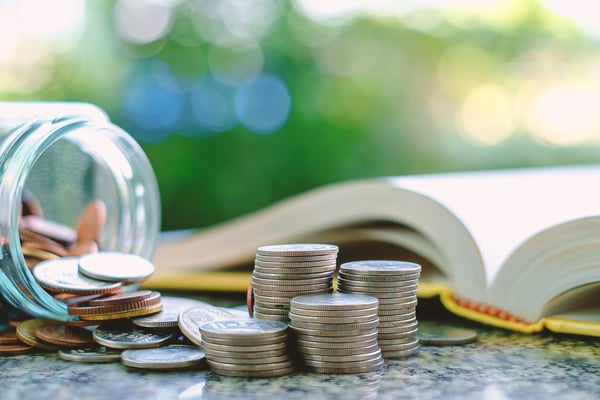 Although a budget may not be the first aspect of your communications with a vendor, it will eventually come up. It is your job to be well informed on industry standards, as well as what your company is capable of offering This will ensure you neither under nor overpay, and are able to seal the deal with the perfect candidate.

Determine your wants vs. needs: This step plays a huge role in determining your budget. Let's revisit the example of an office redoing its floor. The company has had carpet for years and are considering hardwood. It wants hardwood flooring because of its sleeker look and ability to impress visitors. However, this company is constantly moving furniture, rolling marketing materials around, and receiving heavy packages on dollies.
With this in mind, hardwood flooring might be damaged more quickly than a carpet or tile. In this case, hardwood floors are a want, while carpeting or tile is a need. Not only will evaluating wants versus needs ensure you're paying for the right product or service, it's also a good way to ensure you're making the best long-term decision.
Although you haven't started the actual RFP yet, you now have a pretty good idea of what you're trying to say. You and your team, if applicable, have come together and presented your thoughts on goals and requirements, and what you're looking for in a winning candidate. The goal of the pre-RFP is to get on the same page and have a clear vision of where you're going together.
How to write an RFP
I've given you a lot of general advice that will be helpful with the tone of your RFP, as well as when deciding what to put into this documentation process. But what about the main event? In order to create a really attractive argument as to why a vendor should want to work for you, you will have to actually write the RFP in a compelling format.

In this chapter, I will present the steps to actually writing an RFP, which might sound similar to a how-to for a resume or a CV. Although no two RFPs will look exactly alike, it's important for vendors to recognize your document as an RFP and easily understand how to navigate through it.

Proposal length: Sources say your proposal should be as brief as you can keep it while containing all pertinent information. There's no reason to waste your contacts' time waxing poetic or including excessive narratives. While it may still span a couple of pages, be prepared for those pages to include need-to-know information only.

These elements should be listed and numbered as headers. The information underneath will be in paragraph format, with any lists formatted as such. For examples of how to visually format an RFP, look here.
Elements of an RFP
Project Overview: Your RFP needs to start with a project overview, also known as a summary and background. It is the introduction to your problem and solicitation for qualified help. The project overview will briefly state what your company is looking for and why. If you so choose, the project overview may also include some facts about your company.
Especially when seeking creative help, it's important for an agency to understand a little of your organization's history, overall vibes, and clientele. Having a good read on your personality will help agencies determine if they are the best fit for the job.

Proposal Guidelines: This is where you explain to vendors what you're looking for in their response. Do you want to see samples of their work? Do you want to see case studies where they've helped organizations such as yourself crush their goals? Or do you want them to include the projected cost in their proposal?
This is also a good time to establish a deadline so vendors know when they should be turning in this information. Your guidelines section is your opportunity to communicate expectations clearly so vendors can draft a proposal to your liking.

Project Description and Requirements: This section is a good place to go into detail about the purpose of your project, and what problems you are seeking to solve with a vendor's help. Consider this to be like a consultation with a doctor. It's where you get to lay out your negative symptoms and discuss how you'd like to feel better.
As in any medical field, it's much easier to find a solution when the patient is able to clearly communicate what's wrong. The "description" field is much like a job description section. It's a place where you tell vendors, "This is what I need you to be able to do."
If we revisit the new flooring example, one description sentence might be, "The finished hardwood floors will be sanded, sealed, and stained prior to completion of this project." If a flooring company does not have the proper equipment to complete all of these steps, they know not to apply for the project.
Project Deliverables and Scope: This portion of the RFP is where you get to write out, in a list or bullet format, everything you're hoping to achieve with this partnership. This section details what you're paying the vendor for, and what they are expected to deliver. These are the criteria the winning vendor will have to keep in mind while working on your project. For example, say you're writing an RFP to a PR agency hoping they'll help you distribute press releases for a recent round of funding. Your deliverables may read something like:
Naming these deliverables is important because candidates have to be sure they can, well, deliver. If you're a press release agency that distributes the documents and then moves on, you're not right for an organization that wants help procuring media attention.
This is also a good place to include quantifiable expectations. For example, if you're hiring a marketing agency to create an ad campaign, you have goals outside of the creation of the campaign itself. You want a certain click rate, or a number of leads converted, or a return on investment.
Although the agency may not have complete control over these goals, it's important to include them in the RFP. That way, if these goals are wildly missed upon project completion, the agency has a clear understanding as to why they won't be utilized again. Outlining these quantifiable goals will help your vendor strategize in ways that are more likely to help you hit them.

Timeline: As we have discussed in previous chapters, the RFP process can easily drag on if you're not diligent about communicating your timeline. Remember that long list of steps to the RFP process? Imagine if every one of those steps exceeded its intended timeline. What you were hoping to accomplish within one-to-three months would turn into a six-month process.

Your RFP should include a couple different deadlines. Here are some key RFP dates to communicate to vendors up front:
Proposal deadline: The final date for hopeful vendors will be able to turn in proposals to be considered
Evaluation window: Typically, a window of time in between which stakeholders are evaluating proposals. Vendors should know that a decision has not been finalized during this window of time. This is also a timeline where stakeholders can continue to reach out to vendors for additional information, should they not have what they need to make a decision.
Selection deadline: The day vendors will be notified of their success in procuring responsibility for the desired project.
Negotiation deadline: Negotiations may need some time to go back and forth, so instead of putting one day on it, put a deadline. Send your first draft contract to the chosen vendor as soon as possible, and let them know the date you must have it completed by. Avoid using any language that implies your timeline is a suggestion. You and your selected vendor have gone through a lot of work to get this far. Be sure to keep the ball rolling swiftly by confidently telling them how long you are willing to negotiate the details.
Deadline to notify bidders who were not selected: The deadline for notifying vendors or bidders who failed to procure the project. This is a deadline stakeholders should honor. Should you fail to notify vendors of your decision on the day you promised, you may be bombarded with calls and emails inquiring about your choice.
Additionally, missing your own deadlines is a breach of trust and starts your project off with a bad tone. If you don't respect your own deadlines, you're sending the okay for others not to respect them, either. This is the same as the selection deadline. Winning and non-selected bidders should receive responses on the days they were promised as it shows respect for their time and the energy put into the project.
Timeline for project completion: These are the dates the stakeholders hope to begin seeing action on the project. This timeline can include various phases such as setup, initiation, planning, and timeline to completion.
If you're unsure how long your project should take a team of professionals to complete, it's okay to leave the completion deadline flexible. In the early stages of the project, ask your vendor or bidder for their own estimates, and set your intended deadlines accordingly.

It's easy to get overwhelmed thinking about this process. The specifics of the aforementioned timeline seem as detailed as a newborn's feeding schedule, and almost as important to get right. But with a competent and knowledgeable team at the helm of this ship, it won't be as challenging as you think to formulate a reasonable timeline.
Start at the very beginning, a very good place to start. After determining a start date, you can take it a step at a time, reasonably considering how long each part of the process should take.
The good news is you're not the first organization to complete a request for proposal. If you're truly struggling to confidently come up with a timeline, reach out to other teams or organizations and inquire how they determined their dates, and whether their dates were reasonable. Everyone's process will differ, but asking around can't hurt!

Budget: This is not a mandatory element to include right away, but could be helpful in speeding up processes. You shouldn't necessarily include your budget for the project, but instead ask bidders to include an itemized estimation of what their services would cost. What services would the bidder be expecting payment for? Are costs a one-time payment, or do they recur every week, two weeks, or month?
Because the budget is such a determining factor in which bidder your team or organization chooses, make it clear that you wish to understand every piece of the cost. If price is important to you – and to the majority, it is – communicate the first time around that you need to know every related expense.

Examples: This step is pretty self-explanatory. Before deciding on a team or company to help you achieve your goals, it's reasonable to want to know what work they've done in the past. This section of the RFP, although optional, is an opportunity to request inclusion of examples and success stories in proposals that are turned in. Seeing diverse examples could help you get a feel for whether a certain company can deliver the style or quality of work you're looking for.
Note: Examples are not the same as spec work. It is frowned upon in many artistic or digital service industries to ask someone to work for free in order to win your business. If their examples are not enough of an idea of the work they can do, consider paying for samples instead of expecting the work for free.

Selection Criteria: Lastly, bidders should know what you're evaluating their proposals on. Consider this your rubric, something for them to follow to the letter if they expect your serious consideration. Are you going to evaluate bidders on their experience, or their past work? Is cost a huge factor? Do you want bidders to be experts in their industry with a lot of technical knowledge and skills?
Just like the qualifications, selection criteria should also be in a bulleted format. These don't have to be a word-for-word repetition of the things you've already said, but a reminder that the requirements you've listed will play big roles in your decision-making process.
For example, one selection criteria for a marketing agency might state:

Work Experience: The amount of time in which a bidder has spent working in the marketing industry will influence our evaluation of the right candidate.

The selection criteria section is a good time to restate the deadline, further emphasizing your prioritization of punctuality and desire to get the ball rolling quickly.

Contact Information: There is no point to any of the work you've done if you fail to include information on how to submit! Whether an email for digital copies or an address for hard copies, be sure the end of your RFP provides a way for bidders to send you their proposals.
Sample RFP questions
We've talked a lot about determining your goals and picking out a knowledgeable team that knows which questions to ask in the RFP. But what do we mean by that? What kinds of questions should you be asking of bidders?
While the answer will vary from one genre or industry to the next – remember marketing, PR, government RFPs – there are still some questions that can be used regardless of industry. Here are some examples of questions you can consider including in your RFP that, when answered, provide a more cohesive look at the bidders you're looking to hire.

Why should I choose you, and what would you bring to the table?
Is there anything more frustrating than having to hold the hand of someone you thought was qualified to take off running with a project on their own? If you've chosen to outsource a project or venture, it's because you want someone else to take over a lot of the responsibility and burden of creativity. It could greatly benefit your team to inquire about a bidder's motivation and ask how they intend to think critically about your project.
One thing you should not expect from a bidder is that they have your entire project planned out in their response to your RFP. Until you're paying someone for their work, they have no obligation to produce plans or products for you. This question is more of an interview-style inquiry, meant to pick their brain for general abilities and willingness to go beyond the standard "here's my resume" response.
What qualifies you for work in this industry, for my company?
Before sending an RFP to an agency, you should already be fairly certain they're qualified to complete your project. This question isn't you asking them to show you a certificate or their master's degrees; they don't need to prove themselves to you as professionals.
Moreso, you want to be sure they understand the kind of project you're tasking them with and be sure they're a good fit for your culture and expectations. A bidder can have all the accolades in the world and still not truly "get" what you're asking from them because of a difference in vision or personality.
Just like interviewing a job candidate, the winning agency or organization should be a good culture fit. Ask about their strategies or their philosophies on design (if your project is design-centric) and other questions that center around how they will positively work with you.
Which employees or team members would you task with helping me on this project?
Everyone knows that oftentimes, projects are about the people. Who you have on your side could make or break the project. Feel free to ask in your RFP who would be handling your requirements and affecting your goals.

It's kind of like when you go to a new salon and get to choose a stylist. Do you want the entry-level employee whose price is slightly reduced, or do you want a master stylist for a higher rate? That's not necessarily the strategy companies take when they present proposals, but the idea is the same: Will you be able to work with more knowledgeable people, or will they assign you someone new and not as experienced?
Don't get me wrong, I've never had a bad outcome with an entry-level stylist. Sometimes, extremely talented people are overlooked because they're just starting out. This is why asking for samples is an effective way of determining skill set. Instead of judging a team or employee on their tenure at a company, see if they've done work you respect and admire.
If you'd like to further familiarize yourself with the process by looking at examples, I've included a few below.
Writing an RFP is a many-layered process that can feel much like penning your graduate thesis. It doesn't have to be that way, especially if you have a competent team navigating this with you. Just take it one step at a time, and delegate the work to where it's evenly distributed among team members. This way, nothing is left out or forgotten, and no one employee feels strapped with the weight of the entire document.

If you're working alone, that's okay, too. Develop your timeline early on, and then take it one step, and one day, at a time.
Distributing your RFP
So, you've gotten this far. A dedicated team has determined your company's project requirements. You've narrated goals and questions and decided on a timeline for multiple elements of the project. Your document has been written and rewritten and is ready for distribution. Now what?
An integral step in distributing your RFP is compiling a list of recipients. You should form this list carefully so as to receive the "sweet spot" amount of replies. Some people believe that sending an RFP to too many recipients is actually detrimental to the process, as few teams have the time or resources to sort through copious replies. According to Computerworld, it's much better to do some independent research and reach out to contacts that are likely to send back the best replies, or companies you already think might be a good fit.

Another thing to consider is respecting bidders by not baiting them with RFPs you have no intention of choosing them for. Although a proposal is a chance for them to prove themselves and their abilities, you should also play fair.
Don't send out RFPs to 12 different organizations if you really only have your eye on four. Some companies will want to know upfront what their odds are and may refuse to submit if odds seem low. In this regard, sending RFPs to too many companies has already limited your potential replies.

As for deciding who to send your RFP to, there are a number of ways:
Recommendation: You have a network of professionals who have likely gone through similar processes of outsourcing website design, or marketing campaigns, or press release documentation. Ask around! When companies have good experiences, they're more than happy to share that with their networks.
Similarly, your network can help deter you from bidders that notoriously fail to follow through on their promises. Word of mouth is an effective advertising tool that you don't even have to pay for. Utilize the people you know to figure out who they know and decipher if their prior contracted employees could be a good fit for your project and needs.
Research: You've already assigned, or are part of, a competent and knowledgeable team that is overseeing the creation of this proposal. Why not trust them to carry out research on where to send the RFPs? There's no perfect formula. You just have to find a few agencies or potential bidders who look like they've excelled at your project genre before, and consider sending them an RFP.
Additionally, sites such as G2 Crowd have listings of service agencies with verified customer reviews that may help you narrow down your options. Services agencies are often limited by location, so make sure you're narrowing your search or options to organizations that can serve your territory.
Contacts: Working in your industry has surely caused you to meet people at launch parties, or networking events, or professional conferences. Look through your stack of collected business cards to see if any of the people who made an impression on you are in the industry you're needing help from. Digging through contact books can help come up with options for people you've already met and may feel more comfortable working with. Even if these contacts don't end up working for you, they may have contacts of their own, which links back to the "recommendation" genre.
The physical distribution of the RFP is open to your preference. It's a digital age, and many organizations expect communications to fall in that line. For this reason, it is acceptable to distribute the RFP via email or another file storage and sharing solution. You can deliver it securely so the recipient is unable to make edits, and also so it is securely hidden from external viewers.
Although your RFP isn't the most sensitive documentation you have, it's still information external contacts have no business handling. Keep your plans private so there are no interruptions, setbacks, or unsolicited proposals.

Snail mail is an acceptable way to distribute RFPs as well, but remember the reason it's called "snail mail": it's a slower way to do business. Sending physical copies extends delivery times and, by default, could delay submissions or other processes.
This method does have its perks, though. Some feel snail mail is still more personal, and it gets a physical hard copy of your RFP into your recipients' hands. Feel free to use this method to get your RFPs sent out to candidates, but know that you'll either have to expedite the package or accept a longer process.
RFP deciding factors
A kid in a candy store has no idea where to begin. They want Rolos and Smarties; chocolate turtles and caramel taffy. They're so overwhelmed at the options that they either overload, or freeze in indecision.
When you're deciding whose proposal to go with, you don't want to feel like that kid. You want to have a strategy and feel prepared to have multiple viable, qualified options.
Just like deciding on a job candidate, it's possible you'll have proposals that make this decision quite difficult. That's a problem you want to have. It means you delivered a compelling enough RFP that candidates were inspired not only to apply, but also to send a quality proposal back to you.
In this chapter, we'll discuss some best practices for choosing your winning bidder. With a little preparation and trust in the process, this doesn't have to be an anxiety-inducing stress fest. Just like on "America's Next Top Model" or "Chopped," there are clear and trusted ways to determine the winning candidate. Here are a couple of factors that should create the bulk of your evaluation process.

Compliance: Searching proposals for compliance will help you make some decisions pretty quickly. Like a professor grading a paper, this step basically asks, "Did they do what I asked? Are they qualified in the ways we requested? Is their budget anywhere within our means?"
This step is valuable especially if you have a large number of proposals to go through. If a proposal fails to comply in big ways, you have a good idea that this bidder won't work for your needs.

Granted, you should give a bidder the same respect they gave you in applying for the position. Don't just skim through their hard work, marking red X's over every page. Mark it as non-compliant after you've been able to look over their documentation carefully. Be sure to record your reasons as well, should it come up in later conversations.

Evaluation and Scoring: Now that you've eliminated a couple of proposals that don't comply, it's time to evaluate and score the rest. Evaluation is tricky. You want to utilize your employee's or team's time wisely while also making sure every proposal is thoroughly looked over. Here are a few different evaluation strategies that will help you streamline this process.
The Split Up: If your team has standard criteria and they all understand what a good proposal looks like, you could ask them to split up work and each take a few proposals. You could set up a meeting wherein each employee makes a case for or against the proposals they've evaluated, giving the overall team an idea of what has been submitted.

One issue here is a proposal that sounds like garbage to one employee might sound great to another. The goal is to judge by those standard criteria we mentioned earlier.

If each employee is viewing these proposals objectively, they should be able to communicate its merit in a professional, factual format. Standardized training or shadowing is a good way to get your employees on the same page. Trained employees with a detailed rubric will produce more cohesive results.


Share and Score: With this strategy, team members are assigned sections of each proposal that they read and compare. For example, one team member might be assigned to evaluate each "experience" section. If there are five proposals up for consideration, they would evaluate all five experience sections, making notes on each one.

They would then rank the sections with a predetermined scoring system. This would be completed by various team members for every section. At the end of the evaluation, each proposal would have multiple scores that could be added up to determine an overall number.

This number serves as a grade and shows the stakeholders how various proposals measure up to their standards, according to employee evaluations. This also allows employers to become experts on the various parts and compare apples to apples at a more micro level.


Multiple Eyes: This strategy is best for organizations that have narrowed their choices down to a few proposals. For maximum exposure, have every team member look at every proposal and take notes on their impressions.

This is the most time-consuming option, but also ensures every employee with decision-making power sees every proposal.
*Note: Scoring doesn't have to exist solely in the shared strategy. Creating a scoring system for proposal evaluation of any type can help your team take opinions out of the process and instead apply an objective grading system. Decide what you value most, and give those sections the most weight.
For example, if someone's experience is of most importance to your team, score it out of 30, while you might score a bidder's samples or price projections out of 10. This is merely a suggestion and will change depending on what's important to your organization or project.
Shortlisting: In the RFP process, a short list is a narrowed group of bidders your organization has determined are fit for further consideration or negotiation. The shortlist is sometimes created after sending out an RFI, while other organizations create their shortlist after the screening or scoring process has been completed. Once your team has carefully gone through submissions, you can sift out the candidates you wish to continue considering. These are your go-to's, or your short list.
Negotiations: Perhaps you've narrowed your choices down to two bidders, but you're curious if you can negotiate on price or timeline. This is one of your final windows to do that. Once you've decided on a bidder, it's implied that you are okay with many details listed in their proposal.

Granted, you can always make negotiations during contract development. But the bidder knows they've been chosen at that point, and may not be as willing to change certain terms or agreements. Although you should never take advantage of the people vying for your business, this is a good time to gauge their flexibility before you finalize a decision.

If there are stipulations keeping you from deciding between your final options, take this time to reach out and ask additional questions. Receiving more clarity on details can only help both business parties.

In some instances, you can invite bidders to submit a Best and Final Offer (BAFO), which goes into the details of their technical and financial proposals. This step is optional and precedes contract negotiation. A BAFO can be used as a tiebreaker or as an opportunity for bidders to re-address unclear proposals. Essentially, if the proposals submitted are not enough for a stakeholder to make a decision, BAFOs may be requested.

Do not invite every bidder to submit a BAFO unless you are still considering every bidder. BAFOs are requested in the late stages of decision-making and are only submitted to further convince you of a bidder's desire and capacity to win your project. BAFOs are treated like an additional proposal and are evaluated and scored in a similar manner.

Responses: It's the moment everyone has been waiting for: You're ready to notify your contacts of the final decision. The original RFP is a blur in the recesses of your mind. Your dreams have been filled with proposals for days.
Every work conversation has centered around bidders and negotiations and quotes and information but now, it's done. You are ready to tell the winners they've been picked and thank all other candidates for their hard work.

As we discussed in the timeline section of this page, you may want to leave a window of time between informing your winning bidder and sending rejection notifications. After picking a winner, you still have contract negotiations and documents to sign before everything is official. Leaving that window of time allows for error and lets you regroup in case things fall through with your first choice.

When you notify your winning bidder, you'll need to include a timeline and expectations for contract negotiations. If the organization is local, decide if you want to negotiate digitally or in person. Give them some time to accept or reject the opportunity and, once accepted, begin conversations about when you should get the ball rolling. Refer to your predetermined timeline for dates.

Out of five, maybe ten proposals, you narrowed your options down to one, which means you have multiple bidders needing to hear their rejection. It's imperative you don't slack on this simply because it could be an awkward conversation.
You and your bidders have been through a long haul together, and they deserve a respectful and, if possible, personalized rejection! Here are some tips for letting rejected bidders down easy, bidders whose services you may desire in the future:

I know it feels like this should signal the end of your project, but truly the work begins here. And how exciting that is! You've spent so much time finding the perfect candidate, and now they get to take off with your instructions and deliver incredible results.
After evaluations, decisions, and negotiations, the project is mostly out of your hands. You've entrusted a qualified candidate to try their hand at your vision and show you what they can do. Your role now is to receive and evaluate updates as delivered and urge your winning bidder to remain on schedule.
RFP software
RFP Software: Perhaps you're writing these lengthy documents endlessly, wondering if there's any way to speed things up and stop focusing on the mechanical parts of this process. A good tool to help you in this process is a forms automation solution. You can customize pre-built templates to cut the document creation step out of this process. A forms automation solution is also helpful in the contract negotiation sector, as it can help you draft contracts or other documentation for distribution.
Proposal Software: Proposal software is geared toward the bidders that are responding to your RFPs, but it's useful for you to be familiar with the category. A lot of proposal management tools can create automated responses to RFPs by reading through your document and putting together the required pieces, usually pulling from that company's portfolio.
Using proposal software doesn't necessarily mean a company hasn't put effort into their submissions. While the tool formats the proposal, employees will often go in and check over the work to ensure everything looks good.
Additionally, investing in proposal software is evidence of an organization's commitment to delivering quality submissions.

Expert RFP tips
Putting together your first RFP can seem like a daunting challenge, but everyone must start somewhere. Even the most experienced RFP professionals once was tasked with the same challenge as you.
Luckily, we can utilize these experts to help advise beginners on how to tackle their first RFP. Here are a few RFP experts on their tips for first timers:
1. Don't forget to build relationships
"At the end of the day my one piece of advice is work to try and form a relationship as opposed to spending hours on strategy for the RFP.
The very first account we ever landed took nearly four months of reviews, meetings, presentations, and back-and-forth dialogue before we secured the account. And while it seemed like a huge win for the company, we wound up barely breaking even after we accounted for all the hours put into the project.
Admittedly this is easier said than done and you can't always avoid the RFP process, but I started sending handwritten notes to the folks involved when we were lucky enough to be included in the RFP process. The note would typically further introduce them to our firm, invite them for coffee or a quick meeting to discuss their needs, and thank them for thinking of the firm.
I found that our most successful accounts started with this process as opposed to completing a formal RFP as we had the opportunity to meet two to three times and form a relationship as opposed to the rather cold RFP that every firm can create."
2. Be prepared to accurately define RFP objectives
"I remember being in charge of my first RFP, it was a nightmare. Even at the time I didn't think I was fully prepared, and looking back I realize I wasn't prepared AT ALL.
My number one tip for a RFP is that you're doing it to achieve something - and the better you can describe what you're trying to achieve the more likely you are to be able to make an apples to apples comparison between vendors or partners.
If you leave things too broad, it becomes almost impossible to compare options equally and you're almost certainly going to make a less informed choice. It's the number one reason we see projects have budget or scope issues, is because the objective gets refined throughout the engagement rather than being defined adequately from the start."
3. Review the RFP requirements
"Review the RFP requirements and instructions with a fine-tooth comb and review it often. Oftentimes, people have their RFP rejected or disqualified for missing one small requirement. Remember that the entity releasing the RFP will receive a lot of responses.
One of the first things they will do is scan to make sure all requirements are met. This is a way to help them eliminate and reduce the number of RFPs they have to review. You don't want all of those hours of hard work to be for not."
4. Know the difference between RFP, RFQ, and RFI
"Before getting started, make sure you are clear on the purpose of the RFP and if it is needed versus an RFQ or RFI:
An RFP is a more formal approach when sourcing a specific spend category (service or product) to gain insight into qualitative and quantitative aspects of what the market has to offer and who is offering it.
An RFQ is used when pricing is really the driver of your decision versus the supplier service offering (although still an important factor).
An RFI is really to help with fact-finding about which suppliers may be viable to fulfill your requirement and who should be considered during other sourcing activities, such as an RFP
When developing an RFP, the documentation should not be over complicated; it should provide enough detail on who the customer is what the need is and provide specific instructions and expectations of participants. If the request is clear and to the point, responses should allow for more informed decisions to be made"
5. Communications and RFP automation
"Communication is key. In order to have a successful RFP, it is important to share honest, relevant information regarding your priorities with potential vendors. Establishing open lines of communication will improve efficiency and foster fruitful, long term relationships.
Automating the RFP process saves time for everyone involved. With automated RFPs as opposed to manual RFPs you can send the request to vendors and receive bids within just a few clicks. When you're ready to evaluate your bids they are automatically collected and organized in real-time."
RFP templates
You're not the only organization writing an RFP, and you're not alone in needing help! There are resources all over the web that aim to help you better understand and execute on this process. Here are a few of our top recommendations for additional RFP help.
You're ready for your first RFP!
We've gone through a lot together from the introduction, until now. You've learned the basics of RFPs, types of RFPs, how to write an RFP, how to distribute an RFP, and how to evaluate a response to an RFP, to name a few lessons. We've said RFP so many times, the letters don't even look real anymore.
You've built your field, and distributed your field, and evaluated the responses toward your field – in short, you've done more than Kevin Costner dreamed of doing. You should be proud of all you've accomplished and learned.

The hope is that a once-daunting process now feels manageable and approachable. There's no reason why soliciting other organizations for business should be scary or difficult to navigate. The above guidance and resources, coupled with your amazing organization's goals and aspirations, should have you penning RFPs the most sought-after agencies will ready their teams for.

This document is over, but we're always learning, and you can be, too. Be sure to revisit this page for updated resources and evolving information on RFPs and related documents.