A recruiter's job isn't an easy one. Looking through hundreds, sometimes thousands of resumes a week is just one of their many responsibilities.
There are a lot of ways you can make your resume pop out and catch the eye of a recruiter. But often a computer sees that resume before a human. How can you make your resume stand out to a machine so that it gets to that human in the first place?
That's where resume parsing comes into play.
Want to know how to create a resume that is optimized for parsing? Jump ahead.
What is resume parsing?
Resume parsing is an important feature of many Applicant Tracking Systems (ATS). The ability to parse resumes allows for the automatic extraction, storage, and analysis of resume data. The information is then able to be categorized, sorted, and searched.
Parse definition:
To extract data for later sorting and processing. Typically in reference to resumes and computing.
Parsing resumes creates much less work for recruiters and HR professionals because it allows for the quick examination and analysis of candidate resumes. Resume parsing streamlines the hiring process and ensures that a large number of candidates can have their resumes evaluated through software. This software can then determine which resumes qualify and will be passed on to a human for further evaluation.
How does resume parsing work?
Parsing resumes is a computational process that is often included as a feature in a number of different ATS and HR software systems. This software converts resume contents into a structure that can be analyzed by computers. Parsing software has its limits, so certain resumes that are not properly formatted for parsing can be overlooked, regardless of the contents being what the recruiter is looking for in a candidate or not.
Tools to parse resumes are just one feature of many applicant tracking systems. These software systems have other great features to help recruiters track and hire candidates for open positions. These systems can be instrumental to the success of a recruiter or HR professional.
Parsing a resume is extremely helpful to recruiters, but let's take a look at it from another angle. If you're a job applicant and you know your resume is going to be parsed, you should do what you can to submit a resume that will fit the criteria recruiters are looking for through their parsing systems.
Optimizing your resume for parsing
Unfortunately, computers have their flaws; no system is perfect. Certain resumes are not properly equipped to be parsed by these systems. It's safe to assume most recruiters are using this tactic. If you're informed your resume is going to be put through resume parsing, you optimize it accordingly. There are a few key ways to accomplish this.
Formatting
Certain features in a resume may confuse the parsing software from being able to properly extract data and "read" the document. Avoid fancy designs, colors, and charts on your resume. A standard resume format will assist the system in parsing the document.
Most recruiters prefer that resumes are submitted in the form of a Microsoft Word document or PDF file. These file types are most easily analyzed by resume parsers. Any submissions outside of this norm run the risk of being rejected by the system.
Keywords
One function of many resume parsers is the ability to search for specific skills and experience points that fit a position best. Failing to include the keywords from a job description in your resume could cost you the position.
Consider how a resume parser might extract and analyze the information from the work experience section of this example.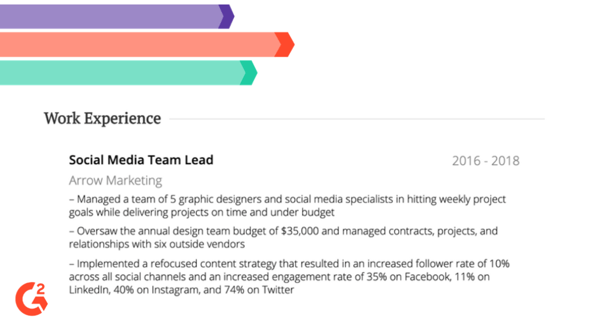 A recruiter may be searching for terms such as "project goals", "oversaw", "managed", or "engagement" in an effort to narrow down the qualified applicants.
Additionally, make sure to have accurate headers such as "professional experience" so that parsing software and the recruiters behind them can find certain information without much effort.
Spelling
Because the resume parsing tools are analyzing for keyword matches, it's vital that everything in a resume is spelled correctly. Misspelling certain words and phrases could immediately disqualify your resume and lead to missed employment opportunities. In addition to spell check have a few different people read over your resume to ensure everything is perfect.
So what's the point?
Resume parsing is a great tool that recruiters can use to make their jobs easier. For applicants, it's best to know how these systems work to ensure their resumes make the cut.
Curious about a career as a recruiter? Read this guide to find out what a recruiter does, how much money they make, and tips and skills that make one successful.