There are many benefits of owning rental property.
For one, it's a great investment that can generate a steady stream of income. Additionally, the IRS gives a variety of tax deductions to landlords for business expenses related to owning and operating a rental property.
11 common rental property tax deductions
Repairs
Travel
Property taxes
Insurance
Interest
Professional services
Utilities
Marketing and advertising
Office space and supplies
Property management fees
Depreciation
If you own rental property, it's in your best interest to note all the possible tax deductions that are available to you. This will ultimately reduce your overall tax burden and maximize your profits.
In this article, we'll break down the eleven most common tax deductions and what they mean.
11 rental property tax deductions to be aware of
Owning a rental property is a lot like running a small business - it takes a lot of money and effort. Luckily, the IRS allows you to claim deductions on many of the expenses that you incur in order to keep the place in tip-top shape.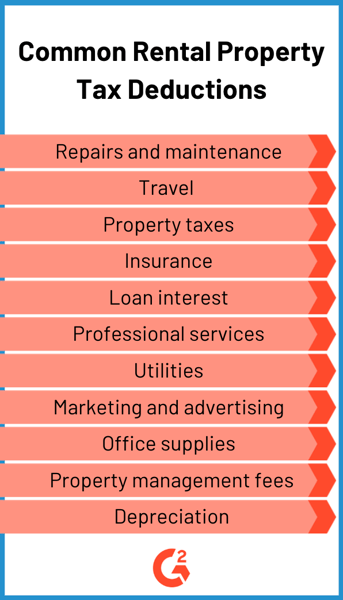 Let's look at each deductible item in a bit more detail.
Note: Most of these deductions do not apply to landlords who rent their property out to friends and family. If you choose to rent to tenants you know, be aware that you may lose out on these beneficial tax deductions.
Repairs
The IRS cites any repairs and routine maintenance classified as "ordinary" or "necessary" as being tax-deductible. This means that you should keep a record of any expenses related to the general upkeep of the property. It's your job as the landlord to make sure the space is livable and upholds safety regulations - you might as well get a tax break for it.
Travel
If keeping up with your rental property requires you to travel out-of-state or drive frequently, keep track of all your transportation-related expenses, as they are all deductible. This includes mileage, airfare, and tolls. Keep in mind that these expenses are only deductible if they are business-related.
TIP: It's important to keep detailed records and receipts of your expense activity throughout the year. This will make your life easier once it's time to file your taxes.
Property taxes
Any state, county, or city property taxes that you pay are considered tax-deductible by the IRS.
Insurance
All business-related insurance expenses can be written off as deductions. This includes mortgage and homeowner's insurance as well as any other insurance premium related to theft, damage, or liability.
TIP: All of your rental income and expenses will be reported on an IRS Form 1040, Schedule E.
Interest
If you purchased the property with a mortgage, then the interest you pay on the loan will likely be your largest deductible item. It's important to note that the amount you pay each month toward the principal amount is not deductible - only the amount that goes towards interest is.
Professional services
This category is broad but includes any sort of professional services required to help manage the rental property. For example, if you hire a lawyer, accountant, or tax return preparer, the fees you pay for their services are all deductible.
Related: If a difficult tenant forces you to undergo the eviction process, the legal and court fees you have to pay will fall under this umbrella of professional services.
Utilities
Some landlords will pay for a portion of the utility bill, others will require the tenant to pay for utilities in full. If you choose to pay for part of the utilities, those expenses are tax-deductible.
Marketing and advertising
Getting the name out there about your rental property is necessary if you want to find tenants for the place. Any costs associated with finding tenants, such as paying for listings on websites such as Trulia, can be deducted. Additionally, if you hire leasing agents for this purpose, their commission payout will also qualify as a deduction.
Office space and supplies
There are a variety of expenses that fit under this category. If you work out of your home or pay for a co-working space, you are able to factor this into your deductible expenses as long as you meet a few important criteria. The space must be exclusively used for professional purposes and be the principal location of the business.

Additionally, items such as folders, binders, cleaning supplies, and even a printer are all tax-deductible. This also includes any software that might be necessary for the business, such as rental payment software.
Property management fees
If you don't have the time or resources to manage your own rental property, you may choose to hire a property management company to help you out. Any fees you pay to the property management company qualify as deductible expenses.
Depreciation
Depreciation means that the value of your property decreases over time due to regular wear and tear. Since you can't write off the entire cost of the property as a tax deduction, the IRS allows you to deduct the cost of buying and improving the space over time.
Bottom line
Don't pay more in taxes than you have to because you didn't do your homework. Take note of these deductible items and be sure to keep track of them throughout the year. Once tax season comes, your wallet will thank you.