Few things are as frustrating as being hours away from a deadline only for your computer to glitch or for the system to crash.
It can bring your workflow, or even your entire business, to a standstill. Instead of waiting hours for a support technician to arrive to try and rectify the situation, it's in your best interest to go with a remote support solution instead.
Thanks to remote support software, IT departments and administrators can connect and control your device from a remote connection to resolve any technical issues that may bottleneck the workday. In addition, using this software also provides the ability to monitor systems and run diagnostic tests from anywhere.
Oftentimes, a remote support technician is there when we need help the most. And more goes into it than you may think.
Types of remote support
Two main types of remote support are used by industries all over the world: attended and unattended.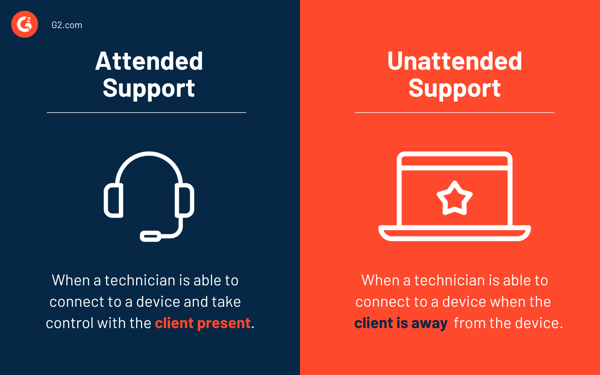 Attended
Attended remote support, also sometimes called on-demand remote support, is when a customer needs the help of a remote support representative immediately. This could occur when a customer is using a specific product or service and something has gone wrong.
When a customer calls a support or helpline, a technician would be able to connect to the device and take control. This type of remote support means that a technician doesn't have to take the time to travel to the customer to inspect the device in-person.
Similarly, they also won't have to ask the client numerous questions to try and resolve the problem or talk to someone who may not be very technical through the steps to fix it themselves.
Attended remote support allows the technician to solve the solution as quickly as possible, and hopefully leave the customer satisfied with their quick service.
Unattended
Unattended remote support is when a technician can connect to a client's device when the client isn't present on the other end. Essentially, this allows the technician to connect when the client is away from their computer, meaning they don't have to take time out of their workday to be present during the session.
This type of support is usually done with issue resolution, patch, and software updates when the customer isn't needed for the process to be complete.
Benefits of remote support
When your business utilizes remote support, there are many benefits that you'll begin to experience.
Efficient
One of the most notable benefits of remote support is how efficient it can be. Because remote support minimizes the time that it would take for a technician to travel to the client that is experiencing a problem with their device, a technician can solve more technology-related issues in a day at a faster rate.
This is especially important as the current dynamics of business demands a quick response to any possible issue that may arise.
Cost-effective
On a similar note, remote support can be extremely cost-effective for your business. Think about the wear and tear on a vehicle that is used to go from one place to another to solve a technological problem. Also factor in the cost of gas and routine maintenance. Plus, the likelihood that a technician could get into an accident traveling from various facilities or homes.
Since remote support and IT providers can assist without tacking on additional costs that come with an on-site visit, a business can extend the savings on to the customer, resulting in a lower cost.
Enhanced productivity
Most of us have experienced a productive workday get thwarted by an unexpected IT issue, which is sure to put a stop into getting anything on a to-do list accomplished. When you're worrying about an IT issue, which is likely tedious and time-consuming, you're putting the growth of your company on the line.
Because IT issues tend to decrease productivity and distract from the task at hand, remote support software can resolve any tech-related issue fast and get productivity back on track.
Access to experts
Some IT-related issues are going to be relatively easy to solve or troubleshoot on your own time, while others are going to need to be solved by a technician with specialized expertise.
Thanks to remote support software, you can call on an expert from anywhere in the world to potentially solve a problem.
Maintenance that's always available
In addition to being able to connect to an expert from anywhere, you can also do it at any time. Procedures such as upgrades and troubleshooting can be done at all hours of the day. This also includes after business hours.
Because maintenance is round-the-clock, there's also the benefit of increased response time to any tech-related issues. Support can be given to those in need as soon as a phone call or chat is answered. This sort of response is much faster than having to wait until a technician visits your home or office.
As an example, Jonathan Aufray provided us with his experience with remote support, saying, "I've used remote support several times for tech-related issues. The first time I let an engineer gain remote access to my laptop, I wasn't that comfortable but once you build trust with the engineer, this feeling goes away."
"What's important here is to focus on the solution, not the problem. The engineer was able to fix my problem quickly without me going anywhere."

Jonathan Aufray


Chief Executive Officer of Growth Hackers
Proactive system maintenance
When you utilize a managed IT service provider, your business will always have someone on the lookout for problems. These providers offer constant monitoring, which allows for problems to be identified and fixed before they can cause detrimental effects on a business.
In addition, you'll also have the ability to log into systems and check the status of hardware, monitoring if the programs are outdated so that the latest updates can be applied.
Client-friendly
When a customer is experiencing a technological issue, visiting their location is going to be dependent on multiple schedules, and finding a time that works best can require a lot of back and forth. This can be especially challenging if the client works remotely full-time. There's also always the chance of a last-minute change that can disrupt the planned schedule.
When you utilize remote support, especially unattended access, you can provide tech support even when the client isn't available. Having this solution to fall back on is often convenient for the customer and increases their satisfaction.
This method can also be less intrusive to all parties involved, as no schedule or workday needs to be disrupted.
Drawbacks of remote support
With the benefits also come a few drawbacks that you may experience when using remote support software.
Connectivity
The backbone of remote support software is the internet connection, which means that connectivity issues can sometimes end up bottleneck the support experience.
When implementing a software solution, it's important that the network connectivity for both the technician and the end user can be maintained as best as possible.
Privacy
The issue of privacy is bound to come up when discussing remote support software. The idea of taking control of someone's computer, or someone taking control over your device, can be a little daunting. In the wrong hands, losing control over your device could not only mean compromised data but potentially compromising the data of the entire network.
Because of this, most remote support software also utilizes endpoint protection features to protect internal devices.
How to choose the right remote support software
With so many benefits to using remote support software, it's important that you know exactly the features that your company needs in a tool.
Some key features include:
Remote control and screen sharing: An absolute must-have feature in remote support software is remote control and screen sharing. It lets the technician view and control the device remotely to fully interact with it.
File sharing: Another essential feature is file sharing. This is used to resolve issues surrounding the replacement of bad files, like malware. File sharing also allows for easy updates, patching, and troubleshooting.
Chat window: Remote support software should always have a built-in chat window that helps technicians stay in touch with the customer throughout the session.
Security: When it comes to remote support software, security, and privacy are often concerns. Make sure the software you choose makes multi-factor authentication, encryption, and data anonymization a priority.
Transfer of sessions: When resolving an issue, you may need various technicians with different skill sets. The best remote support software allows you to have multiple technicians work on the same session, plus the ability to transfer a session to a different tech that could be more familiar with a specific problem.
Multi-platform support: No matter what kind of device you utilize, you want to make sure that the remote support software you use is compatible. This includes support for Windows, Mac, and Chromebooks, while also being able to support mobile functionality for both iOS and Android devices.
Multi-monitor navigation: This feature will enable going back and forth between screens if you often connect to two or more monitors.
Visual communication tools: There can be frustrations using remote support tools, and that comes from not being able to physically indicate what is happening. For instance, you can't point or gesture to what is being shown on the screen. Remote support that offers visual communication features, like annotations, helps to alleviate many forms of miscommunication.
Remote support software
Now that you know what to look for in remote support software, it's time to choose the solution that best fits your needs. For that, the unbiased reviews written by real users on G2 have you covered as they answer all of your questions.
* Below are the top five leading remote software solutions from G2's Spring 2020 Grid® Report. Some reviews may be edited for clarity.
1. TeamViewer
TeamViewer utilizes live video, augmented reality, and IoT to deliver an interactive support session, allowing employees and IT professionals to solve tech problems securely. It provides access and support to companies of all sizes from anywhere.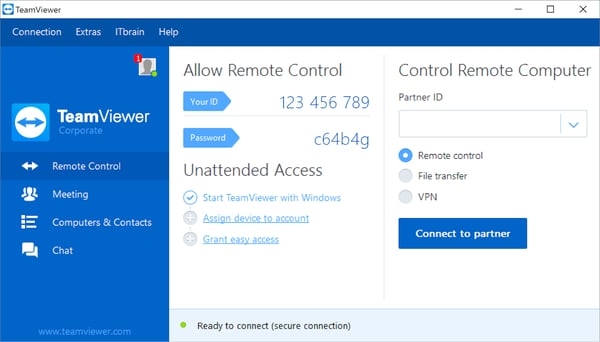 What users like:
"TeamViewer is an essential and invaluable tool for support technicians. It's very simple to provide assistance since it's only necessary to enter the partner's ID and password. What I like the most is that it offers a totally free version. Overall, the image quality is quickly updated when the screen is being shared. Also, it is possible to transfer files quickly."
- TeamViewer Review, Cesar C.
What users dislike:
"Sometimes the screen of the user who is sharing his screen freezes and there is no way to resume the connection, so you must close the session and request remote access again."
- TeamViewer Review, Daniela C.
2. Zoho Assist
Zoho Assist is a cloud-based remote support and remote access solution that helps IT professionals support customers through web-based, on-demand support sessions. Technicians can easily set up and manage remote computers in seconds with unattended remote access. It has both voice and video chat and allows for secure and reliable file transfers during a live session.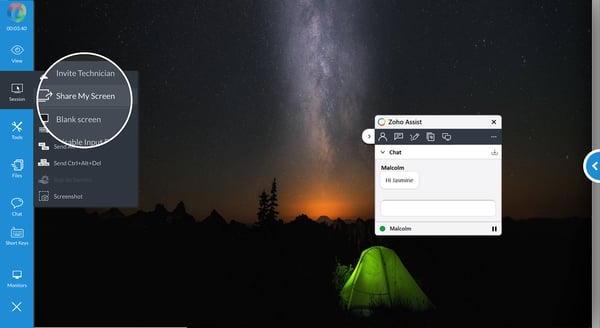 What users like:
"It is very simple to implement and easy to use. Zoho Assist presents a stable interface with a wide and correct level of functionality. I am pleased that it is complemented with other Zoho resources to be an assistant between computers and devices with a direct connection and stability. It's also high-quality and is very well achieved in the visual aspect during connection."
- Zoho Assist Review, Johnny W.
What users dislike:
"The browser connection can be flaky when connecting, but if you use Google Chrome it is much more reliable. A simple refresh typically fixes it and much better than installing software to connect."
- Zoho Assist Review, Kristofer J.
3. ConnectWise Control
ConnectWise Control offers secure full remote capabilities that deliver similar results to in-person IT help desks. Their software allows for instant remote support or establishes unattended access to repair computers, provide updates, and manage machines. And thanks to global support, it boasts flexible plans for different business needs.
What users like:
"Minimal time is needed to connect to a client computer to troubleshoot issues. Its fast and reliable connection can be toggled to cater to the internet connection speed. There are plenty of options available from entering shortcut keys to pasting what's in the clipboard. You can also set up your clients to remotely connect to their own office computers. Overall, ConnectWise Control is very helpful in this uncertain time."
- ConnectWise Control Review, Nick K.
What users dislike:
"The only quirk about it is gaining elevated access in Windows with UAC enabled. Having to send CtrlAltDelete, enter credentials, and then rely on a local user to "approve" the elevation request is cumbersome for those clients that do not have local administrator permissions. This means that unattended access must be carefully installed so that you retain elevated permissions in the event you don't have a local user on hand to click your UAC prompts."
- ConnectWise Control Review, Nick V.
4. SolarWinds Take Control
SolarWinds Take Control is a cloud-based remote control solution built for IT service businesses that need to securely access and troubleshoot end devices fast. Take Control is lightweight and agile, providing a seamless and highly secure solution so you support your clients and users efficiently.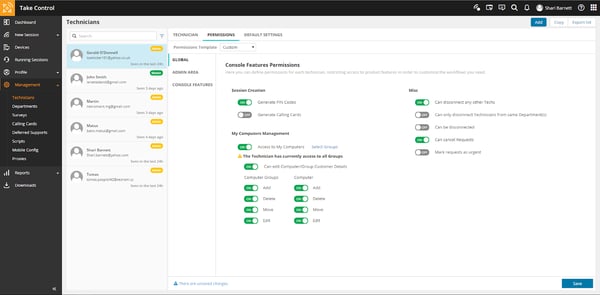 What users like:
"We use Take Control both as the stand-alone version as well as the one integrated with NCentral. I am very happy with the product, as it works great to remotely manage our client devices. It's cross-platform and provides additional functionality like command line, and registry editor. I use it daily and am a fan of the product."
- SolarWinds Take Control Review, James B.
What users dislike:
"One catch that I have found is that if you don't set up each session as an unattended session, then the PC restarts and you will lose your remote access and have to re-initiate a remote session again. On Demand sessions don't have the ability to start as a service, and therefore only run once the user profile has been loaded.
- SolarWinds Take Control Review, Robert G.
5. BeyondTrust Remote Support
When organizations need to securely access and support any device or system, from anywhere in the world, they turn to BeyondTrust Remote Support. Technicians can easily and quickly connect to, view, and control remote systems and devices. They can also chat and collaborate with end-users or other technicians, all while improving remote access security.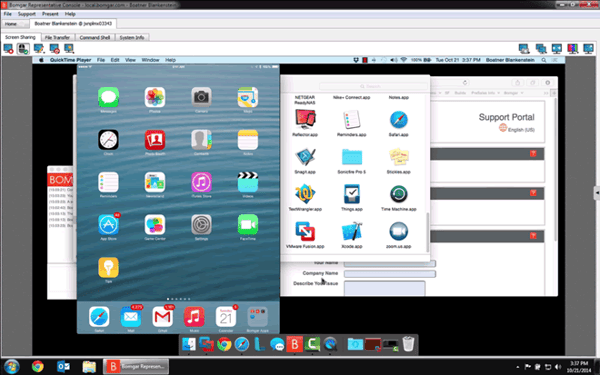 What users like:
"What makes BeyondTrust great is that it's one interface to connect to computers and groups. I like how there is unattended support so that I can just log into any computer whenever I want. I just found out about the buttons at the top, where you can click to open certain things in the Control Panel and the Run commands and not have to search through the actual remote computer."
- BeyondTrust Remote Support Review, Sammy W.
What users dislike:
"The only thing I would like to see is the ability to hear the audio from the endpoint device. This would greatly help in troubleshooting remote meetings and sound card issues."
- BeyondTrust Remote Support Review, Cam P.
It's good to feel supported
No matter what kind of tech-related issue you're experiencing, remote support will put your mind at ease that there is someone with the knowledge and skill set needed to find a solution. You won't have to wait for anyone to arrive at your facility and you won't have to spend time going through the issue at length on the phone.
Overall, remote support will be there when you need them most, so you can get back on track.
To further assist your IT support teams, learn more about how to set up help desk management systems for things like incident tracking, user connectedness, and more.