While it isn't often a first choice, Reddit is a goldmine for marketers.
Reddit marketing doesn't necessarily have to be paid. Organically, companies can make a name for themselves by participating in the AMA (ask me anything) threads and other subreddits (maybe even a branded subreddit for customers to leave reviews and ask questions).
All it takes to organically gain traction is knowing how to post on Reddit. But if you have a little extra money in your marketing budget this year, or you're looking for a new strategy as the new fiscal year approaches, you may want to consider paid advertising on Reddit.
Using Reddit ads in your marketing strategy
More than 330 million users are on Reddit every month. Whether they're posting silly GIFs, educational articles, or useless shower thoughts, each and every one of those people has the potential to be your next MQL. Why not take advantage?
What is Reddit?
Reddit is an American discussion website where users can submit content such as images, text posts, links, and other formats, which are then voted up or down by other members of the forum.
Based on the targeted platforms already set up by Reddit, the amount of users on the platform, and hundreds of other juicy statistics, marketers should be jumping at the opportunity to have themselves called out on the feed. Yet, it seems that Reddit still isn't a terribly popular choice when it comes to social media strategy.
Regardless, we'll go over how to set up an ad on Reddit, and then whether or not it's worth your time and money.
Already using Reddit for marketing?
How to set up Reddit ads
There are a few steps you'll need to take in order to set up your ads on the Reddit platform. Below, we'll cover each and every one.
1. Prepare yourself
Before diving right in, it's best that you have the assets and information you need at hand so that you can ride through this process smoothly. Before you go clicking around, you'll need:
A Reddit username and account with a verified email address (ideally one that's tied to your business)
Advertising assets

Ad copy
Card and thumbnail images
Videos in MP4 or MOV format if paying for a video ad
Destination links
Click trackers

A valid credit/debit card
Once you have your assets and account ready to go, we can get a move on.
2. Register yourself as a business
When you visit Reddit's ad platform site and click "Advertise on Reddit", Reddit will redirect you to a form that prompts you to fill out information such as your company's username, your first and last name, the name of your company, and the industry you work in.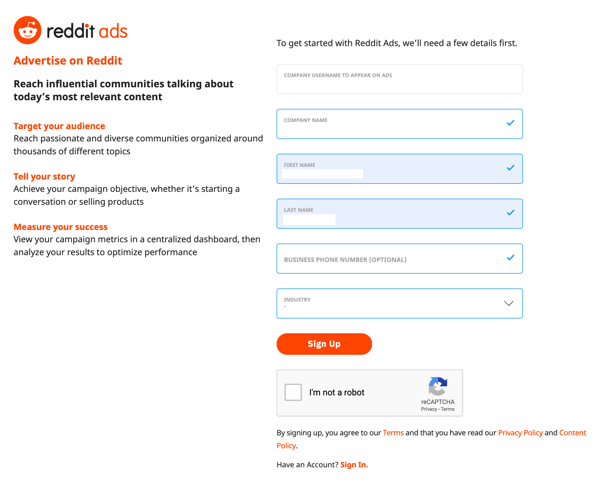 After you prove that you're not a robot, go ahead and click "Sign Up".
3. Name your campaign and choose your objective
When naming your campaign, think of the future campaigns that you'll be running and be sure to name your first campaign something unique and identifiable. After you've chosen a name, the second half of the page features the objectives that you can choose from in order to optimize your ad creation process.
For example, creating an ad on Reddit with brand awareness in mind won't be created the same way that an ad with the goal of conversions is.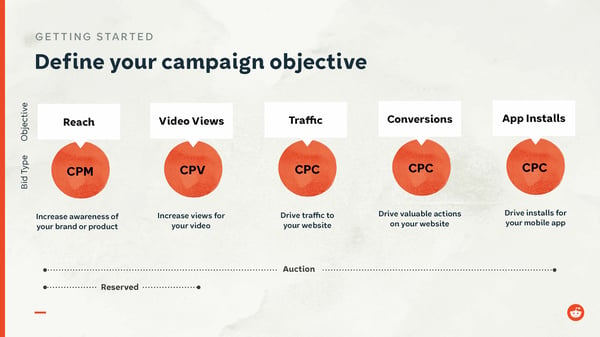 Source: Reddit
Based on what you and your marketing team have decided your goals will be for the quarter, choose the objective which you feel best fits the way you could achieve it.
4. Determine your ad group
Know that you shouldn't take a single step towards advertising without knowing your audience inside and out.
Ad groups should be named based on how you define your audience. For example, if your audience is located in Illinois, Wisconsin, and Ohio with interests in personal finance and comic books, come up with a name for your ad group (under 200 characters) that would describe that audience.
Midwestern Finance Comic Nerds is only 30 characters. It's a good start.
Reddit allows you to include (and exclude) locations, interests, subreddits, devices, and times of day which you'd like your ad to appear during. For example, if you're advertising dog food with a Midwestern joke inserted into your ad (something about corn, maybe), you'd probably want to exclude anyone who lives in Alaska, as well as avoid advertising to anyone on r/cats, r/catbellies, and r/kittens.
In other words, Reddit gives advertisers the luxury of being able to apply the settings for the people they want to advertise to while also including settings about the people they don't want to be advertising to. It's all about minimizing that spend.
5. Scheduling and budget
Once your ad group is built out, you can determine your advertisement's schedule and the budget you'd like to be spending on it.
Reddit is auction-based advertising, meaning that the impressions aren't guaranteed; instead, they depend on targeting, bid, and the amount of traffic Reddit gets during your scheduled time.
Your budget can be set one of two ways: daily budget or lifetime budget. A daily budget means that you'd be able to insert the amount of money you'd like to spend on your ad per day. This number is not exact, but an average estimate of how much you'll be spending daily throughout your scheduled period. A lifetime budget should be input if you have an exact amount that you'd like to spend over a range of days. Your ad will work for you by trying to spread out the delivery of your content over the number of days that you allow it to until your budget is hit. Once your budget is maxed out, your ad will turn off.
Your bid should reflect the most you are willing to pay for the following:
CPM - the amount you are willing to pay per 1,000 impressions
CPC - the amount you are willing to pay per click on your advertisement
CPV - amount you are willing to pay for every video view
The bid you choose should reflect your original objective.
You may then choose your schedule, which involves selecting a start date. From there, you can choose to run your campaign continuously, or set an end date. Note that all campaign start and end times are in EST.
6. Create your ad
The first step in this part of the process is to name the ad itself. This won't be visible to any viewers, it's just for you and other marketers to track.
Once you've come up with a name for your ad, you'll be able to select the format in which your ad appears based on the objective you chose.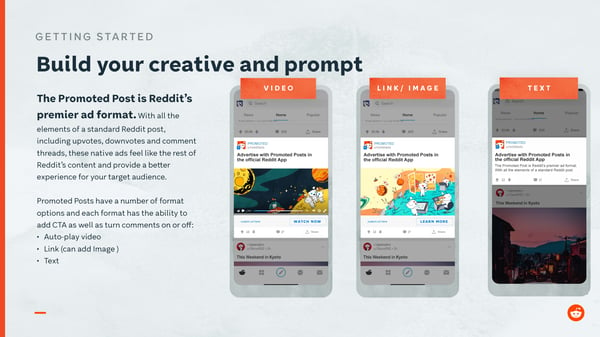 Source: Reddit
The process following will depend on the format you choose.
Link posts are available for Brand Awareness + Reach, Traffic, Conversions, and App Install objectives. Link ads will drive traffic by directing users to your website. You'll be able to include
A headline
A link

Destination URL - Your click-through URL, which may include UTM codes for tracking purposes
Display URL

Card image - 1200x628 px with a max file size of 3MB
Thumbnail image: 400x300 px with max file size of 500KB
Text posts are available for Brand Awareness + Reach objectives, and should be designed to begin a conversation amongst users. You'll be able to include
Video posts are available for Brand Awareness + Reach, Traffic, Conversions, Video Views, and App Install objectives. Videos must be uploaded into an MP4 or MOV format, and will automatically play in the feed unless you turn the autoplay function off. You'll be able to include:
A headline
A link

Destination URL - Your click-through URL, which may include UTM codes for tracking purposes
Display URL

A video

Reddit recommends an aspect ratio of 1:1, 4:5, 16:9, or 4:3 with a maximum file size of 1GB
A thumbnail of your video
Reddit provides the option to make a GIF from your video
Once you've inserted all of your creative assets and text, you'll be able to preview your advertisement and see how it will look on a desktop in multiple formats, as well as on mobile. Once you've finished creating your ad, don't forget the post-click experience. Connect your Reddit Ads to dedicated landing pages for the best chance of converting those ad clicks.
7. Submit for approval
Reddit allows you to review your ad before clicking "Submit". Once submitted, a real live human reviews who works for Reddit will review your ad. The process may take between 24-48 hours. As soon as ads are approved, those that were set to run continuously will begin.
Once your ad is submitted, you'll be requested to add a billing source. If this source is not added, your advertisement won't be run. Plain and simple.
Are Reddit ads worth investing in?
Nearly every article you pull up regarding how to advertise on Reddit concludes with this question: is it worth it?
It's not the process we're all questioning – it's the results.
The reason that we sometimes doubt this platform as marketers is because of how niche it can be. Volume isn't there like it is in other platforms like Twitter or Facebook, so in terms of cash, it may not be a great first move when advertising something for the first time.
However, that doesn't mean that Reddit is an ROI dud, depending on how you define "investment". In money, maybe; in time, definitely not. The success that some brands have seen with general marketing by interacting with different subreddits, sharing their articles for traffic, and growing awareness of their brand.
"Communities on Reddit are tight knit and prioritize authenticity above all else. Brands who want to reach this audience need to focus on creating real connections. A great way to do that is through AMAs or simply asking your community a question. In fact, when brands host or participate in relevant conversations online, 44% of people say they would feel more connected to them. Whether you're using organic or paid to reach these audiences, finding ways to relate to this community in a more human way is key."

-- Rachael Samuels, Manager, Social Media, Sprout Social
In other words, investing your money into Reddit advertising is a gamble, but investing your time in Reddit marketing could produce some serious results.