Are you an HR professional interested in seeing where the sphere of recruitment and talent acquisition is headed?
Recruitment is an essential function of any organization. In order to manage the process of attracting, hiring, and retaining great employees, you'll need to be armed with the most recent and relevant data.
Check out these 38 recruitment statistics to help amplify your talent acquisition strategy.
Recruitment statistics in 2019
Recruitment is an ever-changing beast, and it's not a role that's going away anytime soon. With increased use of technology for recruitment, you'll have to improve your employer branding to better recruit Millennials and Gen Z talent. These statistics are broken up into three topics: the hiring process, recruiting trends, and company culture insights.
Hiring process
82% of hiring managers say they view the candidate experience as very or extremely important (CareerBuilder).
Companies

lose as many as 89%

of potential candidates due to prolonged screening process (Zety, 2019).
86% of job seekers believe employers should treat candidates with the same respect as current employees (CareerBuilder).
81% of job seekers say employers continuously communicating status updates to them would greatly improve the overall experience (CareerBuilder).
53% of job seekers want expectations clearly explained in the job description (CareerBuilder).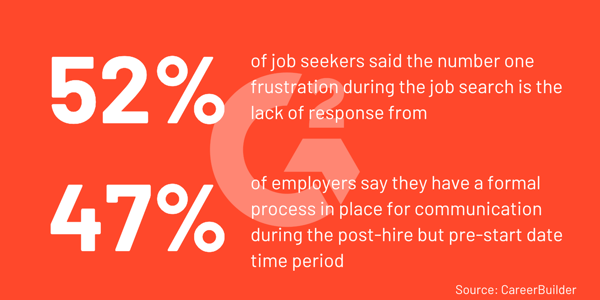 Recruiting trends
Hiring managers' primary reasons for working with staffing firms include the desire to shorten the hiring process (42%) and access to candidates with specialized skills (41 %) (CareerBuilder).
40% of companies maintain recruitment processes in-house to save money (CareerBuilder).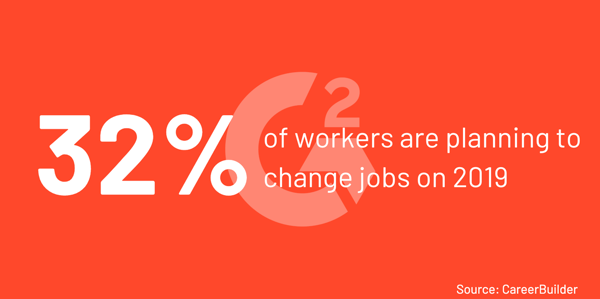 32% of workers are looking to change jobs in 2019 (CareerBuilder).
55 million people, more than 35% of the U.S. workforce, are "gig workers." That number is projected to jump to 43% by 2020 (Forbes).
Company culture insights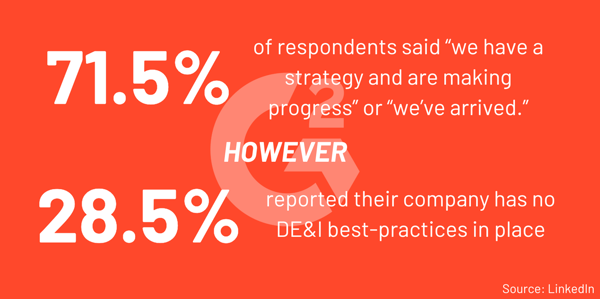 You've got the power
Now that you're armed and dangerous with these recruitment statistics, you can go forth and create a recruitment marketing and hiring process that brings the best talent into your organization.