Recruitment and marketing are typically two distinct and separate teams within any organization.
For the continued success of your company, however, it's more important than ever that you are selling not just your product or service–but also your organization as a place to work. Your employer branding is invaluable and can answer the question, "why work here?"
By the end of this guide, you should have a clear idea of what recruitment marketing is. Further, you can also jump ahead to explore:
Now is the time to align your recruitment efforts and marketing efforts to source talent and grow your company! Let's start with the basics.
What is recruitment marketing?
Recruitment marketing refers to the process of using marketing tactics to attract and nurture people to join your organization. The main goal of recruitment marketing is to funnel talent to apply and be recruited.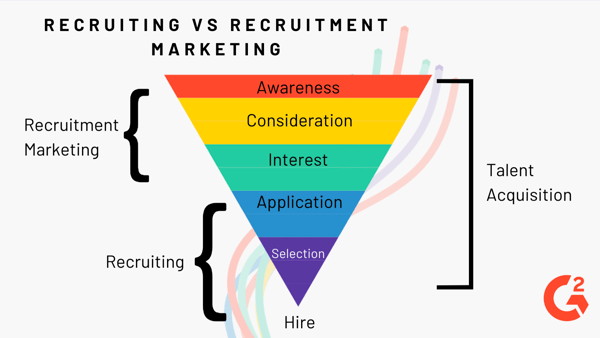 Similarly to consumers who need to be attracted and nurtured to purchase a product, talent needs to find value in an employer in order to reach the threshold of applying for a position. Building a strong employee brand is one of the most common challenges recruiters face today. Recruitment marketing aids with that by handling the stages of awareness, consideration, and interest to drive talent across that threshold.
Throughout your recruitment marketing process, focus on showcasing your employer brand and corporate culture. This is best done in coordination with your organization's marketing team to ensure your employer brand is aligned with the holistic company brand.
All of these goals are most easily achieved with the right recruitment marketing platform or recruitment marketing agency.
What is a recruitment marketing platform?
Recruitment marketing platforms help recruiting teams attract and source job candidates to convert into applicants. Many of the features offered by a recruitment marketing platform are similar to those that support inbound marketing efforts within marketing departments.
A live look at the G2 Grid® for this category shows the different recruitment marketing products available based on real-time, validated user reviews.
Organizations use recruitment marketing platforms to list job openings, engage with candidates, nurture interest, and drive applications. Many of these platforms also offer features to identify candidates at events such as campus recruiting or job fairs.
Recruitment marketing platforms are traditionally implemented in HR departments and used by recruiters to build talent pipelines. These platforms enable users to treat candidates as "leads", qualifying them in a similar manner as leads in sales operations. Organizations can use recruitment marketing platforms to increase the volume and quality of applicants.
Recruitment marketing tools are incredibly helpful to reaching your organizational goals, but without the right strategy in place, you're likely to fall flat.
What is a recruitment marketing agency?
Everything you just learned about recruitment marketing can be completed by a recruitment marketing agency. These agencies employ specialists in marketing and recruiting to help your organization create or improve your employer branding initiatives to ensure consistent and compelling recruitment messaging.
These agencies oversee user-focused communication strategies, media auditing and plan creation, and candidate engagement across mobile, digital, and social media. Typically, HR staff will work with recruitment marketing agencies to improve their company's hiring process. In addition to branding solutions, some agencies provide technology advising, pay-per-performance solutions, and comprehensive employer value proposition (EVP) initiatives that provide a clear articulation of what organizations can provide to employees.
For organizations that don't necessarily have the time or resources to do this all in-house, a recruitment marketing agency is the ideal solution.
What is a recruitment marketing strategy?
A recruitment marketing strategy is the planning and implementation of marketing tactics to drive recruiting goals. To be successful, you will need to consider analytics, candidate experience, company culture, and employer branding.
Analytics
Data is at the forefront of every profession today, and HR is no exception. Every step of the talent acquisition funnel can be tracked and measured to empower you to make more informed decisions. Assess what is and isn't working to decide where your efforts and priorities should be distributed.
Candidate experience
Whether or not a person is hired, they should exit the recruiting and selection process feeling happy. A positive candidate experience will add to your employer brand. Focus on providing timely communication and transparency through the process. Negative word of mouth or bad reviews will come back to haunt you and potentially dry up your talent pipeline.
Company culture
The biggest draw for most people in joining an organization is not knowing what it's like to work there. Use this to your advantage by harnessing social media and your website to shine a light on what makes your organization a good place to work. Employee testimonials, explanation of perks and benefits, virtual tours, and professional development opportunities are great ways to engage potential applicants.
Employer branding
Your employer brand is the reputation of your organization. It crosses multiple platforms and channels to show exactly what you have to offer as a workplace. By identifying your candidate persona (the ideal characteristics of a perfect candidate) and establishing a value proposition (what your current employees love about working for your organization) you can fill up the talent pipeline with qualified candidates–and lots of them.
TIP: Your best candidates are likely doing their research and checking out your online presence – including G2. Claim your profile to get started bolstering your customers' voices and, in turn, attracting top talent.
Your time to shine
There has never been a better time to strategize your recruitment marketing efforts. No longer can you passively wait around and hope that a job description and a decent careers page on your website will do the job. Actively participating in recruitment marketing is the best way to get the talent you need as a recruiter.
Want to learn more? Discover how you can lay down the core values of your company and start crafting your core values list today.