Getting top-tier candidates interested in applying to your company is a massive challenge.
Will you entice them with a stellar compensation and benefits package? Perhaps sweetening the deal with your casual dress code and monthly team outings?
To wrap it all into one, you're going to need to combine recruitment efforts with marketing tactics, even though they're usually two distinct and separate teams at any business.
For the continued success of your company, however, it's crucial that you are selling not just your product or service, but also your organization as a place to work. Your employer branding is invaluable and can answer the question, "why work here?"
To answer that question, turn to recruitment marketing.
What is recruitment marketing?
Recruitment marketing refers to the process of using marketing tactics to attract, engage, convert, and nurture job seekers to join your organization. The main goal of recruitment marketing is to funnel talent to apply to the open positions your company is hiring for.
Similarly to consumers who need to be enticed to purchase a product, talent needs to find value in an employer to make the effort to apply for a position. As the first stage in the talent acquisition process, recruitment marketing helps to accomplish this by handling the stages of awareness, consideration, and interest to drive talent to your organization.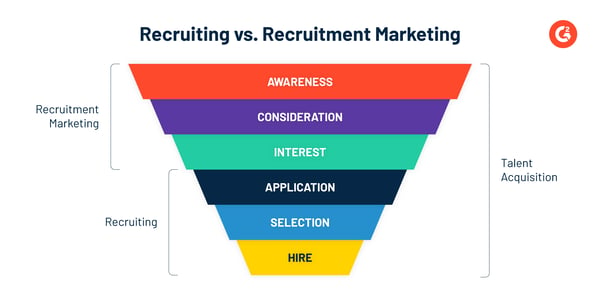 There are many components to recruitment marketing. Some of the most popular consist of content marketing, email nurturing, talent networks, social recruiting, candidate relationship management, and employer branding. When everything comes together, your recruiting department uses all of these components to promote the employer brand message so they can successfully discover, attract, and engage with various leads to convert them into applicants and hopefully future members of your organization.
At the end of the day, it has to be done strategically – and usually in tandem with your company's marketing team. Recruitment marketing is a long-game, so let's not waste any more time explaining how it can be done.
75%
of jobseekers researching an organization's reputation before applying for a job.
Source: LinkedIn
Why is recruitment marketing important?
There once was a time that people open for new job opportunities would browse job boards like Craigslist, or simply rely on word of mouth marketing to learn about which companies were hiring. This old way of recruiting doesn't work anymore, and companies that are hiring need to step up their game if they want to find the right candidate to get the job done. This has transitioned recruitment marketing from a strategy that was simply nice-to-have to being absolutely crucial.
Today, candidates find and consider employers the same way they find a restaurant for dinner or a hotel to stay at when traveling: searching online, reading reviews on business review sites like Glassdoor, and checking social media profiles of the companies in question. By doing so, candidates can become more aware of who the employer is and what their company culture looks like before applying during their job search.
What they learn doing this search can greatly influence whether or not they not only apply for an open position, but it also can affect whether they accept an offer for employment once the interview process is complete.
Implementing effective recruitment marketing tactics to candidates in your pipeline will impact the overall direction of your organization in the long term. Filling your departments with the best talent out there gives your business a powerful and competitive advantage, while recruitment marketing gives your company the ability to only attract the best of the best.
We asked Hannah Fleishman, Employer Branding at HubSpot, her thoughts on recruitment marketing. She shared, "Building a strong employer brand and positioning your company as a great place to work will have an outsized impact on your organization over time, but you have to be patient."
"Strong brands drive inbound job applications, but they aren't built in a day."

Hannah Fleishman
Employer Branding at HubSpot
Your company won't be given the chance to have great hires without great applicants, and that can't happen if you don't have great leads. Keep in mind that recruitment marketing isn't about marketing open jobs, but instead marketing the company brand. The most sought-after and highly qualified candidates aren't just looking for a new job – they're also looking for a good fit.
Still need convincing that your business needs to embark on a recruitment marketing strategy? When you do, it'll solve challenges like:
Allowing your business to stand out from the competition
Fixing limited recruiter bandwidth within your company
Conquering an unfamiliar candidate pool for a new role or position
Managing seasonal hiring or a high-volume of recruitment opportunities
Creating a recruitment marketing strategy
A recruitment marketing strategy is the planning and implementation of marketing tactics to drive recruiting goals. To be successful, there are many elements that you need to weave into your strategy to ensure top talent seeks out the positions available within your company.
Analytics
Data is at the forefront of every profession today, and HR is no exception. Every step of the talent acquisition funnel can be tracked and measured to empower recruiters to make more informed decisions when hiring. When you're able to take a deep dive into that data and see what is and isn't working, it's easier to decide where your efforts and priorities should be distributed.
Candidate experience
Whether or not a person is hired, they should exit the recruiting and selection process feeling satisfied that their time and effort were well spent. A positive candidate experience will boost your employer brand. Focus on providing timely communication and transparency through the process. Negative word of mouth or bad reviews will come back to haunt you and potentially limit your talent pipeline in the future. Greater candidate churn can also turn into bad publicity and a financial loss.
83%
of candidates emphasize that negative experiences can hurt their perceptions of an employer.
Source: Recruiting Brief
Content marketing
In terms of indicating that your company is trustworthy, a strong content marketing strategy is crucial to ensuring the best talent finds your career opportunities.
The blog posts and job descriptions listed on your company's website that potential applicants will see should showcase your organization's experiences in the industry and help them to understand how your teams work. This content could be anything from a well-written FAQ page that will answer most commonly asked questions, to podcasts and videos centered around your brand, the work it does, and its core values.
You can also combine your content marketing strategy with the PR team to get the word out on company news, charity initiatives you're involved in, various activities, and more.
Social media and social recruiting
There's a good chance that your potential candidates are on social media. In fact, one LinkedIn survey says that 49% of professionals are following relevant organizations on their social media accounts as a way to keep pace with their recruitment processes.
Because of this, it's crucial to incorporate social media into recruiting.
Be sure to choose the right social networks. While LinkedIn is an obvious choice, don't forget about Facebook, Twitter, YouTube, and even Instagram to target and connect potential applicants. Provide important business details across all accounts, and even showcase company news, events, accomplishments, rewards, and other photos on social media. Another great thing to implement is photos of your employees to give a more human feel to a business social media account.
As an example, check out the post on G2's Instagram highlighting being recognized by Deloitte as one of the fastest-growing technology companies in North America.

This also includes mobile recruiting, especially when you consider the rapid growth of mobile searches, as 45% of jobseekers look for new opportunities on their mobile devices.
Employer branding
Your employer brand is the reputation of your organization. It's how your business stands out from a sea of similar organizations as a way to be recognized and remembered.
Employer branding crosses multiple platforms and channels to show exactly what you have to offer as a workplace. By identifying your candidate persona (the ideal characteristics of a perfect candidate) and establishing a value proposition (what your current employees love about working for your organization) you can fill up the talent pipeline with an abundance of qualified candidates.
Remember, a strong employer brand won't happen overnight. It's a long-term strategy that will need to focus on bringing maximum value to your audience while reflecting your culture, value, mission, and purpose.
We asked Chicago-based Senior Recruiting Consultant, Jon Heise, to share his thoughts on recruitment marketing. He shared, "What I stress to my clients is to have a clear picture of what their brand is and why people would want to work there - and make it very accessible to candidates."
"They're essentially selling their brand, their culture, and their potential growth opportunities to people."

Jon Heise
Senior Recruiting Consultant, Tempus Labs, Inc.
He continued, "And like any consumer good or service, a customer (or candidate) will want to have a good experience while shopping or interviewing!"
A polished website
The world of digital marketing is crowded, and your website needs to stand out from the noise.
When a jobseeker is on the hunt for a new position, when they Google your brand's name, it'll be the first result. Plus, efforts surrounding SEO, social media, and other job posting platforms all will lead to your website.
Is it something to be proud of? Does it entice the viewer? Is it perfectly optimized while also being user-friendly? These are all questions you should be asking when you view your company's website from the eye of a job seeker. Make sure people can find the desired information fast, while also illuminating potentially annoying elements like too many pop-ups or fonts that are hard to read.
Employee referral programs
An employee referral program is often an underestimated tool in recruitment marketing, but when done right, it can have various benefits within the hiring process, like lower turnover rates, faster onboarding, and minimizing cost per hire.
Because it can be such an effective hiring method, consider the types of referral bonuses offered to your employees as a bonus when they refer a candidate that ends up being crucial to the workflow at your organization.
Recruitment events
Looking to expand your pool of talent? Host a recruitment event.
Not only will it allow you to build a strong relationship with a candidate from the very beginning, but you'll also be able to see skills not found on their resume or cover letter, like interpersonal skills and how they communicate with others already on your team.
Whether it's something small like an open house or a large-scale event like a job fair, it's going to take some planning ahead of time to know what you're looking to accomplish once it's all said and done.
Don't forget to promote the events on your company's website, in your email campaigns, and on social media to be sure to get the word out!
Benefits of effective recruitment marketing
Now that you know what your recruitment marketing strategy will look like, what sort of benefits will you expect when done right?
One obvious benefit? You'll boost the quality of the candidates that come through the hiring pipeline. It's common for organizations to face the issue of quality candidates not taking the time to apply to an open job they see on their website or when browsing job boards. Having a plan in place to convert these candidates to leads can be a huge win for your business.
Senior Recruiting Consultant, Jon Heise, shared with us his thoughts here too, saying, "There's a lot of benefits to recruitment marketing."
"Your pipeline is fuller and you can filter the top talent easier. When candidates are engaged and interested, it will save companies time, effort, and money."

Jon Heise
Senior Recruiting Consultant, Tempus Labs, Inc.
He continued, "Of course, interview the best, but don't "ghost" or forget about the people that sought YOU out. Their experience, even if it's a "no" must be a priority."
Effective recruitment marketing can also increase the diversity of candidates you interview and potentially hire. A challenge some businesses can find themselves facing is not being able to attract people that meet certain diversity requirements. Having a recruitment marketing plan in place helps businesses become more proactive around the talent personas they're going after and engage the right candidates in a smarter way.
Something else to consider is just how cost-effective recruitment marketing can be in the long run. If your organization is spending money on job descriptions that are simply copy and pasted on various job boards and posting open positions on social media without a plan in place, you're essentially throwing your recruitment budget down the drain. When you align technology with smart efforts as a way to extend your reach and engage your candidates, recruitment marketing turns into money well spent.
Last but not least, recruitment marketing can accelerate the hiring process. Neither the candidate nor the recruiter likes to spend months on end dealing with countless rounds of interviews with no end in sight. Once your strategy and program are ready to roll, you can fully build out a pipeline of candidates that you believe to be a good fit for your company and various open positions. When you do, you should move through the pipeline faster than candidates that you had to search for from scratch. This will also lead to a better candidate experience because they'll know their time is being seen as valuable as each touchpoint can be customized to who the candidate truly is.
Hannah Fleishman, Employer Branding at HubSpot, continued sharing her thoughts on the benefits of recruitment marketing. She said, "Amazing candidates have higher expectations for the companies they work for than ever before. Having a company culture is table stakes; candidates want to know that your culture is the right match for them. That's where recruitment marketing comes in."
"You have to be transparent about why your organization is a great place to work today in order to hire competitively. Period."

Hannah Fleishman
Employer Branding at HubSpot
What is a recruitment marketing agency?
Everything that is wrapped up in recruitment marketing can be completed by a recruitment marketing agency. These agencies employ specialists in marketing and recruiting to help your organization create or improve your hiring strategy and marketing initiatives to ensure consistent and compelling messaging throughout the recruitment process.
These agencies oversee user-focused communication strategies, media auditing and plan creation, and candidate engagement across mobile, digital, and social media platforms. Typically, the HR staff will work with recruitment marketing agencies to improve their company's hiring process. In addition to branding solutions, some agencies provide technology advising, pay-per-performance solutions, and comprehensive employer value proposition (EVP) initiatives that provide a clear articulation of what organizations can provide to employees.
For organizations that don't necessarily have the time or resources to do this all in-house, a recruitment marketing agency is the ideal solution to finding top talent interested in joining your team.
Recruitment marketing software
Recruitment marketing software works by helping internal recruiting teams attract and source job candidates and then convert them into applicants for an open position. These tools offer users a variety of features to help facilitate their recruiting efforts, like social recruiting tools, job distribution features, and candidate relationship management (CRM) capabilities.
Organizations use recruitment marketing platforms to market job openings, engage with candidates, nurture their interest, and encourage the submission of applications.
* Below are the top five leading recruitment marketing software solutions from G2's Summer 2020 Grid® Report. Some reviews may be edited for clarity.
1. LinkedIn Recruitment Marketing
LinkedIn Recruitment Marketing, otherwise known as LinkedIn Talent Solutions, connects recruiters with more than 400 million members on the network. It incorporates features like career pages, recruitment ads, sponsored content, and pipeline builders to help you find the right candidates that respond to your outreach and apply to open roles.
What users like:
"LinkedIn Talent is a very user-friendly application while also being a time-saving application. It has been very helpful in finding the right candidate according to our needs. I enjoy how easy it is to post or publish our desired candidate details. It helped me to weed out the best talent from the list of applicants."
- LinkedIn Recruitment Marketing Review, Noman A.
What users dislike:
"LinkedIn Talent, like other services on the site, can get to be quite a bit costly."
- LinkedIn Recruitment Marketing Review, Nick T.
2. Zoho Recruit
Zoho Recruit is an applicant tracking system catering to multiple hurdles faced by recruiters. With complete solutions for both in-house recruiters and staffing agencies, Zoho Recruit helps its users source, track, and hire the best candidates, without any juggling required across different media. You can also easily customize every aspect of your workday and automate tasks like sending emails or updating the interview status.
What users like:
"Zoho Recruit is very efficient and intuitive in many ways. The resume management is awesome. The function of importing resumes from different platforms has been extremely helpful. Everything is organized, plus it can be embedded in your personal site. It offers a pretty good interface that is easy to use, and the UI is very well designed. Because it's highly customizable, posting jobs and having candidates apply is easy.
This platform is heaven compared to the rest of the competitors. Zoho Recruit has many useful features that make recruiting employees easy. It boasts clear and easy to understand pricing and a complete ecosystem of functions at your fingertips. It offers in-person training as well."
- Zoho Recruit Review, Michael R.
What users dislike:
"The main problem episode comes because once Zoho Recruit is it's sometimes hard to learn and causes users trouble due to the rapid new features. You have had to refresh your browser every single time to see the alerts and adjustments. It should also expand more on the job options it offers."
- Zoho Assist Review, Leire H.
3. Lever
Lever's mission is to help the world hire with conviction. This recruitment marketing tool boasts a fresh take on the talent acquisition system combining powerful ATS and CRM functionality in a single, modern platform so employers can source, nurture, and manage candidates all from one place.
What users like:
"Nothing can ever beat an accurate reference check of a candidate, and Lever does the job perfectly. Managing job applications has become easier with Lever. It also allows us to easily schedule an interview for potential candidates. The integrated emailing feature has been proved to be a valuable feature for us, too. Real-time reporting options help to keep up with the workflow while making navigating the software extremely easy. Lever makes the hiring procedure simple for everyone. The software takes care of everything starting from applications to interviews to end feedback."
- Lever Review, Amit S.
What users dislike:
"There is a decent amount of training required to really understand how to effectively and fully use the Lever platform. But their team helped provide me with resources to not only get set up on the platform but also to effectively train my team on it."
- Lever Review, Ana P.
4. SmartRecruiters
SmartRecruiters is used by high-performance organizations for making the best hires. It has full functionality for recruitment marketing and collaborative hiring. It is built on a modern cloud platform with an open marketplace for third-party recruitment services. Unlike the first generation applicant tracking systems it replaces, SmartRecruiters provides an amazing candidate experience, hiring managers actually want to use the product, and recruiters love us because we make their jobs easier.
What users like:
"I LOVE SmartRecruiters! What an awesome candidate tracking system. We used SmartRecruiters in our day-to-day recruiting strategy to find candidates all over the area for various positions. There is even a free feature, although we did pay for our access. We were able to post jobs to all different job boards all around the area. It is also a great tool to keep all candidates organized in terms of where they are in the interview and hiring process."
- SmartRecruiters Review, Megan M.
What users dislike:
"Sometimes the layout is confusing compared to others, [but] still fairly easy to use. Or other times the single sign-on for a new manager doesn't flow but may be a challenge on our company's end. Our company is still playing with all of the features like building the filters for who can see what as far as interview scores, reviews, and more, but if we used the full functionality or customized it more, that may be better."
- SmartRecruiters Review, Ashley S.
5. Paycor
Paycor delivers a unified human capital management solution with a singular focus on helping business leaders, entrepreneurs, and HR professionals make a difference in their organizations. With intuitive recruiting, HR, and payroll solutions at its core, more than 30,000 small and medium-sized businesses trust Paycor to help them manage their most valuable asset – their people.
What users like:
"Paycor allows us all-in-one access and services for our four nonprofit organizations. From employee database needs, time and attendance, payroll, and ACA filings, the Paycor system allows us to operate with minimal input and the reporting function is BEYOND amazing and customizable. They also take client suggestions to make improvements and upgrades to their systems."
- Paycor Review, Melissa L.
What users dislike:
"I don't like the lack of templates. Although I don't use them that often, when I do it seems like the one I need isn't there. There should be availability for templates that can be used by the accountants of the company. We track many different types of costs that aren't necessarily needed by the HR team."
- Paycor Review, Lisa T.
Making the effort
The job market has never been more competitive, and to ensure your organization stands out from the crowd, you'll need to take the time and do the work to create recruitment marketing that showcases your business in the best possible light. No longer can you passively wait around and hope that a job description and a decent careers page on your website will do the job. Actively participating in recruitment marketing is the best way to get the talent you need as a recruiter and as a business looking to grow.
Once your recruitment marketing efforts find you the top talent you've been searching for, discover these tips for effective onboarding every step of the way.