As a job candidate, I occasionally felt quite a bit of anxiety over scheduling interviews and providing screening information with potential employers.
Some of your candidates likely feel the same way. No one wants to ruin their chances at a job by accidentally saying the wrong thing. It's possible that candidates may even drop off from the recruitment process completely over these fears.
If you're one of the 82% of hiring managers who view the candidate experience as very or extremely important, then using a recruitment chatbot is a practical route to improving your hiring process.
What is a recruitment chatbot?
A recruitment chatbot is an automated system used for completing recruitment tasks such as interview scheduling and collecting screening information through pre-programmed responses or artificial intelligence without the need of a human operator.
Recruitment chatbots take a lot of work off your plate as a recruiter and can create a cohesive and streamlined process for your candidates. Read on to discover exactly how you can incorporate a recruitment chatbot into your candidate experience.
How to use a recruitment chatbot
Recruitment chatbots are an incredible tool just beginning to be utilized by recruiters and hiring managers. While there are many possibilities with these chatbots, there are still some challenges to overcome as the technology improves.
At the end of the day, recruitment chatbots will improve your candidate experience, streamline administrative tasks, and save you time and money.
Candidate experience
Every day, more and more people are becoming comfortable having conversations with the robots around us. Consider how many people speak to Alexa, Siri, and Google on a daily basis to accomplish simple tasks. Many have even spoken with customer service bots over the phone or internet without realizing it.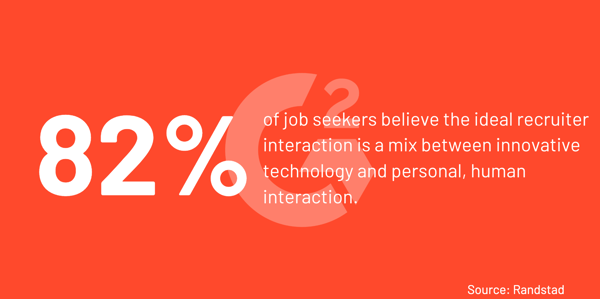 As recruiters and hiring managers seek to improve their candidate experience, chatbots can make people more comfortable with the early stages of the application process. This will especially help at recruiting Millennials and Gen Z candidates who desire optimized communication methods and value ease and convenience.
Administrative tasks
There are a number of administrative tasks recruiters and hiring managers must complete in their roles. With the implementation of a recruitment chatbot, however, these tasks can be automated, freeing up bandwidth.
Recruitment chatbots can be used for:
Scheduling in-person or phone interviews with human contacts
Nurturing candidates who may have fallen off during the application process with reminders
Collecting applicant information to funnel directly into an Applicant Tracking System
Answering frequently asked questions about the role and application process
Asking screening questions about candidate experience, knowledge, and skills
Ranking candidates based on qualifications, engagement, or activity
Recruitment chatbots are sometimes coordinated with ATS software to create full talent acquisition suites. A couple software products that function specifically as recruitment chatbots listed on G2 are Talkpush, Ideal, and JoinUp.
Saving time and money
Perhaps the most compelling case for recruitment chatbots is the ability to save your recruiting and HR team time and money. Recruitment chatbots are not designed to replace humans, but rather quickly complete the sometimes overlooked tasks of recruitment.
It's estimated that a majority of resumes for a role are ignored. Chatbots can interact with this majority and do the task that recruiters don't necessarily have the time or capacity to complete. The chatbot can more quickly screen out unqualified candidates so recruiter efforts are better focused.
Alexa, get me a job
As everything around us becomes more automated, it's only natural that we find applications for this technology in recruitment. You can streamline your processes and create a better candidate experience all at once. As the old adage goes: Two birds, one stone.
Interested in how technology is completely changing the world of talent acquisition? Learn about how virtual reality recruitment is taking hiring to a new dimension.