Simply put, time is money.
I have two memories of working with a real estate agent. The first was when my family moved to a new home when I was seven, and the second was to find my own apartment a few years ago.
Why are real estate software tools necessary?
Needless to say, both experiences were vastly different. That's because real estate software has come a long way. Here are some top software solutions for real estate professionals. which rank among the highest for satisfaction with G2 Crowd users.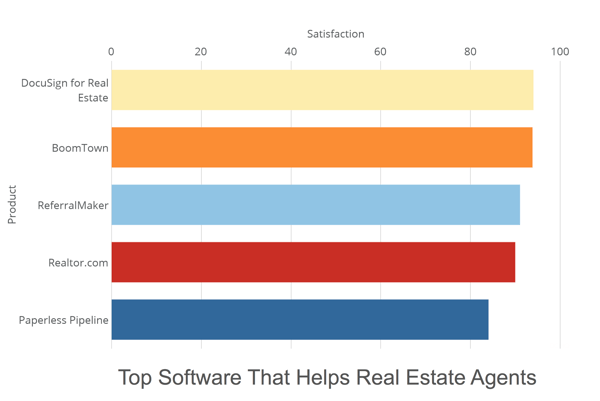 DocuSign for real estate
DocuSign for Real Estate is a real estate activities management solution. This type of software gives real estate agents the tools to manage all aspects of their real estate transactions. Real estate activities management software gives users a centralized system where data and documents is stored and accessed. DocuSign for Real Estate offers features such as e-signature, regulatory compliance and document encryption.
One DocuSign for Real Estate review said this product is vital for real estate agents. He wrote, "Having e-signatures is must. DocuSign has saved everyone in my office a considerable amount of time and makes us look more professional and streamline."
BoomTown
BoomTown is a real estate marketing software. This type of real estate solution helps real estate professionals market their properties to maximize exposure to future buyers. BoomTown is an end-to-end web marketing system that combines lead generation, CRM software and consumer-facing websites.
One G2 Crowd user said that using this tool was the best decision his business has made. He wrote in this BoomTown review, "We built a company around BoomTown from the ground up. We decided to make BoomTown our hub over 7 years ago and run with it... telling our self we had to cut costs everywhere but BoomTown had to stay... So glad we trusted them to provide us with the best service and tools."
ReferralMaker
ReferralMaker is a real estate CRM software. This type of tool allows realtors to identify, track and manage their interactions with existing and possible clients across the customer lifecycle within one system. ReferralMaker has easy-to-read dashboards that measure and update key performance indicators in real time.
One ReferralMaker review called this platform the best CRM in real estate. He wrote, "User friendly and an excellent way to 'work' a database! Set goals, manage transactions, keep tabs on clients in a very deep & relational way! Great 'win the day' and 'win the week' formulas!"
Realtor.com
Realtor.com is a real estate multiple listing service. This tool is pretty self-explanatory, as it allows real estate professionals to list properties. Its software enhances search capabilities and visibility of listings, along with providing concise summaries of the property on a publicly accessible database.
G2 Crowd users rate Realtor.com's listing syndication as its top feature. One Realtor.com review said of the real estate tool, "It is easy to find listings in your neighborhood or in a certain area. It is easy to look at pictures of the current listings. It is easy to download the app to use it on your mobile device."
Paperless Pipeline
Paperless Pipeline is a real estate activities management platform that was a High Performer in its category on G2 Crowd for Winter 2017. This real estate platform acts as an electronic filing cabinet/file server since it serves as the home for your transaction documents.
One Paperless Pipeline review says that Paperless Pipeline has streamlined the real estate field. He wrote, "I love having every transaction stored in one place that I can access from virtually anywhere in the world where there is internet. As an administrator you can store documents for your agents to access from their Paperless Pipeline account to save time and that means saving money!"