Real estate is a desirable career path for many people because of the earning potential.
But the way agents are paid is somewhat non-traditional. Instead of being salaried, most real estate professionals are paid solely on commission. This creates a lot of disparity in your expected income since it varies based on how much business you're closing. To make things more complicated, commission rates can also vary from one deal to the next.
Being knowledgeable about pay structure is very important if you're considering a career in real estate. After all, one of the main reasons you're in it is to make a living.
In this article, we'll answer common questions you may have about how real estate commission works.
Understanding real estate commission
Being a real estate agent is a lot like running your own small business. Your paycheck solely depends on how much business you generate. Agents are responsible for covering their work expenses entirely out-of-pocket and are not paid until the closing process on a property is finalized.
There are a lot of players in the real estate game. Before we dive in, let's run through some quick definitions first:
Agent: A real estate professional that is legally licensed to buy and sell property in their state. Agents cannot operate independently, they must work under a licensed broker.
Listing agent: A real estate agent hired by a client to help them list and market their property in order to sell it.
Buyer's agent: A real estate agent hired by a client to help them search for and purchase a property.
Broker: A real estate agent that has pursued further education to earn their broker's license. Brokers are qualified to manage individual agents through a firm or operate independently.
As you can see, there's a big difference between a real estate broker vs. agent. Brokers work independently and have a lot more freedom to negotiate their commission rates since they don't have to work under anyone. The focus of this article will be primarily on the pay structure of agents since this is the starting point for people entering the industry.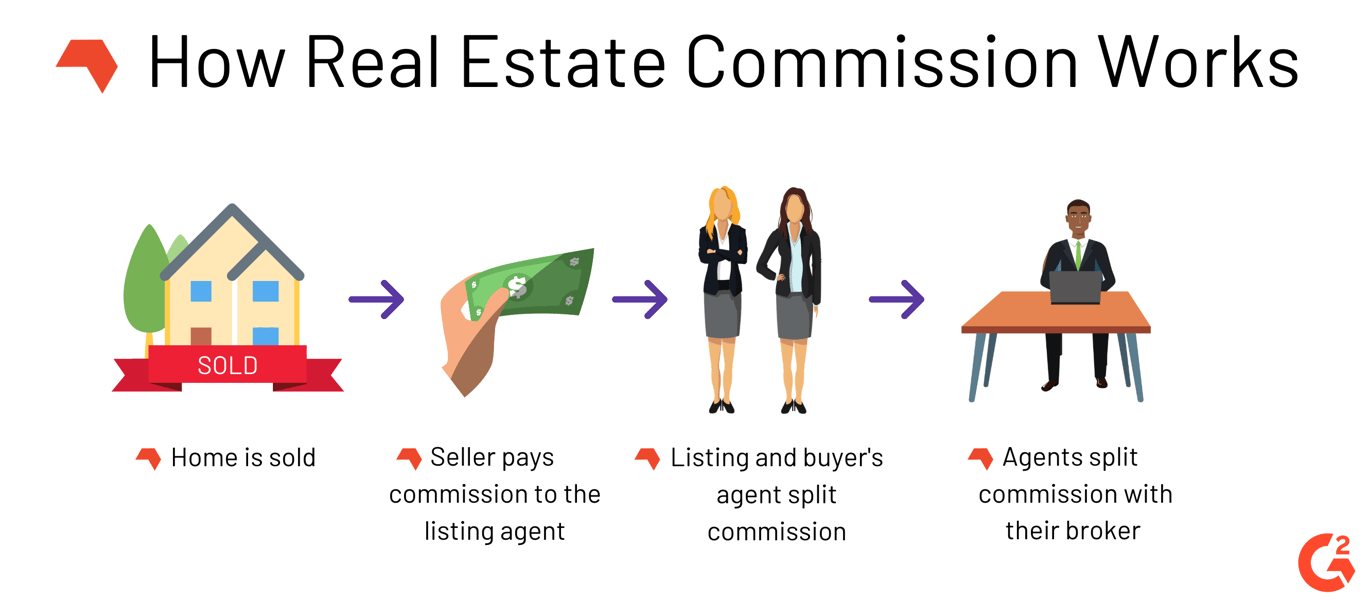 How are real estate agents paid?
It's important to note that real estate agents do not get paid directly by the broker they work for. By law, agents are required to work under a real estate broker or brokerage firm that acts as their sponsor.

When choosing which broker to work with, agents will consider a variety of factors – one of which is payment terms. They'll decide on a commission agreement which determines how much of the agent's pay will go in their pocket, and how much will go to the broker or firm that they work under.
There are two main types of commission agreements between a real estate agent and a broker or firm:
The most common type of agreement is a gross commission split. In this scenario, the agent splits a percentage of their gross commission with the broker or brokerage firm.
In a 100 percent commission model, the agent takes home every dollar that they earn but are required to pay a monthly "desk fee" to the broker or brokerage firm.
Giving away a portion of your hard-earned dollars is never fun, but brokers provide a lot of added value to support their agents in return. So, if agents aren't paid directly by the broker they work under, then where does their income come from? We'll dive further into these details next.
Who pays the real estate agent commission?
Most commonly, the seller is responsible for covering commission fees. The seller agreed on a commission rate when they first hired the agent. After the property sells, they will pay that percentage to their listing agent.
TIP: It's common for a seller to take this fee into account when initially deciding on a listing price for their property.
From there, the listing agent will negotiate with the buyer's agent on how to split the commission. Generally, it's evenly split 50/50. Each agent will then have to split their percentage again to match the agreement they have with their brokers.
For example, say that a home sells for $500,000. The seller will pay their listing agent $30,000. That agent will split the $30,000 commission payout with the buyer's agent, leaving them to walk away from the deal with $15,000 each. Each agent will then be responsible to split the $15,000 again with their broker or brokerage firm in accordance with their agreement.
How are commission rates determined?
In most real estate deals, there is one agent representing the buyer, and another agent that is representing the seller. In order for a buyer or a seller to formally hire an agent to represent them, they must finalize their agreement in writing. For buyers, this is called a buyer-broker agreement. For sellers, it's called a listing agreement.
Although these agreements go by different names, they serve a similar purpose: to outline the agent's duties while under contract. For the seller, specifically, this agreement will also cover how the agent is being paid and at what rate. There's no industry standard for what this rate should be – it's entirely negotiable. But according to Forbes, it usually falls around 5-6% of the property's sale price.
Agents should be prepared to negotiate rates with their prospective clients. It's important to know your worth and be able to speak on the value you bring to the table. After all, you're only pocketing a small portion of the overall commission.
On a mission for commission
At the end of the day, if you sell a property in three months or three weeks, you still get paid the same. And you'll have to cover other expenses you incur along the way. So while a career in real estate can bring in big paychecks eventually, it takes a lot of hard work to get to that point.
Ready to take a deeper dive into the world of real estate? Check out this list of 60+ statistics for insight into current industry trends.