I've said it before and I'll say it again: nothing worth doing comes without risk.
My sisters and I used to ask my mom if certain things could hurt us, "You could get hurt walking across the street," she'd reply.
Her lesson was simple: there is a risk in everything.
Project management is no exception. Companies take on projects in an effort to improve products, processes, or circumstances. There will always be risk associated with self-improvement.
What is project risk management?
Project risk management is the process of identifying, planning for, and controlling any risk that could occur during a project life cycle.
A project manager's best bet is to not only anticipate risks but to know how to solve them in advance. Being proactive about risk is the best way to navigate project difficulties and easily course-correct.
For this reason, it's imperative we discuss project risk management and help you find solutions for what hasn't happened yet.
How to execute project risk management
As I stated before, project risk management is the process of proactively identifying what could go wrong throughout the duration of a project and planning possible solutions.
What is a risk? A risk is anything that could negatively impact your progress or deliverables. Going over budget, missing a deadline, or not getting the right license for a project are all possible risks.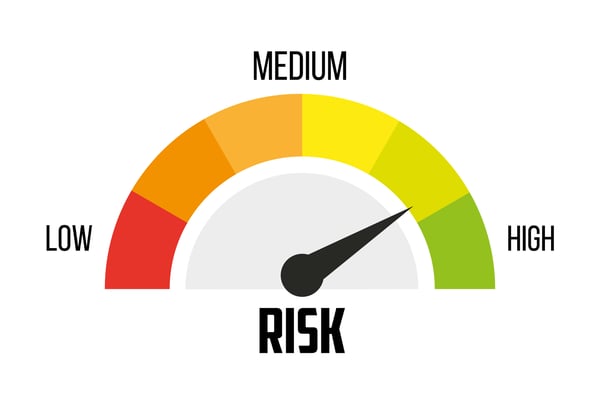 Image courtesy of iStock
Project managers will plan differently for risks depending on the size and scope of their project as well as on the types of risks that are possible. Larger, more expensive projects might mean increased levels of risk management planning. You may even want to invest in a risk management solution, such as an IT risk management software tool.
Smaller, less time-consuming projects might not need as much preparation and/or mitigation.
Let's talk about how you can be prepared for risks, and reduce the chance that they will negatively impact your project.
1. Flesh out your project charter
What is a project charter? A project charter lays out the essentials of a project. This documentation identifies a project's scope or scale, defines objectives and deliverables, and outlines key players.
More specifically, a project charter will name the project's stakeholders and state the authority the project manager has regarding this venture.
Having a detailed project charter will help you identify risk by laying out important details regarding the project as a whole. Don't overlook this documentation in your attempts to avoid and mitigate project risk.
2. Utilize your project team
Your project team is made up of the key players who you trust to do their own jobs better than you could. So why not utilize their expertise to help determine what risks they foresee within a project?
That's right, part of project risk management is asking your team for their input. As a project manager, you should be willing to accept feedback, especially when it comes to something as potentially detrimental as project risks.
Ask your team members what risks they foresee not only within their own tasks and responsibilities but within the project as a whole. The more minds you have working on risk management, the more likely you are to catch problems before they're an issue.
3. Track risks
It's one thing to know your risks, but it's another thing to track them. Tracking potential risks helps you to keep an eye on them throughout the project life cycle.
Image courtesy of Guru99
When you track risks, you can also denote their level of priority. For example, you might consider a budget more important than a specific deadline.
It's easier to track risks if you're not the only one keeping an eye on them. Encourage your project team members to speak up when they think something is going to be an issue. This will help you catch something you may otherwise not have insight into.
4. Create a plan
A risk management plan is the course of action you're going to take should potential problems become a reality. This can mean sitting down and creating a solution to each singular issue that could arise. It could also mean creating more generalized plans of action should things go wrong.
A proper risk management plan will denote the difference between negative and positive risks. Yes, some risks can be positive. Positive risks help the project more than hurting it and should be considered as you track and monitor risks.
Risk, in general, is anything that deviates from the original plnan. Positive risk is anything that goes outside of the plan but affects your success positively. One example of a positive risk is wrapping up all steps early. While exceeding a deadline was not in the plan, it's also not a negative occurrence.
5. Monitor and respond to risk
Once you've determined all potential risk and have executed the project, it's time to keep an eye on the tracking strategies you put in place and respond to risks when necessary. In other words, the final step is just to put your plan in action.
While it can feel scary, you've prepared for this. Nothing should come as a surprise, and you should feel ready to take on whatever comes your way.
Risking it all
As I said before, there is an inherent risk in everything. Crossing the street, asking someone out, even trying a new recipe can be dicey.
But if you have a well-thought-out plan that catches risk before it can happen, you should have no fear of failure. The risk is worth the reward.
Are you interested in discovering whether a project is right for your team right now? Learn how to conduct a feasibility study.