We live in an age where everyone and everything is vying for our attention. I'm even vying for your attention right now as I ask you to read this article.
Consequently, employees are experiencing new challenges as they try to increase team productivity and output at work. It was much harder to hide reading a newspaper at your desk than it is to hide watching a YouTube video during your bathroom break.
But just how, exactly, has productivity changed? What are some facts and figures that can help us understand what it's like to try and get things done today? In this article, I'll take you all over the map as we discover important statistics regarding modern employee productivity.
Productivity statistics
If you're a project manager, or if you've managed even one team on one task, you know just how much goes into the job. From different project management styles, to project management terms for beginners, you know firsthand how much information there is to retain.
So instead of doing your own research on the topic, I've done the work for you. Here are 45 statistics on employee productivity.
General productivity statistics
These statistics cover general employee productivity throughout the workday.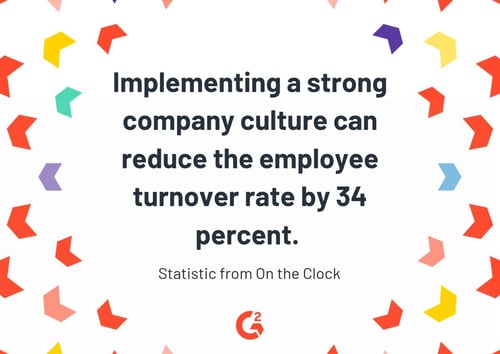 Intervals work! 90-minute working intervals are the most conducive to quality performance and productivity. (University of Florida)
Millennials are less likely than members of other generations to say they get to utilize their strengths in the workplace. (Gallup)
Employee productivity is on an upward trend and has increased .3 percent from 2011-2016. (Bureau of Labor Statistics)
65 percent of employees report using the internet for non-work purposes throughout the workday. (Qnnect)
Implementing a strong company culture can increase workplace productivity. (On the Clock)
Implementing a strong company culture can reduce the employee turnover rate by 34 percent. (On the Clock)
Employee happiness has been known to boost productivity.
The average employee is interrupted from their work 56 times a day. (Atlassian)
The average employee spends two hours a day recovering from interruptions. (Atlassian)
Employee performance improves up to 20 percent when employees are able to interact. (On the Clock)
Only 60 percent of work time, or even less, is spent being productive. (Atlassian)
Employees are six times more likely to be engaged in a job where they are utilizing their strengths every day. (Gallup)
High-performing employees are known to take breaks throughout the workday. (Qnnect)
Employee engagement
These statistics cover the facts of employee engagement throughout the workday.
Companies with engaged employees typically have higher customer retention rates. (LoyaltyOne)
The lower your company's employee engagement score, the lower your productivity and profitability will be. (Gallup)
TIP: Sometimes you have to think outside the box to get the job done. These productivity tips will help you break through that wall.
Employee productivity in meetings
Just because someone's in a meeting, doesn't mean they're present. The following statistics tell the truth about meetings and productivity.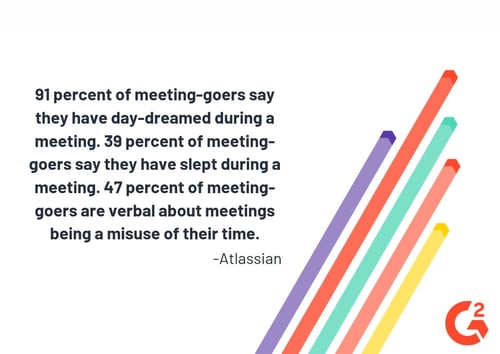 All stats in this section courtesy of Atlassian
According to Atlassian, employees, on average, are spending at least an hour out of every workday sitting in meetings.
Employees consider about half of all meetings to be time wasted.
Employees spend about 31 hours in unproductive meetings each month.
91 percent of meeting-goers say they have daydreamed during a meeting.
39 percent of meeting-goers say they have slept during a meeting.
45 percent of meeting-goers have felt overwhelmed by the volume of meetings on their calendar.
73 percent of meeting-goers perform other work during meetings.
47 percent of meeting-goers are verbal about meetings being a misuse of their time.
Challenges within productivity
Staying productive isn't always easy. The following statistics outline the difficulties employees and companies are experiencing with workday productivity.
Cost of not being productive
Not being productive can cost you. These statistics detail just how much money is lost every year due to team and/or employees not holding up their end of the bargain.
Creative solutions to productivity problems
Unique problems require unique solutions. Check out the strategies some companies are undertaking in order to improve workplace productivity.
Keep it cool! Employees are at their most productive when the office is comfortable. Keep the office between 65-70 degrees Fahrenheit so foreheads aren't sweating, and teeth aren't chattering. (NBCI)
Companies with teams that work together well do not spend as much money per year on health care as companies that don't. (On the Clock)
Employees who exercise before work have been shown to have a 15 percent increase in productivity! This also increases the longevity of a worker's productivity, as employees who are active are less likely to become depressed or experience burnout. (American Psychological Association)
Employees who work from home have been shown to have a higher job performance (a 14 percent productivity increase, to be exact), while also taking fewer days off due to sickness. (Stanford University)
Producing change
These productivity statistics are only the tip of the iceberg! Stay up-to-date on our Learn content for more information on employee productivity and how the workforce is constantly changing.
Additionally, check out all the project management solutions we have listed on our site that could aid in creating a more productive workflow.
Want to learn more about productivity? Read up on how to work smarter, not harder.