Have you ever thrown a party only to find out no one is coming?
That scene is a public relations professional's worst nightmare. Along with immense preparation, a press conference's success is based on attendance and quality coverage.
What is a press conference?
A press conference (or news conference) is a public relations event held for organizations or individuals to inform the media so that they can generate timely and relevant news
You've surely tuned into press conferences for sports announcements and explanations about tragedies. Because information travels so quickly, it's often necessary to get ahead of the news with your story instead of waiting for people to make up their own narratives.
However, you don't always need a press conference. Overusing press conferences will lead to smaller audiences and less trustworthiness among reporters and your audience, just like the boy who cried wolf.
Learn everything you need to know about press conferences for the best shot at success. However, if you're here for the specifics, feel free to jump ahead using the links below:
Importance of a press conference
A press conference is one of the most effective ways to communicate with the media and draw their attention.
Other PR materials like press releases, boilerplates, and media kits are all great ways to get your messages heard, but when it comes to a special occasion or pressing issue, press conferences are the way to go.
The speaker at a press conference is usually a politician, celebrity, attorney, athlete, or police chief, and is used as an opportunity to get their side of the story told across multiple mediums. The person who plans this event is most often a public relations professional.
Knowing when to hold a press conference takes practice. If the situation at hand falls into one or more of the below instances, then it's time to start planning your press conference: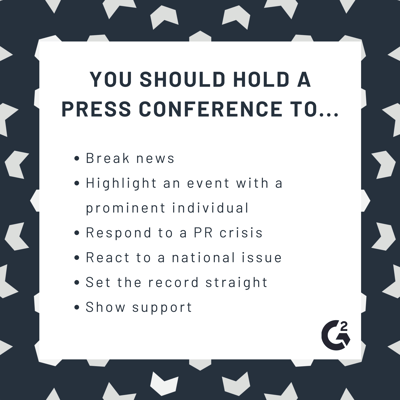 How to hold a successful press conference
You know by now that a press conference is a media event where journalists surround a speaker asking questions about their statement. But how do you get to this point?
When making your plan of attack for holding a press conference, start by drawing up a list and dividing it into three sections— before, during, and after the press conference.
Before a press conference
The ideal amount of time to start preparing for a press conference is two weeks, but sometimes action needs to be taken earlier than that. Preparing for a press conference takes much longer than the press conference itself.
Schedule a date, time, and place that doesn't overlap with other larger events. Make sure to book a location that feels relevant to the topics being covered.
After the logistical aspects are determined, you need to align with your client on the message and ensure it ladders up to their end goal. Clearly write out these messages and key points to ensure your speaker covers the information effectively. Defining the message may be the most difficult, so do it first so that you know your goals while setting up the rest of the conference.
Then you need to prepare your speaker(s). Have them learn the key points and tell the speaker(s) to reiterate the points throughout the press conference. The person who is going to speak on behalf of your client or company must be aware of potential scrutiny and hostility from reports when dealing with a sensitive subject.
Tip: Prepare for a PR crisis before it happens, so that planning your press conference is easier.
Now for the most important part— contacting the media. If you follow and understand the information already covered, you'll be in a good place to start getting in touch with your desired attendees. Reach out to reporters with whom you have a personal relationship as well as TV stations, newspapers, and any other media organizations you'd like to attend your event.
When reaching out be sure to highlight the main topic and details about the speaker. If you're inviting the media a week or more in advance, make yourself a reminder follow-up the day before.
Tip: If pitching to the media isn't your strong suit, learn how to write a pitch that won't be ignored.
If your budget allows, create a press kit or press release that contains an overview of the event and information that may be helpful to the reporter. You can even use press release distribution software to mass release your news to reporters.

On the day of the press conference begin by preparing the room. Test all of the technology you will be using, make name cards, prepare extra seating, and provide beverages like water and coffee.
That was a lot of information, so I broke down the information into easy-to-follow steps: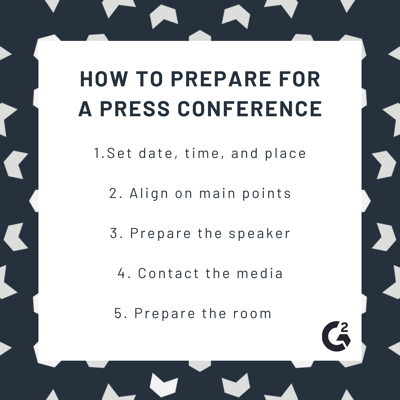 During a press conference
The day has come and you've done all you can to prepare. When the media begins to arrive, welcome them and have them sign in with their contact information. Show them to their seats and then begin the event on time.
No one likes wasting time, so starting on time is crucial to the success of your event and imperative in making reporters want to come to your next press conference.
Once the press conference begins, the speaker should make his or her main points for the first 15 minutes. Then, they should open up the floor for questions. Don't allow questions to go longer than 45 mins, as you only want to take up an hour of time. It's always a good idea to have a moderator keep track of time and call on reporters, this especially helps take some pressure off the speaker so that he or she can focus on answering questions in a calm and collected manner.
After a press conference
Congrats! The most stressful part is done, and if you followed these steps along the entire way, I'm willing to bet your press conference was a wild success.
Be sure to make personal contacts with the journalists, because these connections will carry you through your PR career.
Prepare for the worst, hope for the best
Press conferences are meant to improve your public image, not damage it. Preparation is key in ensuring your speaker represents your company or client well. By separating the preparation for press conference into three stages, you'll be sure to hold a widely attended event.