Sometimes things don't blow over.
Especially when dealing with crisis communications. The only way to recover from a PR crisis is to actively apply crisis management best practices. If you go down the "wait and see" route, your client or brand won't see positive results.
But what are the crisis management best practices and how do you implement them into your public relations strategy?
What to do when faced with a PR crisis
More times than not, big brands face PR nightmares and need to tap into their crisis communication plans.
Most of the time when we think about a PR crisis, we think about professionals who manage a brand crisis, but there are also professionals who handle personal brands and celebrities, as well as internal PR teams. All crises follow the same steps for a complete recovery.
Crisis communication is the reaction of public relations professionals in order to protect a brand or client. This reaction to a PR nightmare must be carefully planned so that there's no time wasted when the crisis hits.
Before a crisis, follow the below steps to proactively form your crisis management strategy.
PR crisis strategy
Gather a team
Brainstorm potential crises
Establish monitoring procedures
Create placeholder messaging
Identify stakeholders and build support
Train your team and spokespeople
When you follow these steps in advance, you're setting the groundwork for easy recovery from a PR crisis.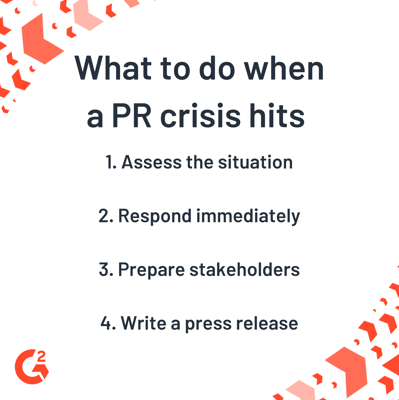 Congrats, the worst is over. Following these steps will ensure a faster recovery from the nightmare. But no crisis looks like the next, they all come in different forms at the most unexpected times. Learning about all sides of crisis communication is crucial to a successful PR strategy.
How to manage your online reputation
Companies use more than just a website these days. They're likely on Instagram, Snapchat, Facebook, Amazon, YouTube, and more. As the online presence of businesses increase, the need for monitoring and managing the content grows as well.
Online reputation management is exactly that– the monitoring managing, and engaging with your brand online while maintaining a positive and consistent brand message. When you manage your online reputation, you will likely avoid some of the most common PR crises.
Here are 9 reasons to manage your online reputation:
Acquire new customers and clients
Provide stellar customer support
Retain loyal and satisfy customers
Prevent a brand social media crisis
Build relationships with publishers and influencers
Win customers from competitors
Make money by taking a viral stand
Protect perceived innocence by not lashing out
Don't go dark in a crisis
Implementing online monitoring software is a must for PR professionals. Invest in planning for a crisis, so that you don't lose your good reputation after one mistake.
Professional advice
Odds are if you can think of a crisis, there's someone who has experienced it themselves. That's why tapping into your network of PR professionals is a good idea when planning for and recovering from a PR crisis.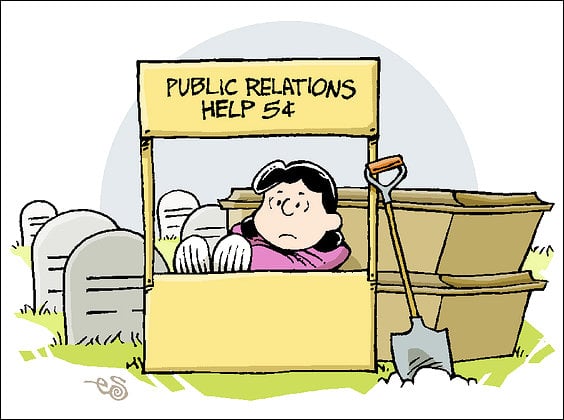 Courtesy of AdWeek
Public relations tips from crisis communication professionals help people see a way out when in the depths of a crisis. The most common advice from PR professionals is to plan in advance and to respond immediately.
PR crisis example
The Kendall Jenner Pepsi ad gave PR professionals a lot of material to learn about crisis communications. Although a nightmare for Kendall Jenner and Pepsi in the moment, their reputations made a full recovery.

That's why the Kendall Jenner Pepsi ad serves as the golden standard for recovering from a PR crisis. Here are some lessons that should be learned from their misguided commercial:
Prioritize market research
Tread lightly with political messages
Respond immediately (see a theme here?)
Make no excuses
Take action
If you follow these five steps, along with the other aforementioned tips and tricks for recovering from a PR nightmare, you'll hopefully never face backlash from something as widespread as the Kendall Jenner Pepsi ad.
Crisis averted
There are many ways to go about recovering a brand from a PR crisis, and that's why there are many lists throughout this article. If you keep these tips at the top of mind when planning for and reacting to a crisis, you'll be sure to recover faster than if you simply let things figure themselves out. Being proactive in your public relations strategy will lead to the most success.