Backgrounds give us context and help ground us.
In PowerPoint, it's no different. A great background is a visual clue to what exactly the PowerPoint audience will be learning about or experiencing. Be sure to learn more about other types of presentation software.
In this article, I'm going to teach you how to add a background to your presentation and help you find some amazing templates to help you get started.
How to add a background to PowerPoint
Adding a background to a PowerPoint is easy, especially considering how many template backgrounds have been created by users looking to do the same thing as you.
Follow these steps to add a background to your presentation.
Adding a background image from your desktop
Use this option if you have a high-resolution image saved to your desktop or device that you wish to use as a PowerPoint background.
1. Open a blank presentation
Begin by opening a blank presentation and editing the slides to your liking. Navigate to the slide where you'd like to add a background. If you're trying to add a background to the whole slide, start with one slide.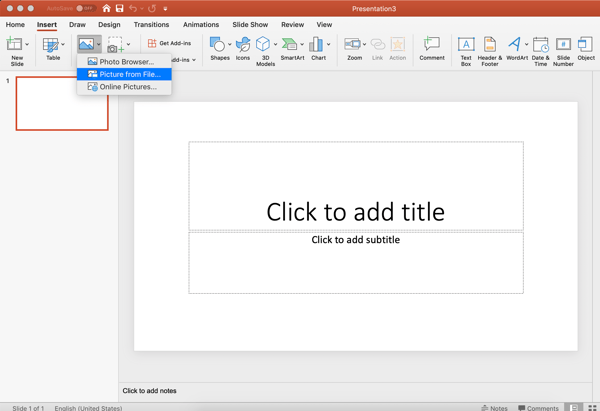 2. Insert image
Select the image you want to use as a background from your desktop and insert it into the PowerPoint. Be sure to expand the edges of the image to fill the entire slide.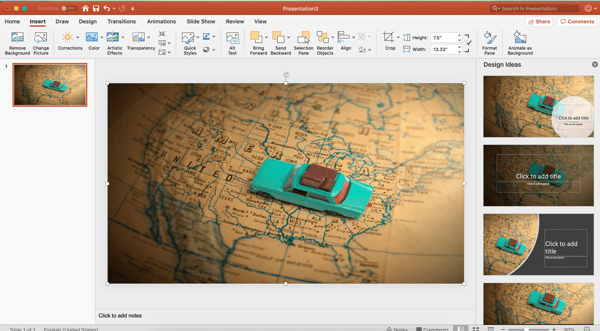 3. Send image to back
As you can see, the image I inserted covers up any text that I had previously added to the slide. To fix this, right click on the photo and select, "send to back". This will make the photo the background of the slide as opposed to an image in the foreground.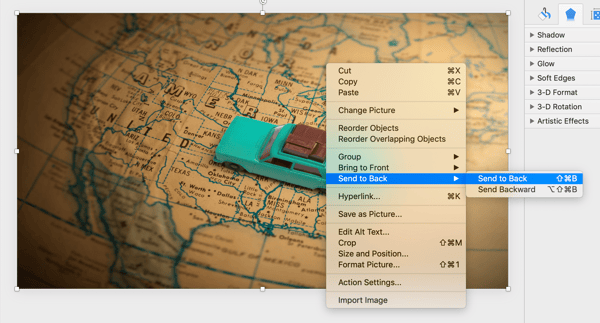 4. Adjust transparency
You'll want the image to look like a background image instead of a distraction from important text. To do this, you'll need to adjust the transparency. Double click the image again and you'll see a menu pop up to the right that says "format picture".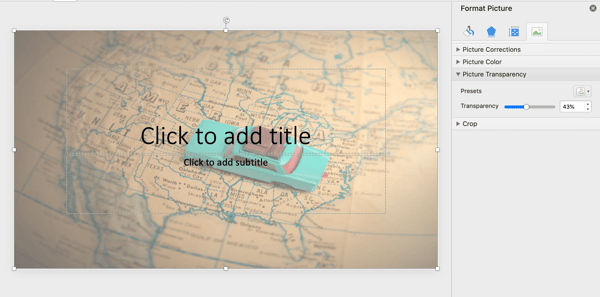 Find where it says "picture transparency" and play around with the percentage. There is no standard percentage that you should use, just fiddle with it until it feels right.
5. Copy and paste into new slides
If you want to keep this background image in upcoming slides, simply copy and paste it. All of the formatting you did in the first slide will carry over, meaning you don't have to adjust arrangement or transparency in upcoming slides.
Adding a template that has background images
If you remember from earlier, I mentioned that there's a whole host of background images already in existence, in the form of PowerPoint templates. Here's how you can use one of those templates to liven up your presentation.
1. Open a new presentation or select "file," "new from template"
When you open a new PowerPoint these days, you are automatically prompted to select a blank presentation, or select a template. Here is the screen that appears when you open a new PowerPoint.
2. Choose a template or search in the search bar
You can select a template from the pop-up menu, or you can search for a specific theme in the search bar. For example, if you're doing a presentation on the oceans of the world, you might want to select from one of the following themes: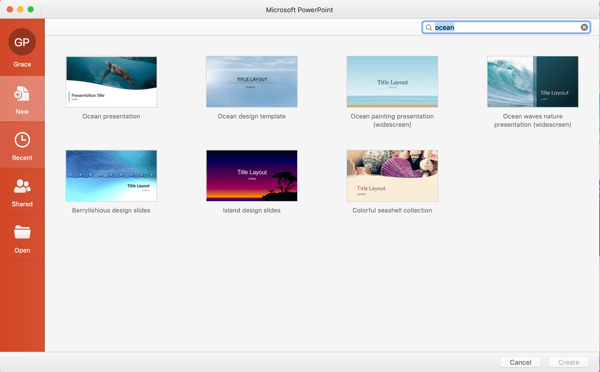 3. Select template and begin editing
These templates will pull up multiple types of slides: a title slide, slides with graphs, image slides, and more. It's your job to sift through and decipher if the presentation is what you were looking for. If so, go ahead and use this template and get to work adding in all your own information!

Finding PowerPoint backgrounds on external sites
While PowerPoint does have a lot to offer within their template options, there's still so much more out there in regards to potential backgrounds. Consider using a site such as SlideModel, which has 13 pages full of every template you could think of. You may have to pay money for downloads, but it's up to you to decide the best plan of action.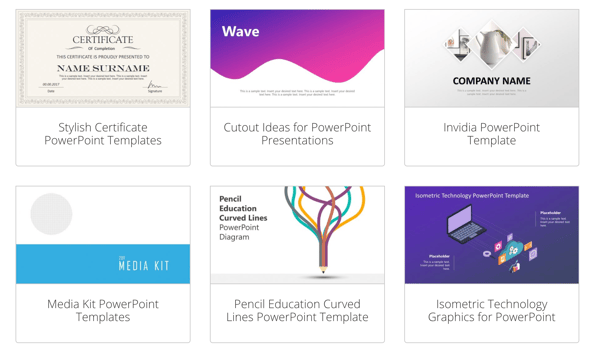 Backgrounds: check
Now that you know how to add a background to a PowerPoint, nothing is stopping you from making the most impressive presentation your HR team has ever seen. And I, for one, am looking forward to it.
Take it one step further! Learn how to insert a GIF into a PowerPoint.