With so many options from payroll software to outside services to manage payroll, paying employees shouldn't be a challenge.
But this is not always the case, for the following reasons:
Local, national and international rules governing payroll are complicated, and that's unlikely to change anytime soon.

Technology both simplifies and complicates payroll because there are so many options for tools and other features.

Employee experience matters more than ever, and payroll can have a significant impact on it. For instance, wage theft is a severe problem in the U.S. If you're not sure what this means, here's an excellent Wage theft in the USA (via EPI.org)
How to choose the right software and services for payroll
Many software vendors and payroll service providers focus on only a part of the payroll management process, which means that companies often work with two or more providers to manage payroll. Payroll activities can be categorized in two major groups: payroll management (usually done using HR or payroll) software and payroll processing (typically performed with accounting software).
Payroll and the employee lifecycle
To understand how the two types of payroll activities are different, let's take a look at the various stages of the employee lifecycle when payroll is essential:
Recruiting
Payroll rules manage how much and how often employees get paid. Companies usually establish standard pay rules for each position or job type. This helps recruiters know what to offer candidates but also allows them room to negotiate. Ideally, any changes to standard pay rules should be approved by HR.
Onboarding
When new employees start working for a company, one of the first things they do is provide payroll information. From a payroll perspective, that's the easy part. Things get more complicated when the new employee is paid based on rules covering overtime, different types of shifts (for example, third shifts are usually paid more than first and second shifts), work conditions and so on.
Performance reviews
The result of performance reviews may be a salary raise, which needs to be reflected in the employee profile for payroll processing. There are also bonuses and other incentives that can be used to reward good performance. Companies usually have well-defined rules that managers use to decide who gets a bonus, the amount of each bonus, and how often bonuses are paid out.
Offboarding
When an employee leaves a company, HR needs to determine what the company owes them, not only in unpaid salaries but also in bonuses or vacation time, if applicable. Since companies don't always consider offboarding important, errors are common. This means employees don't always receive the correct amount the company owes them, or they receive it late.
At any of these stages, the company needs to pay the employee for things such as base salary, bonuses, maternity or paternity leave, and overtime. On top of that, the company also pays for benefits such as health insurance or retirement plans, and taxes for unemployment, social security and more.
To keep employees happy while also maintaining compliance and tracking payroll costs, companies need to implement payroll rules for each employee and assign each type of expense with various cost centers.
Payroll management and processing
Payroll management is usually performed using HR or payroll software, while payroll processing requires accounting or ERP products. To better understand how this works, let's take a look at an example of an employee that works full time, takes three months maternity leave, occasionally works overtime, and receives a few benefits and perks: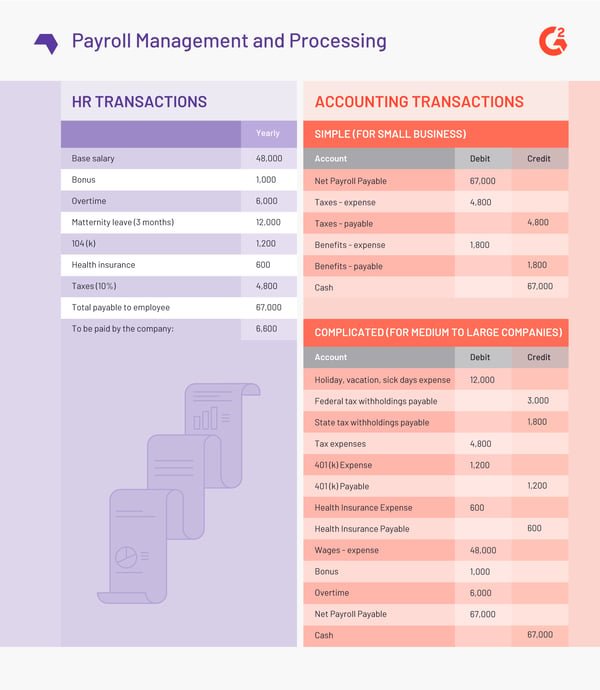 As shown in the middle of the image above, payroll can be very straightforward for small companies with simple job positions and pay rules. In this case, pay rules can be managed in a spreadsheet, and it only takes one accounting entry to process payroll.
Things can get much more complicated for companies with hundreds or thousands of employees, multiple locations and dozens of different job positions. There are also industries such as manufacturing or retail where companies have hourly employees, which means that they need to track the time worked by each person. The right side of the image above describes an accounting entry that is required when companies track different types of payroll components such as salary, taxes and benefits.
To address these challenges, companies have the following options:
Use software that includes accounting and payroll features, ideally as part of the same package. This ensures a seamless flow of payroll information that covers management and processing, avoids errors and helps with compliance. Payroll costs can be managed better than using disparate systems, especially when time tracking functionality is included.

Integrate ERP and accounting software with payroll and HR solutions. This is critical when companies decide to use different software packages to do both payroll management and processing. Most ERP vendors provide some kind of integration with HR or payroll systems, but each company is different, meaning the integration may need to be customized for specific needs.

Outsourcing payroll can help with processing, but companies still need to take care of payroll management, from pay rules to time tracking. Payroll services can assist with compliance and ensure that the right taxes are applied to each job position and location However, companies need to provide them with details on how much each employee worked in a period, usually a month.
To help companies choose the best option for their needs, we created the following categories to help with payroll management and processing:
HR management suites usually include all features required to manage human resources, from payroll and benefits to recruiting and talent management. Core HR software focuses on traditional HR functionality such as payroll, benefits, or workforce management.
Workforce management software helps companies assign human resources to tasks, projects, jobs or work orders. To track how much time employees actually spend on various types of tasks, companies use time & attendance software.
Payroll software manages payroll rules for different job positions, as well as various taxes related to payroll. For large companies with a global presence, multi-country payroll software provides advanced features to manage payroll in different countries and across multiple business ventures.
Accounting software often includes payroll processing features but needs to integrate with payroll systems or time and attendance software, which provide information on pay rules and the time worked by employees.
ERP systems include accounting features for payroll processing and sometimes payroll management functionality. When payroll management is not included, integration with payroll, HR management suites, and core HR solutions is required.
For outsourcing, there are payroll services providers that focus exclusively on payroll, as well as bookkeeping services providers that specialize in accounting but may also offer payroll processing.
Related: Software doesn't have to break the bank. Check out the best free payroll software for small businesses.
Click on the image below to navigate to each category, see a list of products for each type of software, and compare software products.