As you go about building your website, there are a lot of decisions you'll need to make.
One of the first is deciding on a domain name, and that means determining its domain extension. While .org and .com are the most popular, how can you be sure which one is right for your website?
Keep reading for a full breakdown. Or, jump ahead to find exactly what you're looking for.
What's the difference between .org and .com?
Do the three letters at the end of your website URL really matter? Yes they do.
Is .org or .com better for my website?
It depends on the type of website you have. The domain extension .org is better for nonprofit websites, while .com is better for businesses that are selling a service or product. In terms of SEO value, which one you pick will have little effect on SEO.
When it comes to website building, considering your domain extension is an absolute must. Will you be selling a product or service? Is your website for a nonprofit business or strictly informational? Make sure that you have the answers to those questions before moving forward.
Comparing .org and .com as domain extensions
There are key differences you should consider when you compare .org and .com as domain extensions for your website.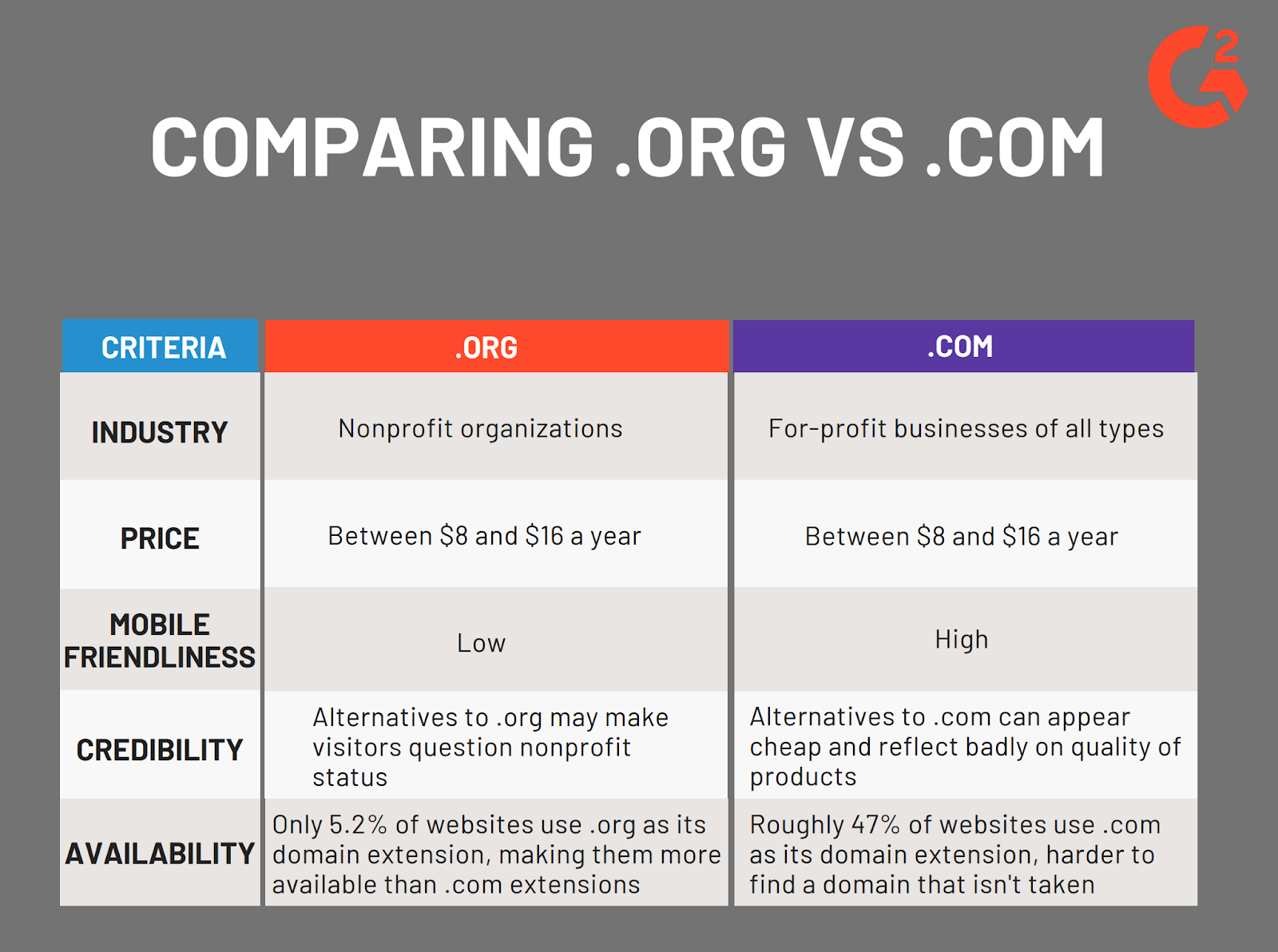 Simply narrow down your industry, consider availability and credibility, factor in mobile friendliness, and price, for a better idea of how the two compare.


When to use .org
The .org domain extension stands for "organization" and is most commonly used for nonprofit organizations. It is also sometimes used for websites that aren't necessarily for profit, but that provide the public with free information and resources, like a public library.
You should consider a .org domain extension if your website is one of the following:
A nonprofit organization
A public education website providing information
An open-source software website
Pros of using .org
If you're leaning towards choosing .org as your domain extension, you should know that there are many advantages to doing so.
Nonprofit credibility: Sends a message that the website serves its visitors with no intention of gaining a profit.
More choices for a domain name: Since only 5.2% of websites use .org, fewer names have been purchased. This means you're likely to get your first choice in a domain name.
Cons of using .org
Before you register with the .org domain extension, you should be aware of the cons, too.
Lack of mobile friendliness: When you use a mobile device to search a website, many keyboards have an automatic ".com" button. This means that having a .org extension is slightly less mobile-friendly.
Limited industry use: Because .org should only be used for nonprofit businesses, it limits the use to casual, social, informational, or network use.
When to use .com
A .com domain extension can be found at the end of a for-profit domain, or a website URL string. The term .com stands for "commercial", and is used for websites that represent companies that sell goods or services for a profit.
Since it's the most popular and most trusted by consumers, roughly 47% of websites use it. It's also not uncommon for nonprofit websites and blogs that don't sell a product or service to use it to capture more visitors.
You should consider a .com domain extension if your website is one of the following:
A business that sells a product or service
A nonprofit that sells items
Blogs that require credibility
Pros of using .com
When it comes to choosing .com as your domain extension, there are some key advantages.
Builds credibility: Having a website with a .com domain builds credibility because it's the most well-known and well-respected among businesses. Some customers are turned-off by lesser-known domains, like .biz or .info, because they appear spammy and untrustworthy.
Memorable: The .com domain extension is the first one that people think of. If a customer hears that your website name is Starry Night Sky, they're going to type in starrynightsky.com, not starrynightsky.biz.
Mobile-friendly: Most mobile devices make it easy to type in .com, as some even have a button dedicated to it.
Cons of using .com
With advantages come disadvantages, and choosing .com has some cons to consider.
Price: Since .com is the more popular choice, it's also the most expensive. While prices will vary, and the cost of $10 per year may not seem that bad, extensions like .tech come in at under $5 a year.
Need to make a sale: Having a website with a .com domain extension lets visitors know that the website is selling something. Because of this, blog posts on a business-related website may come off as less reputable or authoritative.
Where to register a domain
Once you decide whether your website will have a .org or a .com domain extension, it's time to register! If you're unsure about your options for domain registration providers, check out our exclusive list!
Know your options
Now that you know the difference between .org and .com, and have come to a conclusion as to which one is right for your website, you're one step closer to being complete with the website building process. Next up, consider elements like a website hosting provider and if you'll need an SSL certificate. It's all part of the fun of building a website from start to finish!