It's quite a feeling, shopping in your pajamas.
This has probably long been an option for you, depending on your personality and your shopping preferences (it has for me). But with e-commerce platforms and the ongoing online retail revolution, PJs have become unofficial shopping attire.
You can buy everything online and in many cases, see it arrive at your door in minutes. Modern consumerism is easy, perhaps too much so. Not only has it loosened our spending habits, it has shuttered brick-and-mortar stores that can't compete with the convenience of online shopping — from family-owned greeting card stores to big-name retailers like Sports Authority.
In-person purchases still dominate the retail market, but the "Pajamas Effect" is an undeniable force and a behavior we're unlikely to relinquish anytime soon. Online's share of sales has climbed exponentially since 2009 and shows no sign of stalling.
For small businesses in the retail space, creating an online experience is a unique challenge, one that continues to evolve at a rapid pace. (Here are some noteworthy small business statistics.) But there's no denying the benefits, especially how it can get your product to people who can't readily access your physical location. Countless businesses are skipping the physical store altogether, delivering products from a warehouse or even their home. Now running a store in your pajamas — that's something to aspire to.
To explore this topic and what it means for you, here is a compilation of online shopping statistics based on recent studies. No matter where you stand on this, it's important to understand the far-reaching impact of e-commerce and online retail and the habits of your hoped-for customers.
General online shopping statistics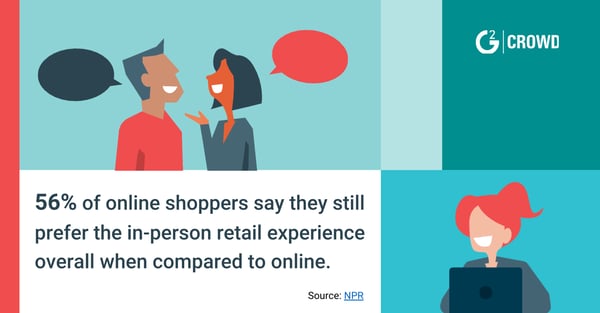 Holiday shopping statistics
Amazon statistics
Benefits of online shopping statistics
Social shopping statistics
Voice assistant statistics
Should your business offer online shopping?
For the time being, physical retail is still the top dog. But to get your product out to people across the country and the world — or even across town, in a pinch — online shopping is an unparalleled tool.
If you're not up and running, but wanna get there, you can experiment with one of the best e-commerce website builders or discuss your needs with some e-commerce development companies. (Bonus points if you wear your pajamas.)
Want some more? Check out our list of Amazon statistics.