Let's get digital, digital...
Everything 's coming up digital – and for good reason! As the modern work environment moves to be more tech-savvy, employers should focus on how they can keep up in the ever changing digital landscape.
HR professionals are confronted daily with countless opportunities to incorporate technology into their talent management strategy. Employee training is one of the key areas being transformed by HR technology, specifically online learning platforms.
What is an online learning platform?
An online learning platform is a fully-integrated online service that provides educational tools, resources, support, communication, and programs for an enhanced educational experience. It's a one-stop shop for all things continued learning.
The fast-paced and technical nature of the modern work environment means the old ways of training employees are on their way out the door. Employees crave flexible, time-sensitive solutions for their professional development.
Online learning is the solution to all of these problems. These modern educational platforms offer employees and employers the tools they need to promote employee development.
5 benefits of online learning platforms
Online learning platforms are more than just a tool to be utilized in your employee training program. They also offer unique training and development benefits for both your company and your employees.
1. Employees can work at their own pace
The first and most obvious perk of online learning is that your employees can work at their own pace to complete the coursework. It can be difficult to organize in-person training that fits the schedule of everyone in a certain department or even the entire company. By utilizing an online learning platform, you take the pressure off of your employees to prioritize their training over their work or vice versa.
HR Professionals, looking to incorporate online learning a priority into your training employee program?
2. It's more effective for retaining information
There are already a few large companies who have begun investing in online learning platforms. IBM reported in their The Value of Training report that online learning solutions provided employees with the skills they needed for leadership opportunities and advanced career placement.
The report also showed that employees were five times more likely to retain the material they reviewed compared to a traditional learning environment.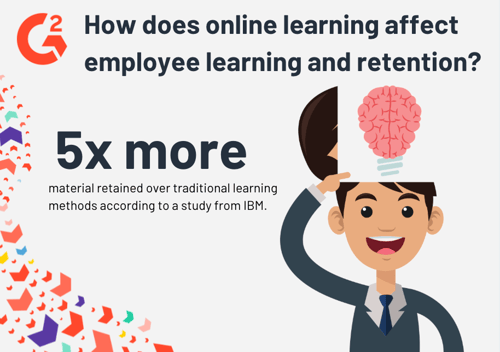 What your employees learn isn't as important as if they can retain it. An online learning platform will provide a more interactive learning environment for employees. Not only that, but the ability to go back and review materials whenever needed will help employees retain more knowledge than a one-off, in person training.
TIP: Have you considered implementing microlearning into your workplace?
3. It's a more flexible option than in-person coursework
Flexibility is something that employees crave. The weakness of in-person trainings is that they rely on an employee being in a single place at a certain time. You may be able to get everyone to show up, but can you force them to stay present in the moment?
There's a chance that your employee may be pulled away from an important work project during an in-person training, leaving them distracted by what they need to get done. Online learning platforms allow your employees to coursework when they want and where they want.
This means your employees can utilize their commute on the train, a flight to their vacation, or even the time unwinding before bed to complete their online learning. Flexibility provides more options which, in turn, will increase employee engagement in the training process.
4. It puts you in control of the curriculum
Think about all of the employee training your company requires. Now think about the type of things you'd like to train for if you had the capability. Many online learning platforms are now equipped with the ability to control the curriculum your employees.
Here are just a few things that online learning platforms can be used for:
New employee orientation
Security training
Legal and compliance training
Sexual harassment training
Diversity and inclusion training
Products and skills training
These are just a few of the options you have for utilizing your online learning platform. These platforms also provide a user friendly back-end experience where you can track and monitor the progress of employee training. You can see who has completed the training and when they completed it.
5. It actually makes your company money
Spending money to make money isn't a new concept. The initial investment cost in an online learning platform may seem too expensive for the potential benefits. But aside from all the things listed above, investing in online learning platforms for your employees can actually provide a real return on the monetary investment you spend.
The same IBM The Value of Training report that covered employee retention also tracked the ROI of online learning platforms. They found that for every $1 a company spent on an online learning platform, a company could expect to earn back $30 worth of increased productivity from their employees.
Think of how much the small mistakes and lack of training your employees have might be costing your company. You can alleviate a majority of that cost by providing your employees the right training, distributed in the right way.
Which online learning platform is right for your company?
Software is eating the world and there's more new software being created every day. There's no doubt that you can find an online learning platform software for your company – the challenge is finding the right software.
There are many factors that play into which online learning platform software is right for you. Company, employee head-count, and budget should all be considered when making this choice. If you don't already have an online learning platform, you may consider exploring your options.
Hopefully you learned something...
About the importance of investing in an online learning platform. The key to creating an effective talent management strategy is to invest in your employees and their development. Start by reviewing your current training program and finding ways to improve – you might be surprised what you learn!
HR professionals, looking to make continued learning a priority for your company? Read about the importance of offering your employees tuition reimbursement and check out more articles like this on our HR hub.