Having trouble finding a community of like-minded individuals? Time to take matters into your own hands.
The radical interconnectivity provided by the internet has made it easier than ever to forge a community across geographic, national, and socioeconomic divides. When time and space cease to be an impediment to human connection, ideas and emotions become unshackled to transform society in a much more uniform manner.
We're still struggling to understand the ramifications of this explosion of the civil sphere. The "fake news" phenomenon and rampant polarization of our political discourse is but one part of a tremendous fallout from this technology's growing pains.
Despite this, a lot of good can come from the ease with which solidarity can be built in the digital age. Online content communities that spring forth from this can be an excellent source of knowledge, inspiration, and opportunity for anyone with a mind to access the peculiar intimacy of these networks.
Read on for everything you need to know about online communities:
Why you should invest in an online community
Beyond the abstract concepts of solidarity and belonging, online communities have a number of practical benefits that go a long way towards strengthening any business person, be they an independent content creator or a part of the marketing for an enterprise corporation.
What is an online community?
An online community is a distinct group of people who use an online collaboration system such as a forum to host in-depth discussions about particular topics of interest to the community.
If the goal of advertising is to get a product or service in front of your eyes and elicit an emotional response, the online community around that brand is part of what will turn that reaction into a veritable relationship.
This relationship is a powerful thing for your consumers. Not only is it a place for them to share anecdotes and riff on ideas, but it creates a repository of knowledge about your business to which they can turn if they have a question. The more robust this library of information, the more you enable your audience to spend time thinking about your product or services. It's also an excellent source of information and feedback on your own efforts, easily allowing you to keep your finger on the pulse of what your consumers want and need out of your business.
One form of an online community is a review platform. Sign up for your G2 profile today to better keep in touch with your customers and align your efforts to their needs.
The 'moat' for your business
Your business is a mighty fortress, the crenelations of its numerous spires scraping the blue vault of the heavens like the grasping fingers of some fallen titan. You've spent years building this citadel, hour by hour, stone by stone. No matter what industry you are in, there is one clear imperative: it must be protected.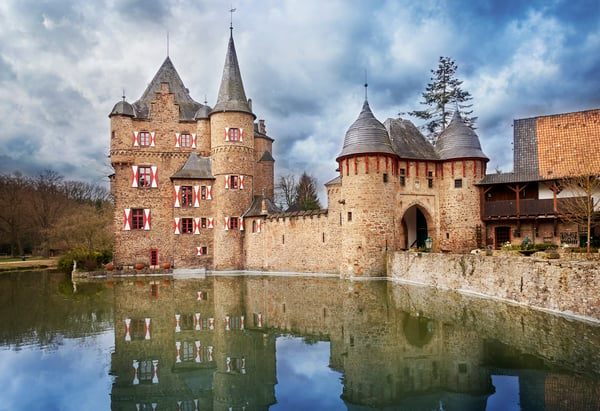 If only all our offices could be so idyllic
An online community can act like a moat around your business, preventing encroachment by competitors into the niche you've carved for yourself. Not only does frequent interaction with your brand keep your company top of mind, it's a powerful tool for fostering retention and generating loyalty in your base.
Building an active, reciprocal relationship with your consumers creates an emotional bond that will endure throughout the inevitable trials and tribulations that will confront any business.
How to build an online community
Now that we've established why you should invest in building an online community, it's time to go through the execution.
It all starts with content
As the adage goes, content is king and that's doubly true for when you are building an online community.
Content is the cornerstone upon which your community will be built. Creating engaging, relevant content creates a magnetism that will naturally draw people to your community through a discussion of the ideas you initially shared with the world.
Luckily, learning how to make good content isn't some deep, forgotten bit of lore that requires you to undertake a quest that spans a trilogy of books in order to acquire. There are really three pillars that uphold the temple of good content: niche appeal, consistency, and authenticity: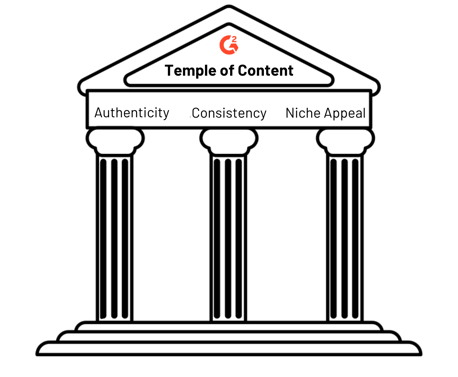 Authenticity
This final pillar is by far the most nebulous, yet that does nothing to diminish its importance. Good content is in inherently intimate thing; based on a relationship that forms between the creators and their audience over a span of weeks, months or even years. Creators need to speak from a place of truth when creating their content. They should discuss things they themselves care about. Otherwise, they run the risk of sounding hollow and disingenuous.
Consistency
You can have the best content in the world, but it will only get a fraction of the audience it deserves if no one knows when it's coming out.
Maintaining a tight schedule on your publishing is crucial for keeping an active and engaged audience. Furthermore, identify an area of your niche that is replicable and that can be consistently turned into compelling content. News coverage and analysis related to your topic is an excellent starting point for this strategy.
Niche appeal
Your business needs to be able to speak directly to a particular community of like-minded individuals for your content to be successful. If your focus is too broad, it becomes more difficult for people to connect with, and prevents you from creating a strong fanbase.
The trick is to focus on the common issues that plague your target audience, the language they use to discuss it, and the things they're explicitly looking for. Only then will you tap into the shared knowledge that connects a particular community of people.
Online community platforms
Here are some of the many platforms you can consider using to host your online community:
1. Higher Logic Online Community
G2 star rating: 4.5 out of 5
Overview: Higher Logic Online Community is one of the most popular options in G2's online community management software category. It allows businesses to create and manage online communities and customer interactions.
What users like: "Magnet Mail Social is very simple and easy to use. New users quickly adapt to this tool and can use the user interface to build journeys, campaigns and forms/landing pages. The help text or info in each option explains the user about its usage and guide them through the set up process without knowledge of HTML, javascript or other database languages which many marketing tool require." — Higher Logic Online Community Review.
2. Vanilla Forums
G2 star rating: 4.5 out of 5 stars
Overview: Vanilla Forums allows you to create a customized community that incentivizes participation and curates content for members.
What users like: "I love that within days of starting my free trial, I had a nicely branded solution (that I was able to set up with the self-service configuration options) that I was able to test out internally to colleagues to make sure it checked all the boxes we needed. Vanilla team is very responsive and provided best practice articles, webinars, suggestions, etc. when I ran into some doubters about how a community could be successful for our business." — Vanilla Forums Review by Trevor B
Looking for more options and opinions on the best community management software? Check out G2's comprehensive online community platform software category page today!
3. Discourse
G2 star rating: 4 out of 5 stars
Overview: Discourse is a 100% open source discussion platform aimed to generate productive dialogue for community content.
What users like: "Simple to use and read. It presents a simple list of discussions with suitable categories, as opposed to cluttered sub-forums that divide discussions. It provides an easy and effective way to highlight and pin topics and identify active discussions. Users can even hide certain categories they are not interested in." — Discourse Review by John G.
The above options are just some of the many available for a business considering how best to construct their market fortifications through content and community. Smaller enterprises, such as live-streamers, YouTube personalities, and podcasters might want to consider more intimate communication software such as Slack or Discord for more direct, one-on-one discourse. Furthermore, Facebook groups are a quick and easy way
Generating engagement in your online community
Now that you have your community up and running, it's vital that you keep the momentum going through engagement with the wonderful humans that have taken time out of their lives to populate your space.
You should be keeping your community abreast of changes to your content and publication times, but this is only a baseline. The beauty of online community management platforms is that it allows you to chat with members of your audience in real time. This is by far the most effective method not only to understand how your content is performing, but also to foster a sense of inclusivity that will draw more people to your platform.
Community is key
Investing time and energy into creating and engaging with an online community is a surefire way to enhance the reach of your brand. Leveraging the best online community management software and backed up by consistent, topical content, an online community can be an amazing place to initiate interested persons into full-blown advocates for your business.
Want to learn about how to make a physical presence for your brand? Check out our guide on making your own merchandise!