As if launching a new product isn't stressful enough!
After months and months of anticipation, the big day is just around the corner! Your team has worked tirelessly to come up with, design, and build the next big thing. You just know your customers won't be able to wait to get their hands on it once they know how epic it is.
But that's the problem. They don't know how epic it is, yet…
The best ways to build hype for your new product introduction
Garnering excitement and building the hype your brand needs to ensure a successful product launch is no simple task. It takes extensive planning, strategic execution, and a little brand equity to guarantee your customers are eager and ready to purchase when the time comes.
To help you come up with ideas for this daunting task, I asked industry experts what they do to ensure their product launches are successful every time.
Here's what they had to say:
1. Tease your audience with insider information
"Announce new products and services early enough to build momentum, but not too early that interest dwindles down before the big launch day or grand opening. We like to tease a coming soon post via social media, and then tease small bits of information, videos, and additional details over the weeks before launch. This way the audience has a reason to keep coming back and checking for (and hopefully, sharing) updates.
In terms of digital advertising, we also use retargeting ads to cookie prospects that show interest early-on so we can stay top-of-mind with those that are likely to be our biggest advocates and early-adopters."
- Lauren Leva, Senior Director of Digital Strategy, Grafik
2. Get your target audience involved in the creation
"Engage your audience during your market research phase prior to the launch. Simply asking your target audience to be involved in the creation of the product creates ownership in the brand and the solution you're providing. When the launch time comes, you will have a built-in fan base of clients ready to buy something they had a part in developing. They wouldn't think about buying anything else, and they will tell everyone they know to buy it too."
- Lee Murray, Marketing Strategist, Signal Media
3. Think outside the box
"Listening to our customers is a major part of our product planning process. We decided to emphasize this virtue during our latest product roadmap unveiling, and the results were phenomenal.
Here's how it happened: We invited a handful of our customers to an auction where they would bid against each other for the rights to be the first beta-testers of our new product features. We gave each company $2000 to spend during the auction and let them loose. Sure, the money was fake, but the hype was real. Our original intention was to understand what features our customers were most interested in so we could prioritize our engineers' time accordingly, but we got more than that. The hype surrounding the auction even spread to customers who weren't able to attend."
- Dylan Max, Head of Growth Marketing, Sendoso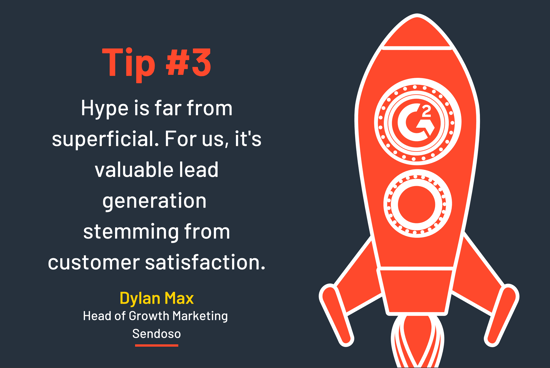 4. Show value through tutorials and DIYs
"Facebook and Instagram are the two platforms we love to use when we're trying to promote a new product. We like to highlight the benefits of the new product as well as the aesthetics. Plus, to give it a little boost, we might offer a giveaway or discount to encourage traffic and reactions to the post.
We also love communicating with our customers via our website, so when we have an exciting announcement, we make sure to have a dynamic banner and publicize our promotions on there as well. Even something like a tutorial or DIY recipe is a great way to show customers how the new product can be useful in their lives."
- Nate Masterson, CMO, Maple Holistics
5. Build your tribe
"I informally built a launch team. Anyone that had supported me in person or online was naturally on board to help me launch my book. This meant that they would buy a free copy during my launch, help spread the word on social media, and leave me a review after reading.
For my next book, I'm making this a more formal process with an application and everything. I'm highlighting how exciting it is to be on a launch team, along with some of the perks. These launch team members will be 100% committed to helping me market and launch my book, and I'll be able to rely on them for several tasks."
Foster relationships with your target audience
"Market research on social media can be so valuable, especially niche Facebook groups. If my target audience is female millennials, then I find groups on Facebook consisting of young women, and I ask them questions. It's research that I need for my book anyway, and by asking about their money struggles or about their relationship with personal finance, it often gets people online asking about my book and what I'm doing research for. I don't have to be sales-y about it at all, because it naturally piques people's interest. People enjoy giving their opinions online, so I normally get a ton of valuable feedback to use in my book, plus I get tons of new followers!"
Rely on your target audience to make invested decisions
"My followers make all the biggest decisions: what the title of my book should be, which cover I should use, and what day I should launch. For example, after I've narrowed down to five different potential titles, I create polls and send them to my audience or post them online where everyone can pick their favorite option. Typically, I pay for three different book cover options, and I'll also do a book cover contest where people can vote for their favorite. Doing this is critical for getting people emotionally invested in the success of my book; after all, they literally chose the title and cover. When it comes time to launch they are naturally excited."
- Rachel Richards, Former financial advisor & best-selling author of Money Honey
6. Provide as much value as you are comfortable with for free
"We usually start hyping up a new product by introducing the general topic through our podcast and email list about a month before launch. Through a consistent content output, we share as much of our experience as possible, often drawing inspiration from our member community. We also get experts and experienced names in the related industry to weigh in.
We will sometimes go as far as creating a mini-course and just release it to the public for free. Sort of a preview of the premium product, but still very actionable in and of itself. We then start mentioning how the new product has much more details and tips to get the most out of all the information we released for free. This is usually enough for our audience to engage with the product and even organically promote it to their own networks or friends."
- Balazs Hajde, Content Manager, Authority Hacker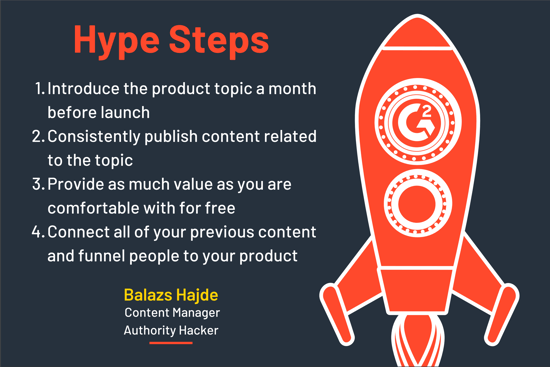 7. Create a contest and giveaway on social media
"We recently launched a new t-shirt playing off Game of Thrones for the Game of Thrones finale! To build hype off of our offering we ran a social media campaign. We first launched a teaser showing part of the t-shirt design to get people hyped about what was coming. Then, we ran a contest and giveaway to get our audience engaged and excited. Those who entered received the t-shirt and an entry into a drawing! This generated the most engagement on our social pages we have ever received!"
- Morgan Lathaen, Marketing & Brand Coordinator, Thumb Print
8. Customer loyalty above everything else
"The best way to build excitement is to start with your loyal base of customers and let the news propagate from there. Your evangelists and biggest fans deserve special treatment. We invited about 50 of our clients to an exclusive headquarters event where they got to meet our team, network with their peers, and listen to our founder present a product round-up.
We talked about new ways of interacting with the software and took questions. Representatives from every side of the business, from marketing to client services, walked around and sat down for lunch to have one-on-ones with our best clients and provide advice on anything that was on their mind. It led to a high conversion for loyal clients buying the new feature, as well as a lot of social media buzz and referrals which brought new clients to inquire. That's the power of customer loyalty!"
- Cristina Maria, Marketing Executive, Commusoft
9. Get involved at conferences and trade shows
"Attend trade shows and conferences to meet influencers and potential customers. They will be able to offer valuable feedback on your product which will get them involved with you from the start. Our company augmented this type of approach with an explainer video, blog, and other content which we were able to follow up with. Through this strategy, we increased hype for our product while also seeking honest feedback whenever possible."
- Vivek Kumar, Founder & CEO, Qlicket
10. Provide value upfront to build momentum
"Our hype building process started with the creation of 2-3 blog posts about the topic of the course. For example, two months before the launch of our course 'Consulting Empire', we wrote three pieces on the topic of consulting. In those posts, we added CTAs to a landing page where the readers could see a trailer of the course and a button to sign up for the waitlist. We also sent an email to our entire list of subscribers to the same landing page so we could segment the people who are interested in the course from those who aren't. A week before the launch of the course, we created a 7-day email automation where we gave a lot of value upfront and built some momentum. We also promoted the trailer and the waitlist through Facebook ads and retargeting."
- Ivan Kreimer, Content Writer, foundr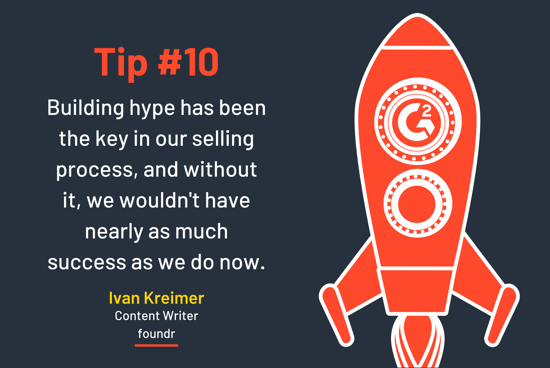 Build that hype
Getting the momentum your brand needs for a seamless and successful product launch takes a lot of effort. But there's no magic answer! It comes down to not only the amount of value you provide to your target audience, but the investment you seek to make in them. It only takes a few evangelists to get the masses on board. Find the evangelists of your brand, invest in them, and you will be amazed at how naturally the rest comes for you!
Share your expertise!
Help others within your industry and grow your personal brand by joining our network of expert contributors! Share your insights on topics such as marketing, business growth, and technology with over 1 million readers on the G2 Learning Hub.