Mobile POS is the wave of the future.
According to our 2019 restaurant trends, mobile POS systems will be taking over the restaurant industry in the next year.
The portability and ease of use make them increasingly attractive to both retailers and restaurateurs, and the lack of reliance on hardware certainly doesn't hurt.
What are mobile POS systems?
Mobile POS systems are POS systems that are housed in the cloud for use on a tablet or mobile device. For mobile POS devices, being cloud based means that all they need to operate is a device and an internet connection.
Examples of restaurant mobile POS systems in 2019
Toast
NCR Aloha POS
TouchBistro
LightSpeed Restaurant
LevelUp
POS systems are typically sifted into two categories: restaurant POS and retail POS. Restaurant POS systems is built specifically for the restaurant industry, allowing hosts to assign tables and servers to send tickets to the kitchen as well as split checks and run credit cards. Similarly, retail POS systems is built for retail stores, providing inventory management, barcode scanning and back-office features.
Examples of retail mobile POS systems in 2019
Square
Shopify POS
Lightspeed Retail
Vend
QuickBooks POS
Mobile POS systems can integrate with hardware such as cash drawers, barcode scanners or ticket printers, but these hardware items don't necessarily need to be provided by the software vendor. Mobile POS software can be downloaded onto almost any mobile device and can therefore integrate with a wide variety of hardware.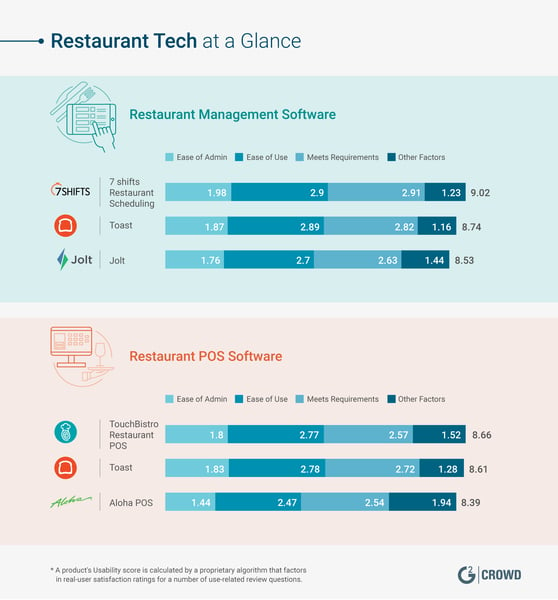 Why use mobile POS systems?
Reason to choose a mobile system over a traditional one include:
1. Cheaper
In general, mobile POS systems are less expensive than traditional POS systems because of the reduced hardware requirements and the ability to pay for a monthly or yearly subscription. But aside from the cost savings, mobile POS can make service more efficient and so your servers and kitchen are less likely to make mistakes.
2. More user friendly than traditional systems
Mobile POS software is typically user-friendly and easily updated. The kitchen can use the software's menu-building features to populate the day's menu and specials into the POS system. Servers can then optimize the layout of the menu items so they can easily find all the available dishes.
Most restaurant POS software makes it very easy to add in special requests, substitutions or dietary restrictions, so servers can ensure that they cover all diners' needs. With tableside ordering, servers can adjust orders as they are speaking to the customer, lowering the chances that something will be forgotten.
3. Helps your kitchen stay efficient
Kitchens can also benefit from mobile POS software. More and more, mobile POS systems are providing special screens and ticket printers specifically for kitchens. With these tools, kitchens can easily communicate with the front of house and see what orders are upcoming. Kitchens can also easily update menu items as they are eighty-sixed, minimizing unhappy customers who won't receive the item they ordered.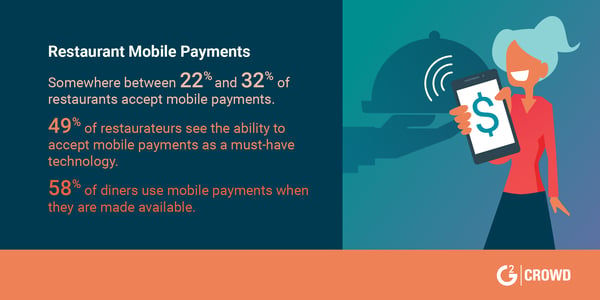 Types of mobile POS systems
1. Tablet-based systems
Tablet-based POS systems will function exactly like a normal POS system but run on a tablet like an iPad. The tablet can be connected to a cash drawer, barcode scanner, receipt printer or kitchen ticket printer, but the system will run using your restaurant's Wi-Fi. Many of these systems will be easy to install and update right over the internet. These systems are perfect for a restaurant with a full kitchen and multiple servers or hosts.
2. Phone-based systems
These systems are ideal for mobile businesses like food trucks. Users can plug a card reader into the phone, run the POS system and easily check out customers using either Wi-Fi or phone data. This is obviously not ideal if you don't have unlimited data but perfect if you don't need a lot of hardware or don't have a lot of space for a full POS station.
3. Terminal-based systems
Terminal-based systems are a mobile all-in-one POS system that doesn't require a phone or a tablet to use. The terminal itself runs the POS software and contains a card reader. (The Square Terminal, for instance, can be handheld.) Small or mobile businesses can benefit, as well as restaurants that want to try tableside ordering where servers can place an order and take payment without leaving a guest's table.
4. POS kiosks
POS kiosks allow customers to place an order without interacting with a server or cashier. Kiosks may consist of a tablet with a card reader placed at the front of the restaurant or on each table. Customers can then order and pay using the kiosk, and the order is sent directly to the kitchen.
Benefits of mobile POS systems
Mobile POS systems are easy to set up and use, and can be as portable as you want them to be. Using a phone, tablet or specialized terminal, you can create a POS system that works best for your business, even if it's just a table at a farmers market.
Because mobile POS can be installed on almost any mobile device, there's no need to purchase a lot of hardware or specialized terminals. You can use your own phone or tablet, or even rent a tablet from the software vendor. Easy installation means you can get up and running right away without a long implementation process.
The fact that mobile POS systems are housed in the cloud means easy updates in addition to easy installation. Plus, access to the cloud means that your data is backed up in case something goes wrong. Cloud software is also easy to integrate with other software solutions you're already using. For instance, mobile POS often integrates with accounting software, making it easy to track your business' success on a daily basis.
Mobile POS also makes it easy to adjust menu items and other settings on the fly without waiting for service to be over. Updating over Wi-Fi means that changes can be pushed out to all connected devices immediately. So if that one special is eighty-sixed, all your servers will know at the same time, provided they all have access to a device running the POS software.
Next steps with mobile restaurant tech
Technology is making it easier to run a restaurant or other food-based business. Mobile POS makes it even easier to turn that food truck idea you've been kicking around into a reality. With mobile POS systems, you can organize, optimize and modernize your restaurant so more time can be spent on making delicious food and making your customers happy.

To learn more about restaurant technology you can implement in your restaurant, check out guide to restaurant technology.