It's Monday morning and your alarm goes off on your phone.
You grab your phone, get out of bed and start checking your favorite news sites, your weather app, various social media channels and your email. Throughout the day you read and respond to any incoming text messages. Before you head home, you check your mobile device for the best route to avoid traffic.
See a theme here? Mobile devices have not only penetrated our daily lives, they've also made completing daily tasks and habits faster and easier. With the proliferation of mobile devices, what does this mean for advertisers? It means it's more important than ever to use mobile advertising to reach consumers because in 2020, the number of smartphone users worldwide is projected to reach 2.87 billion, up from 2.1 billion in 2016.
Read on to learn what mobile advertising is and five powerful trends that are impacting the mobile advertising landscape.
What is mobile advertising?
There are various types of advertising that you can use to increase brand awareness and generate traffic, but mobile advertising is used specifically to launch ads on mobile devices, such as smartphones and tablets.
Mobile advertising definition
Mobile advertising is a subset of mobile marketing that includes an abundance of different advertising types. Mobile advertising can include online banner ads, push notifications, SMS ads, in-app ads, video ads and many others.
Advertisers use technology to collect personal data like location, preferences, demographics, etc. to personalize mobile ads and target their desired audience. Mobile advertising is but a single channel in the online advertising ecosystem. Many platforms that support advertising on mobile devices are also capable of serving ads across various other channels with a cross-channel advertising platform, which may also include capabilities across search, display, social media and video.
5 mobile advertising trends
See a trend you like? Feel free to skip ahead:
Mobile video consumption
Smartphones are becoming the prominent channel where people watch videos, so it's not surprising that mobile is forecast to account for 72% of the growth in spending on online video advertising. The fact that screens on smartphones are continuously increasing in size also enables users to feel more comfortable watching videos on the go.
Advertisers can find many benefits in using a video format for their mobile ads. For instance, some videos, such as native ads, are designed to be less intrusive than other types of ads, which can result in higher rates of engagement and retention. Instead of a video playing before, during, or after content, a native ad stands on its own and matches the aesthetics and tone of the editorial content. Additionally, video is a more natural method to tell a brand's story, which can evoke more of an emotional response and lead to increased favorable brand relationships.
Mobile video advertising is also increasing in popularity as a result of how different generations consume content. It would be safe to say that younger generations spend substantially more time on their mobile devices; Gen Z in particular is rapidly moving toward consuming most digital content on their phones, laptops or tablets. According to Bloomberg, Gen Z will comprise 32% of the global population of 7.7 billion in 2019, nudging just ahead of millennials at 31.5%.
The average member of Gen Z spends about 3.4 hours a day online watching videos, predominantly on YouTube. Like Netflix, YouTube provides suggested videos for users to watch, creating "binge-worthy" content experiences. This trend will not only spur the creation of more YouTube ads, but it will also increase the usage of videos as a method for deploying advertisements on mobile devices.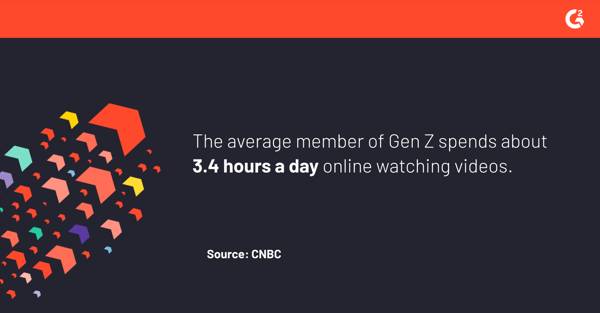 Location-based advertising
Ever wonder why you see an ad that specifically relates to where you are? Location technology enables marketers to target consumers based on their specific location, sometimes down to the department or aisle level. As technology continues to advance, geo-targeting for advertisements will become more and more prominent. Overall, location-based advertising will impact a marketer's mobile marketing strategy because it will allow them to create better customer experiences through more personalized and relevant content. (For example, one day you may be walking down a street with bars and restaurants and get a push notification ad for a happy hour special at one of those locations.)
Google is one key player starting to leverage location-based technology to deploy mobile ads. The tech giant revealed it is going to start generating personalized Maps recommendations in privacy-sensitive, opt-in ways. Additionally, Google-owned Waze will start selling ads that try to convince drivers to alter their routes by using things like "branded pins" that would guide drivers to nearby stores or restaurants.
That being said, monetizing Google Maps, Waze and other mobile applications ushers in concerns over privacy regulations. With the proliferation of data, advertisers need to keep data privacy regulations in mind, including compliance with GDPR and the CCPA.
Personalization and transparency
It's safe to say that consumers greatly enjoy a personalized experience. (No one wants to get an advertisement for renters insurance if you don't rent/own a home.) But what consumers value even more than that is data privacy. Consequently, government regulations have made it paramount for marketers to not only be 100% transparent about how they are going to use consumer data, they also need to receive consent before they even start gathering said data.
This regulation was created by the European Union (EU) to protect data and privacy of all individuals in the EU by giving them control over who can gather their data and how it can be used. The more recent regulation, the California Consumer Privacy Act (CCPA), was created to protect the privacy and data of those who reside in California. The act requires businesses to inform consumers what data businesses are collecting and give consumers the right to say no to the sale of their personal information. Additionally, it also allows consumers to sue companies if their personal data is breached.
While the desire for transparency from consumers will only continue to increase, marketers still need to focus on personalizing mobile ads and entire ad experiences. Marketers will, however, have to relinquish their reliance on consumer behavioral data for targeting mobile ads. With reduced access to third-party data, companies will be pushed to gather superior first-party data acquisition channels.
Marketers will start shifting into the mindset of being more explicit in communications to their audiences about why they should share their data in the first place, which will result in the creation of better experiences.
At the end of the day, data privacy regulations aren't going away, they are only going to increase in scale. This will propel marketers to a place where they eventually want to be — a place with completely clean data where they can subsequently target mobile advertisements to the appropriate audience(s).
Artificial intelligence and machine learning
To target mobile ads effectively, marketers need to analyze data and focus on aspects such as demographics, location and consumers' preferred time to engage with advertisements. Easier said than done, right? Marketers often suffer from data fatigue due to the number of available data points, but artificial intelligence (AI) and machine learning (ML) enable the automation of all this data. AI helps identify patterns while simultaneously eliminating manual work; combined with ML, AI gathers real-time data points in conjunction with valuable insights around that data.
The process of programmatic mobile ad buying will benefit immensely because of AI and ML. Programmatic ad buying, or the automation of many or all parts of media buying and ad placements, removes the manual work behind buying and placing ads and enables advertisers and publishers to work together more systematically.
Artificial intelligence can help advertisers using programmatic ad buying by determining key strategic questions in real time, including what their ideal targeted audience should be and what creative elements should be utilized. AI and ML analyze consumers' past ad interactions and browsing history, allowing advertisers to hyper-personalize ads for complete one-to-one messaging.
In addition, AI-powered interactive advertisements are now being tested and optimized. Voice-enabled audio ads generated with AI will be able to describe a product and then ask listeners if they are interested in specific features of that product or the complete product. As an example, Spotify recently launched voice-enabled advertisements on mobile devices, which encourages listeners to use verbal actions with the ad's content.
These kinds of advertisements will enable marketers to identify if their ads are effective without having listeners click on anything. Voice-enabled ads will require you to respond one way or another. Either you are going to respond by asking for more information or you will respond by requesting to skip the ad entirely.
In-app advertising
Both mobile device usage and mobile app utilization are increasing, an important trend for mobile advertisers and app developers alike. Mobile apps account for 87% of smartphone usage minutes; consumers are not only using apps consistently throughout the day, but also during moments when they aren't interacting with other media, i.e., during commutes to and from work. As a result, marketers are presented a unique chance to launch their mobile ads at the most opportune moments.
Mobile advertising platforms are paralleled by app monetization software on the publisher's side. App monetization software helps mobile application developers and publishers earn money from their apps through mobile app advertising.
Doing so allows developers to offer their app to users for free, but is also commonly used to supplement other revenue sources such as paid downloads and freemium models. Typically, mobile app developers scale their apps first and monetize them later. However, as in-app ads become more popular, mobile app developers will have increased opportunities to earn revenue.
Advertisers are expected to spend $93 billion on mobile ads this year, which is over $20 billion more than what will be spent on TV ads. As this number continues to trend upward, advertisers will seek new and interesting ways to reach their target audiences where they are — their mobile devices.
Interested in learning more about different advertising trends? Check out these 40+ advertising statistics to help identify the best ways to build a winning advertising strategy for your business.