Don't worry Bruce Wayne, you can have more than one Memoji. You can still be Batman.
After the release of Animoji, Apple announced the Memoji feature to further personalize the messaging experience.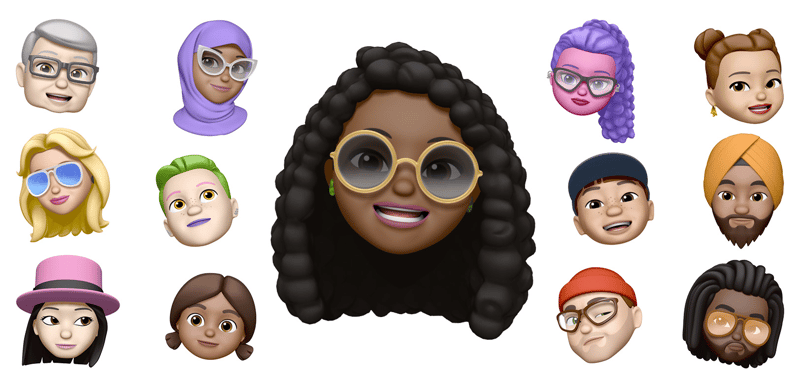 Image courtesy of Apple
The technology behind 3D emojis has been adapted by third-party apps in order to make the features available to users with older iPhones and Android devices.
EDIT:

This article has been updated to reflect the latest Memoji options with iOS 13.
What is Memoji?
Memoji is an Animoji, or animated emoji, that users can customize to look like themselves. Characteristics include eyewear, hairstyle, face shape, skin, and other personalization options. You can make, customize, and use as many Memojis as you want!
Which iOS devices have Memoji?
iPhone XS Max
iPhone XS
iPhone XR
iPhone X
iPad Pro 12.9-inch (3rd generation)
iPad Pro 11-inch
Memoji uses the front-facing TrueDepth camera available on the iPhone X and newer models to measure and analyze 50 different muscle movements in the face to mirror the user's expressions.
Ari content > all other content
How to make a Memoji
Making a Memoji is very similar to making other avatars such as Bitmojis and Miis, the Wii's offering to create a personalized video game character.
Open the Messages app to start a new conversation or go to an existing thread.
Tap on the Monkey icon to open the Animoji feature.
Swipe right and tap the plus sign next to "New Memoji."
Customize your Memoji with the available features.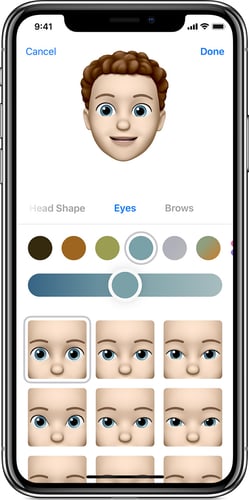 Image courtesy of Apple
How to edit existing Memojis
You can edit a Memoji by selecting the one you want to change and tapping on the "..." button at the bottom of the screen. When you click on this more button, a pop-up menu will appear. Then, select "edit" from the list of prompts.
How to use Memoji
You can use Memoji in iMessage and FaceTime to add some extra personality to your conversations. You can also use Memoji with camera effects to take things to the next level!
iMessage
Open the message you'd like to send a Memoji in.
Tap on the Monkey icon to open the Animoji feature.
Swipe left until you find your Memoji. Look into your iOS device.
Tap on the red record icon, red circle, to start recording your message. Hit the stop icon, red square, to end the recording. You can record for up to 30 seconds.
To use a different Memoji you've created with the same voice recording, simply tap on the Memoji you wish to use.
Image courtesy of Apple
You can also create Memoji stickers for iMessages by touching and holding the Memoji. Then drag it up into the conversation. This feature is now available for older iPhones as well with the release of iOS 13 and Memoji sticker packs.
FaceTime
Open the FaceTime app and make a call.
When the call begins, tap on the star icon to open camera effects.
Pick the Memoji you want to use.
To remove the Memoji or return to the FaceTime menu, tap on the X icon.
Other camera effects
Open Messages and create a new conversation or continue an existing thread.
Tap on the camera icon to take a photo or video.
Select the star camera effects icon. Then, select the Monkey icon to pick the Memoji you'd like to use.
Swipe through the filters and pick the one you want to use on your Memoji.
To close the menu, tap the X icon and snap the photo or record the video using the circle at the bottom of the screen.
Send your Memoji with camera effects to your friends!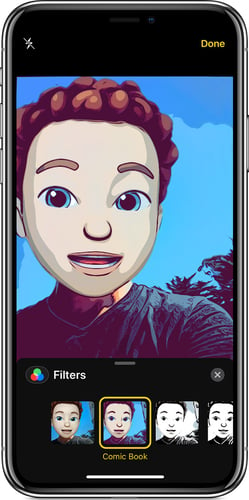 Image courtesy of Apple
OK, did Apple use Justin Timberlake as their model?
How to use Memoji on iPhone 8 and older models
There are a ton of apps out there to give iPhone 8 users a similar experience to Memoji. Simply search the App Store for "Memoji" and scroll through the results until you find the best app for you. These apps typically offer additional customization options on top of those available from Memoji.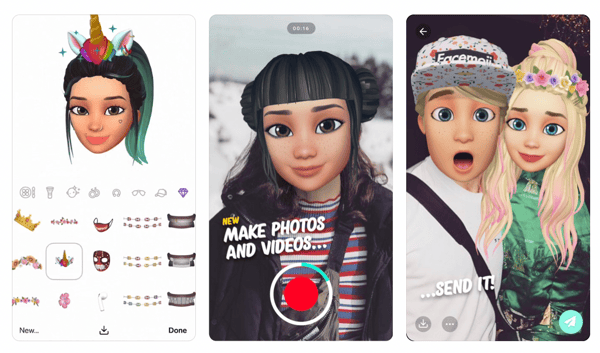 Image courtesy of Facemoji
The top two results are:
How to use Memoji on Android
Android users can also use features similar to Memoji on their devices. If you use a new Samsung device (S9 and later models), Samsung created their own version of it called "AR Emoji." For other Android users, search the Google Play Store for "Memoji" to find the best option.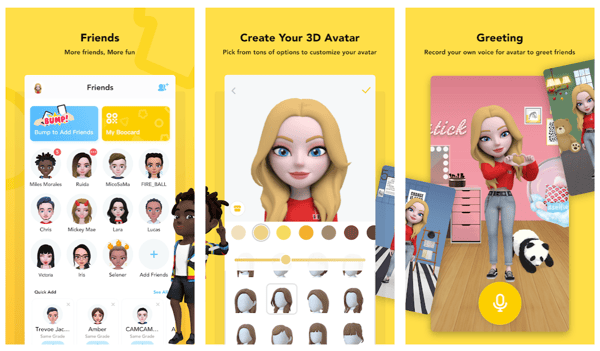 Image courtesy of Boo - 3D Avatar
The top two results are:
Let your creativity shine
Your Memoji is an extension of yourself, inside and out! Have some fun with iMessage and FaceTime. Pro tip: more is more – get creative with the accessories!
Want to learn more? Try your hand at photography and learn how to use portrait mode on the iPhone or learn more about Animoji and how you can use this feature to personalize your favorite emoji.