Dreaming of being a successful mommy blogger? Keyword there is successful.
Because the current media landscape is filled with endless blogs, Instagram accounts, and influencer ads, you need PR materials to break through the clutter— a media kit.
What is a media kit?
A media kit is a public relations tool for influencers, brands, and organizations to raise awareness, explain services and provide essential information for prospective partners.
Putting in the hard work of making an impressive media kit for your public relations goals is worth it. Once you've completed yours, you can send it to potential business opportunities. Or better yet, when marketers reach out to you, you'll be ready to sell them on a partnership.
Why do you need a media kit?
Fitness blogs. Meme accounts. Fashion gurus. Dog Instagrams. Foodie paradise.
Whether these are influencers, brands, or organizations, they have a social media presence, and people care about what they have to say. But there are so many, maybe even too many accounts or pages.
You need a media kit to help potential partners recognize your value so that you have a competitive edge over others with similar content.
For example, if you're a fitness blogger who provides work out tips and healthy recipes, you may hope to eventually partner with a granola brand. However, every fitness blogger is hoping for the same level of exposure. In order to rise to the top, you need to have your information nicely organized in a media kit.
So let's have some fun with it because once your media kit is complete, you won't have to do one from scratch ever again.
How is it different from a press kit?
Let's go over this debated topic. Some people use media kit and press kit interchangeably, but there are some key differences.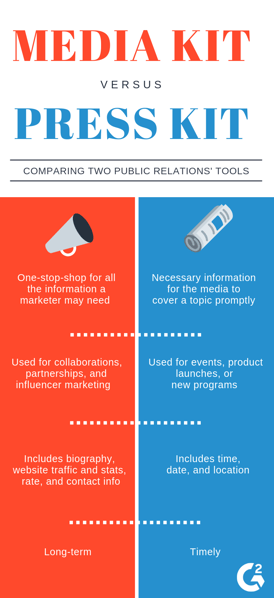 In simple terms, a media kit is a general overview of your brand, while a press kit is necessary information for immediate coverage on a timely event. Now that we've gotten that straightened out, we can dive into what's inside the best media kits.
How to make a media kit
To get started, you have to gather all of your information. Organize everything that makes up your brand and begin thinking about what makes you unique. Having a media kit will already make you stand out, but having a well-organized, attention-grabbing media kit will help you rise to the top.
What goes into a media kit?
Not all media kits look the same. Everyone has varying goals, statistics, and passions, so follow the below essentials and then add your own personal flair to make it special.
Introduction
Give marketers some insight into who you are and why you do what you do. This section should be about a paragraph long and include your headshot. It is a unique opportunity to tell your reader something they wouldn't know about you just from looking at all of your statistics and numbers.
After writing your introduction, ask your friends and peers to review your content to ensure it represents who you are.
Do you share healthy gluten-free recipes because your family has celiac disease? Do you rank the best restaurants in Chicago because you moved there and knew nothing about the city? Or do you run your dog's Instagram account because he is always there for you, while of course being adorable?
Your story is special to you, and marketers love to see authenticity, especially when most of our time is spent behind a screen. If you show your reader who you really are and why you'd be a good fit for their needs, then you're one step closer to goals.
Introduction example
In the below example, Ren Behan does two things really well— she talks about her personal and professional life in the past and the present. Through this brief biography, the reader already knows a lot about her and can pick up on aspects of her personality, which is very important.
Social media following
Be sure to include the number of people who follow, like, or subscribe to your content. You've worked so hard to gain and maintain these numbers, so show them off to marketers who are looking to specifics to support their brands.
Social media platforms to include are:
Instagram
Pinterest
YouTube
Snapchat
Tumblr
Facebook
Twitter
Of course, there are other social media platforms, but these are the main ones to include. If you have more to show, then go for it!

Website traffic and statistics
The point of a media kit is to prove to your readers that you know exactly what your brand identity is and who should be interested in your brand. Website traffic and statistics are the perfect way to show exactly who your audience is.
Your audience is exactly who your information is reaching and who is listening to what you have to say. Let's go back to the fitness blogger example. If the granola brand who wishes to now partner with you targets 20-30-year-old mothers, then they will want to see that your audience aligns with their target market. When the audience and target market match, then you are the perfect pick for a brand collaboration.
However, analyzing numbers, clicks, and data is not particularly simple. Luckily, we have the best PR software for you to make this process easier to do and understand.

Once you gather this information, add it to your media kit in a visually appealing manner so that nothing is left up to the interpretation of your prospective partner.
Rates
Stating your rates for projects is optional, but highly suggested. Cut out some of the guessing game and provide your rates for specific projects, if you no longer work on gifting basis. These rates vary extremely from person-to-person and range from $50 to $15,000, or more if you're an A-list celebrity.
Giving your prospective partner all of the information helps them determine if you are within budget and will save you from having some uncomfortable conversations. Plus, it saves you time from eventually parting ways due to cost.
Contact information
How are you going to know if someone wants to work with you if you don't provide contact information?
Be sure to include your name, email, and phone number for marketers to reach you. Always keep this section of your media kit up-to-date and triple check it before publishing. Without these details correct, the rest of your media kit has little to no worth.
Extras
There are optional extras to include if you really want to make your media kit shine. Odds are your media kit is one of many your prospective partner is reading that day, so go above and beyond if you can, but never add fluff.
If you've already partnered with brands, provide that information by simply putting the logos in a partnership section. Simple as that.
If you have some photos that will add value and tell your story, add those. But remember, information overload is never good. Make sure any photos you chose will sell the reader, not overwhelm them.
Lastly, if you've had the privilege of being covered in the press, then include snippets from that coverage. Showing that your brand or organization is already making people take notice will weigh heavily on the reader's decision to chose you for a project.
Send off
Say so long to your media kit and send it off to prospective partners. Before sending a duplicate email to any contact you got your hands on, research these partners. Then, personalize your message and attach your rock star media kit.
Now that you're one step closer to being that successful mommy blogger, you can take a deep breath and keep inspiring people with your content.
A media kit is just the tip of the iceberg when it comes to crafting a PR strategy. Discover how to make an electronic press kit (EPK).