Poster ads on the train at 7:35 a.m.
Twitter ads on your feed at 7:42 a.m. Facebook ads on your news feed at 7:50 a.m. Billboards out the train window at 7:57 a.m. Spotify ads while you listen to your Discover Weekly playlist at 8:09 a.m. You can't even get to work without seeing and hearing a million of them.
Advertising campaign here. Advertising campaign there. Advertising campaigns are everywhere.
The volume of advertisements is arguably out of control. Yes, they can be annoying. No, you can't get away from them.
Did you ever stop to think about all of the work it takes to get those advertisements there in the first place?
The media buying process
The New York Times shares that ad agency Yankelovich found that we see 5,000 ads a day.
In 2007.
What on Earth could that number be today?
There are so many advertisements in our world that it's hard for one to stand out amongst the rest. But when you stop and look at each individual one, it's humbling to think about all of the people it took to get that advertisement there to begin with.
What is media buying?
Media buying is the process of determining and executing the purchase of ad space that is most optimal for the campaign at hand. This is done with extensive research regarding the optimal time, location, and medium for the advertisement(s), as well as implementing negotiation in order to get the lowest price for the best spot.
Media buying isn't like buying a pair of socks on Amazon. It's an extremely thorough process with multiple steps. That's why there's an entire job title for it.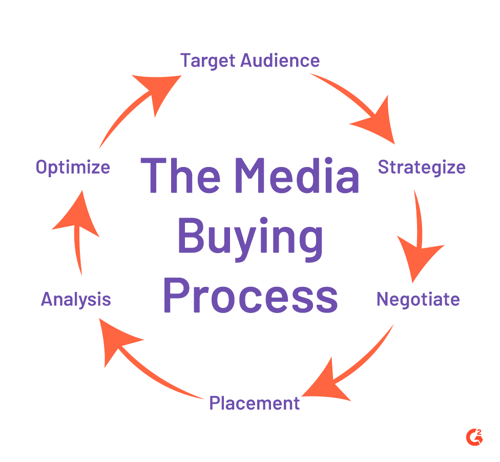 Marketing strategy agencies are great to partner with if you don't have an in-house media buyer. They'll help you with your current marketing efforts, determine their effectiveness, and help your company come up with newer, effective strategies if necessary, including optimal media buying strategies.
Below, we'll go over the steps that a media buyer and ad agency take in order to get the best results.
Phase 1: Pre-placement
Advertising isn't as simple as making a really good-looking ad design and slapping it up on a wall. There's an entire strategy that is put in place. Coming up with that strategy often takes the most time, as there are several factors to consider.
How will you reach your target audience?
Identifying your target audience and creating a customer profile or two are things that should be done long before any phone calls are made.
Market segmentation will help you to narrow down exactly who it is you're advertising to.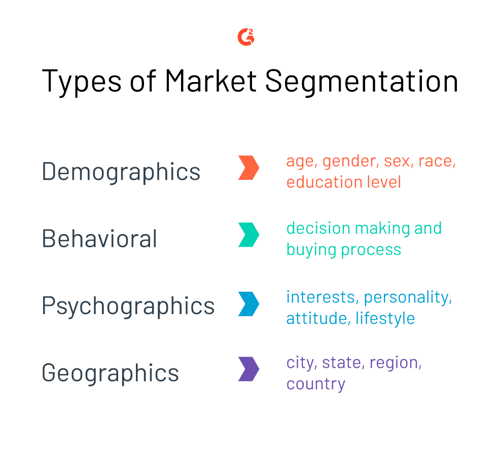 Learning more about your target groups and how they make their decisions will help you to eliminate mediums which you may have considered pursuing before.
When was the last time you saw a 16-year-old skateboarder in Beverly Hills redeem a coupon from a magazine?
How will you stand out from the competition?
Once you've figured out who your audience is and what platforms they use, take a look at people that your brand might consider to be competitors. Not only can you learn more about what's worked for them in the past and follow their lead, but you can also learn what hasn't worked for them so that you can avoid spending money in those areas.
TIP: Before deciding to eliminate something completely, make sure that you thoroughly investigate the reasoning behind why it didn't work. The location and timing could have been perfect; it might have been the overall message or design of the ad that turned people away.
How will you strategize?
Once you have a solid understanding of who you're advertising to and how you'll look against your competition, it's time to figure out where you're going to place your media.
There are a lot of advertising mediums to choose from. When making decisions, remember two things:
Choose mediums that align with the goals of your campaign
Choose mediums that align with your target audience
Commercials can be placed online, on TV, or in movie theaters; print advertisements can be placed in magazines and newspapers. Then there's the radio, billboards, online banner ads, paid search, social media – we could go on forever.
Even more challenging is realizing that there are subsections within some of these mediums. What channels of TV and radio will you advertise on? What types of magazines will your print ads be placed in? What kinds of websites will your banner ads show up?
As you're weighing out all of your options, keep your budget in mind. If your budget is limitless, congratulations. If not, work with your team to prioritize what mediums should be focused on.
Negotiate
When looking to purchase an expensive product, smart shoppers don't stop after one store. They'll jump from place to place, read reviews, and compare prices.
Media buyers have to be smart shoppers, too. Looking for the best deal on a spot, regardless of the medium, is only the beginning. If you have a previous relationship with a media vendor, it can't hurt to ask about discounts or bonuses. Keep an eye out for hidden online fees and make sure your budget is adjusted appropriately. Every dollar counts.
Phase 2: Placement
It's time for takeoff! You've found your target audience and discovered where they're most likely to interact with your campaign. You've met with vendors and decided on the ones that are priced the best and located in the optimal spots. Let's do this thing.
In this phase, media buyers make sure that the media is actually delivered to the vendor and that the vendor fulfills the requests that have been made. The buyer is responsible for making sure that the ad actually appears where it was paid to appear and is in the right environment.
It's always best to prepare for the worst. If your advertisements aren't doing well in one place, move them elsewhere. If they're getting more interaction at certain times of the day, adjust settings and your budget accordingly. Constant review and reevaluation isn't optional – it's necessary. Nothing is set in stone.
Phase 3: Post-placement
What was this all for if not for measuring advertising effectiveness?
When working with a media buyer, this is a good point to touch base with them and look at the data. Were the places you chose to put your advertisements effective? What worked well? What could have been better? Was too much money spent in one place, and not enough in another? Search for both negative and positive patterns, and make a note so that your next campaign runs even better than the last.
The circle of life
Mindlessly placing your advertisements might work, but strategizing first will almost definitely work better. If you're working with a media buyer for the first time, don't be afraid to ask questions and make mistakes. The entire operation is a learning experience, because when one campaign ends, another begins.
Yikes! Maybe that first run didn't go so well. Don't worry, there are ways to deal with negative marketing.