To manage manufacturing operations, most manufacturers use ERP (enterprise resource planning) systems and sometimes other types of software such as MES (manufacturing execution systems) and QMS (quality management systems).
While these systems help manufacturers streamline and improve operations, they may not be enough to address the unprecedented challenges faced by the manufacturing industry, such as:
Slow growth is the new normal in manufacturing, with a rate of 3 percent year over year and an average yearly increase of 3.79 percent between 1920 and 2019.

Outsourcing and globalization put a lot of pressure on manufacturing companies to stay competitive and cut costs.

The skills gap is a significant issue in manufacturing, which is expected to cause losses of $454 billion in manufacturing GDP by 2028.

Customer pressure to deliver quality products and services that are also ethical, sustainable and environmentally-friendly.
While ERP has been around for decades and is perceived as must-have software for manufacturers, many different solutions offer complementary functionality such as product design, maintenance, and supply chain applications.
ERP software rarely covers all the features mentioned above, which is why, in the best-case scenario, companies end up using at least several products. The worst-case scenario can be described by the image below: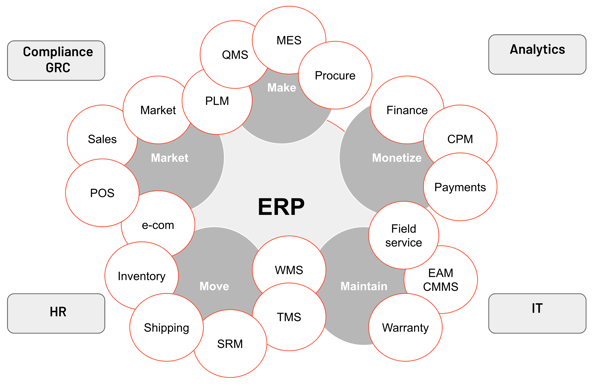 Typical IT ecosystem of a large manufacturing company
This is reminiscent of the term "spaghetti code," which refers to unstructured code that is very difficult to maintain. Many manufacturers have "spaghetti software" consisting of multiple systems that are more or less integrated, built on various technologies and databases, and sometimes even include several versions of the same software.
To continue the pasta analogy, "ravioli code" refers to code that only makes sense in isolation but is difficult to understand as a whole. Manufacturers also have a lot of ravioli software in various forms such as suites, best-of-breed, add-ons, customized tools or apps. While buying and implementing them made sense at the time for each team or department, no one really knows how they work together.
Finally, there's "lasagna code," which has layers so intertwined that any change to one layer will impact the others. ERP lasagna has been one of a manufacturers' worst nightmares for a long time, primarily due to upgrades. On-premise software used to be upgraded or patched regularly, which solved some issues while also creating new ones.
---
How to find the right manufacturing software
There is no secret recipe for choosing manufacturing software. The way companies need to approach software selection depends on many factors, such as:
The company's IT environment, especially the software it already uses for manufacturing and the technology used to support it

The planned future development of the company, which may include activity diversification, upsizing or downsizing

The company's budget for software acquisition and maintenance, especially considering that cloud computing requires a lower initial investment than installed software

The level of complexity of the manufacturer's business processes, which may require specialized software

The need for change management or business process reengineering, which tends to be overlooked during implementation
Based on all these challenges, companies can take different approaches when it comes to selecting manufacturing software. Let's take a look at some of the most important.
Software versus services
More and more vendors provide services that can replace software either partially or entirely. One example is supply chain network services, which allow manufacturers to find and manage suppliers using an online portal. This solution is much easier and less expensive to maintain than traditional supply chain software. Another example is CAD (computer-aided design) libraries, which provide manufacturers with CAD models for thousands of parts, thus allowing them to reduce or eliminate the need to design products in-house.
There are also companies that focus on services that companies can use to outsource operations. Product design and development is one example of a service that can replace expensive software like CAD or PLM (product lifecycle management). Logistics services such as warehousing, transportation, or customs brokerage are other examples that can prove very beneficial for companies that cannot afford to invest in their own fleet or in software for transportation management.
Also, new technologies like 3D printing allow manufacturers to either purchase their own printers or work with companies specializing in additive manufacturing. One of the challenges of 3D printing is to convert CAD designs into models that are compatible with the printers. There are hundreds of 3D printing services providers that specialize in different types of materials such as ceramics, composite, glass, metal and more.
Finally, outsourced manufacturing is still prevalent, despite a trend to bring manufacturing back in regions like North America and Europe. Contrary to common beliefs, manufacturing operations aren't always outsourced overseas: there are many U.S. and European companies that offer this type of service.
These services aren't always cheaper than investing in software and qualified personnel for product development or production. It may be quite challenging to control the quality of the outsourced work, and collaboration between various partners isn't always easy.
Which software do you (really) need?
Let's say that you analyzed your business needs and decided which ones can be covered by services. For the others, you'll need some kind of software, but do you know precisely which type?
Unfortunately, software offerings for manufacturing aren't straightforward, so you may have to choose between options that bring both advantages and disadvantages. Let's take a look at the most common manufacturing software applications and their pros and cons:
Unfortunately, this is a very simplistic overview of your options. Reality is much more complicated, as you'll need to combine all these factors.
The next challenge you'll need to address is the level of functionality provided by the software solutions you're considering. This can also vary greatly, from generic software like CRM (customer relationship management), which can be used by any company, to industry-specific solutions like ERP for fashion and apparel manufacturing. (Not to mention a plethora of tools that focus on software markets such as accounts receivable or accounts payable automation.) There are also features that are critical for manufacturing, such as production planning and quality management, some that are important (inventory management or purchasing), and others still that are nice to have (transportation and fleet management).
The importance of various types of functionality and levels of specialization varies significantly from one company to another depending on size, revenue, industry and market. For example, a chemicals manufacturer with 500 employees will need more sophisticated ERP software than a discrete manufacturing company of the same size. However, if the discrete manufacturer decides to invest in its fleet of trucks, functionality like transportation management becomes critical, while the same features may be nice to have for the chemicals manufacturer if it outsources shipping.
In addition to standard features, you may have to customize software or find additional tools like add-ons or apps to fill the gaps in ERP and other manufacturing software. Ideally, customization should be provided by the vendor or its partners since they know the system better than anyone else. Add-ons can be developed by the vendor, its partners, other vendors, and independent software development companies.
---
How G2 can help
Unlike other review websites, we try to structure reviews so that companies, including manufacturers, can find the reviews that are more relevant to their needs. Here's how:
We created categories that are not only specific to manufacturing (like Manufacturing Execution Systems) but also for different types of production: discrete ERP software, process ERP software, ETO ERP software and mixed-mode ERP software.

Since some ERP solutions specialize in one or a few industries, we created vertical categories for industries such as apparel, construction, oil and gas and so on.

Our services categories allow you to find value-added resellers (VARs) and implementation services providers for ERP products.
To make it easier for you to explore the various types of software for manufacturing, please use the dynamic visualization below to learn more about each option.