There are infinite ways to lay out a finite amount of information.
On social media, we're able to endlessly scroll, watch GIFs loop over and over, and refresh, refresh, refresh. UI design can be refreshed constantly, but with stagnant publications like magazines, it's important to get it right on the first try to avoid becoming the butt of a joke.
Books are designed to be read from cover to cover; magazines are designed in a similar fashion. But instead of needing to be read from beginning to end, it's more of an optional. Instead, the covers are littered with featured stories so that readers can select exactly what it is they want to read.
A book cover design could be all a reader needs to draw them into a story; magazines, on the other hand, don't have that luxury. One bad page design and your publication could (literally) end up in the trash.
Let's not let that happen.
6 tips for magazine layout
As stated earlier, there are no bounds to the way that your magazine publication can be laid out, and there's no one "best" way to do it. This can be overwhelming for a lot of designers. To narrow down your options, let's lay down some tips for your layout.
Tip 1: Know your content
It's impossible to design a layout without knowing what you're laying out.
Before getting started, have a solid idea of exactly what's going to be included in the magazine issue. What will the graphic-to-text ratio be? How many stories will the issue include? Are there any special elements that need to be woven in?
One way to keep everyone in the team, whether they are editors, designers, or otherwise, on the same page, is with some great project management software. Not only can it help designers like you stay on top of your game, but it can assist entire teams in the organization of multiple magazine issues (or other projects) and allows administrators to assign varying tasks to individual team members.
It's nothing less than essential that you and your team have a common understanding of what goes into the issue; skipping this step could result in the publication equivalent of disaster. Alternatively, taking this step can help abbreviate the tremendous amount of ideas your beautiful brain has conjured up into a smaller number.
Tip 2: Master your master pages
Creating these layouts from scratch every time could be a really fun activity if you had an endless amount of time and there were no such thing as deadlines. But we know that's not really the situation here.
Back yourself up with some templates, otherwise known in the publication world as master pages.
What are master pages?
Master pages allow designers to save time, while also providing a consistent look and feel for the pages in a publication by acting as a template that can be applied to multiple pages. The master page clearly defines what kind of content can be placed where. This can always be overridden by the designer.
Note that we're keeping the word "master pages" plural. Creating one master page would mean that your cover page would look the same as your table of contents, or that the page you include the crossword puzzle on will look the same as the pages with your featured story.
Take some time to make multiple master pages; one for each common element of your magazine. For example, make a master page for the cover layout, for the table of contents layout, and so on.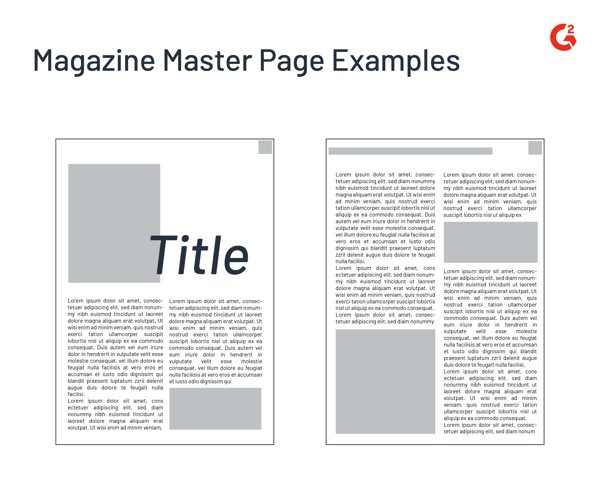 Every master page should include some sort of consistency to tie things together; whether that means using a unique typography for your page numbers or a singular border design is up to you and your team. Having these elements in place ensures that not only will your magazine look pretty, but there won't be inconsistencies in the future with size and space of elements.
Tip 3: Conform to consistency
There's nothing worse than inconsistency, especially in a magazine layout. If every magazine looks different, how can any reader know that they're actually receiving issues from the same subscription? In your layout, be consistent with your dominant color scheme and typography (yes, this includes font pairing). This doesn't mean that you can't play around with these elements a little bit, but give your readers some kind of lifeline.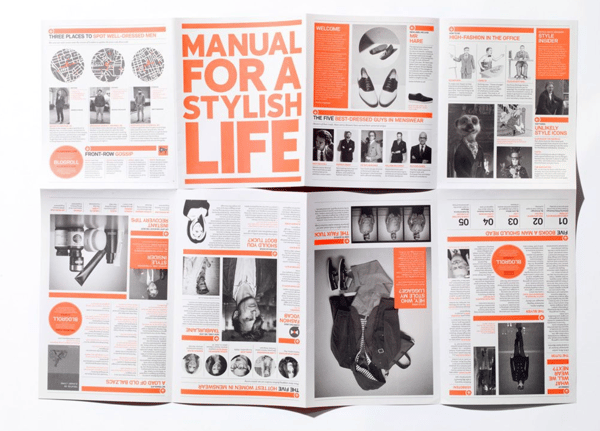 Source: Pinterest
BONUS TIP: Speaking of typography and color contrast, it can't hurt to get a good grasp on all of the basics of graphic design before plunging into magazine layout.
Tip 4: If it's important, make it known
Articles that look long and boring (which they shouldn't, if you've got your layout skills in tow) can sometimes be passed over when the information within them is actually enticing.
Sometimes, writers will come up that perfect sentence that both sums up a large point and is worded eloquently beyond belief. When you spot those special sentences, do readers a favor and pull them out.
Pull quotes are named that way because they're pulled from the body of copy, but one could say that they're also appropriately named because they pull the reader's attention. Articles that look long and boring (which they shouldn't, if you've got your layout skills in tow) can be spiced up a little with their own words.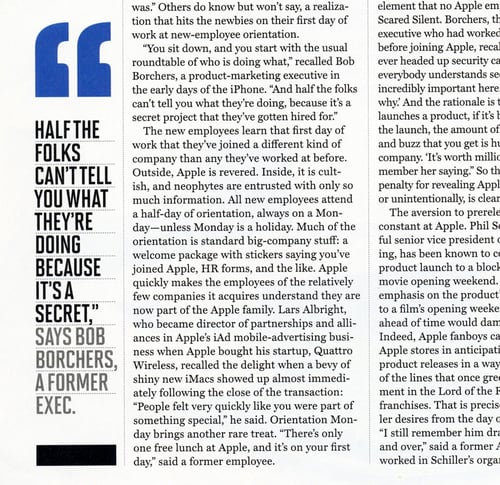 Source: Creative Pro
Tip 5: Align your body copy
The way we read goes according to visual hierarchy. Most languages, including the one you're reading right now, are read from left to right. Hold this fact near and dear to your heart as you align all of that precious copy in your layout.
The most important thing to remember with your body copy is that the words themselves should be the art. Don't try too hard to design the text around an image – this could pull away from what the content is actually trying to say to the reader. Somebody spent their time writing their article; it would be a shame if their message were lost to an overdramatized design.
Reading a line in a magazine that feels never-ending will lose your reader's attention; too short and it'll feel like
you're
running
a
marathon.
I need an inhaler.
Hint: optimal length of a line is 50-75 characters.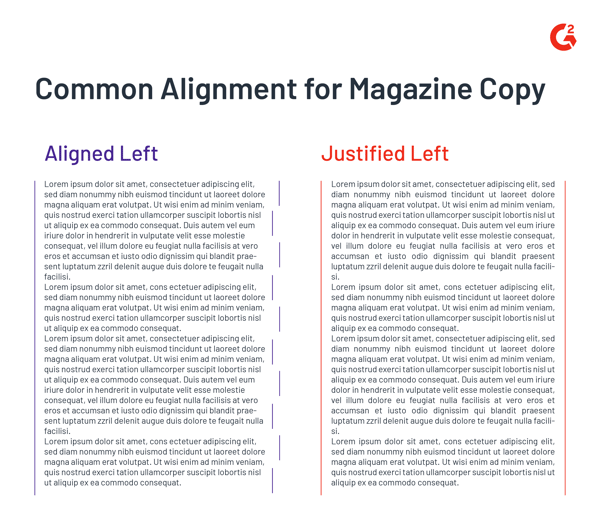 Bodies of copy are often either aligned to the left for easy readability or justified to make things look neat. Pick your poison.
Tip 6: Multimedia is a must
If your magazine is full of copy, don't make your readers feel like they're reading a book. Text that includes important data points can be pulled out and placed into an eye-catching infographic design. Paragraphs that beg for imagery should be accompanied by appealing photography. Even simple-looking illustrations can give your magazine a little character.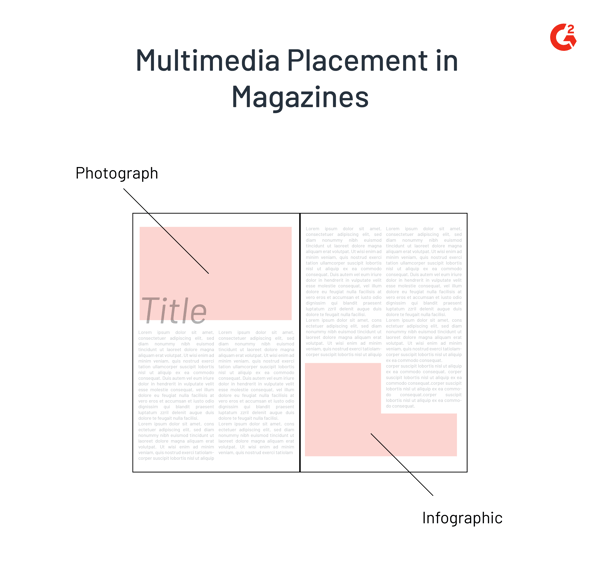 When laying out all of this content on a spread, don't make the graphics and text fight one another; find the balance. Your infographic can take up the bottom half of a page while your copy fills the top. Illustrations don't have to be at the forefront; design them to fit around the text and serve as a tasteful background.
The end
The contents of your magazine issues don't have to have a boring layout; nobody likes looking at that anyway. Take the time to make your publication one for the books with some outstanding imagery, peak organization, and optimal consistency so that readers keep coming back for more.
Is magazine layout part of your dream job? Make sure you're prepared for those graphic design interview questions before you walk into your interview.