You don't need me to tell you mobile phones are everywhere. You may be reading this on your phone right now.
Have you ridden public transit recently? Everyone's reading or watching or listening to something on their phone. And, according to recent research, they're doing a lot of shopping.
Our 2019 retail trends focused heavily on the rise of omnichannel shopping, and mobile commerce plays a large part in that. With the rise of social media, and the ability to access it on a phone, brands have put a lot of effort into advertising on those platforms. In 2018, brands increased their social media spending by 60 percent, and received a 67 percent increase in revenue as a result. With so much effort being put into mobile advertising, it makes sense that the next step is to funnel a company's targeted audiences into a purchase.
---
M-commerce disrupts e-commerce
Mobile commerce is growing by leaps and bounds. For instance, 64 percent of shoppers placed an online order using a smartphone during 2018's holiday season. Mobile search revenue also grew by 25 percent in 2018, proving that people are using their phones more than ever. This points to increased phone usage in general, but draws particular attention to the growing popularity of m-commerce.
M-commerce definition
Any commerce conducted using a mobile phone or device falls under the umbrella of m-commerce. This includes both phones and tablets and can encompass mobile shopping, banking, payments and more.
What is m-commerce?
Just like e-commerce is defined as any buying and selling done over the internet, m-commerce is defined as any buying and selling done using mobile devices. While these two spheres overlap since shopping on mobile devices is done through e-commerce channels, m-commerce provides unique challenges.
The first challenge, as any web designer can tell you, is the small screen size. An e-commerce page must be easy to use on a phone screen. Responsive design has come a long way toward making this easy for developers by letting a web page automatically adjust to the size of the screen, but these sites are not always optimized for mobile. And since people primarily use their phones to shop on the go, integration with digital wallets makes it much faster and easier for customers to make purchases.
The second challenge is security. When many making purchases while connected via unsecured Wi-Fi or phone data, sensitive financial information must still be protected.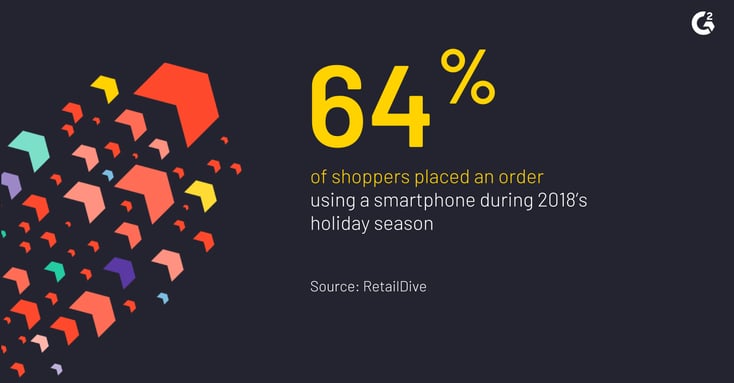 M-commerce, however, is not to be confused with mobile payments. We discussed the rise of mobile payments in the restaurant industry in our 2019 restaurant trends, but mobile payments focuses on using a phone to make payments in a brick-and-mortar environment. Typically, this looks like tapping a phone to a debit card reader or other hardware. However, in the future, it may be possible to use payment apps like Venmo or Cash to make in-store purchases in addition to wallet apps like Apple Wallet and Google Pay.
The end goal of using a mobile phone rather than traditional payment methods is speed and convenience. These days, almost everyone has their phone at any given moment; using phones to make payments has the potential to streamline the process for both the user and the cashier. With cashierless stores like Amazon Go beginning to pop up, a phone becomes the next universal constant.
How can a business use m-commerce?
According to a survey, both tablet users and smartphone users shopping online value the money-saving offers most, with interactive images and slideshows and ability to purchase via app being a close second and third.
On mobile devices, customers can quickly compare prices, search for products, place orders and leave reviews. For instance, 76 percent of large fashion retailers' website visits are from mobile devices. Meanwhile, 64 percent of large fashion retailers' orders and 53 percent of small fashion retailers' orders are made on mobile. Those are huge numbers, so the mobile channel cannot be ignored.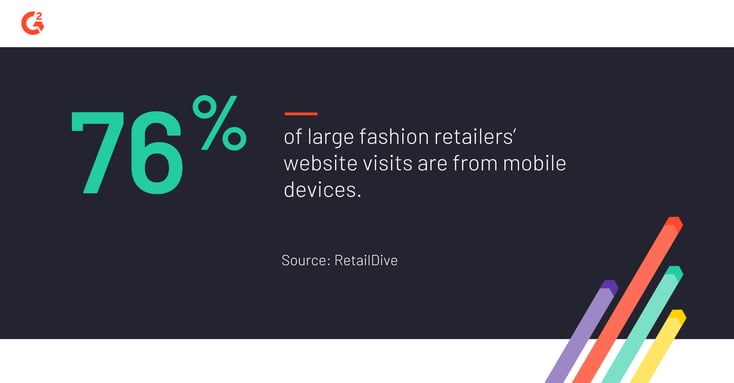 M-commerce is a great way to reach more customers and boost online sales. By integrating with social media and building an app for your business, you can capture more attention and make it faster and easier for customers to make purchases no matter where they are.
Tip: Check out this piece on 5 things marketplace sellers need to know about sales tax
M-commerce tools to get you started
Here are some software solutions to consider if you are looking to implement m-commerce within your business (and you should be at least considering it):
Mobile E-Commerce
Mobile e-commerce software is an obvious place to start. These tools are developed specifically for the mobile market and will help your business build an e-commerce store optimized for mobile users.
Mobile Data Security
Keeping customer data safe should be a priority for any business, and mobile users are no exception. Mobile data security software helps ensure your users are protected while they shop on mobile devices. While you can never make guarantees for unsecured Wi-Fi networks, you can ensure that your applications are not vulnerable to attack.
Payment Gateways
Payment gateway software makes it possible for customers to make secure payments online using a credit card. If you run any kind of e-commerce store, you will need a payment gateway. While some can easily be integrated with a store, others must be built in from day one.
Mobile Advertising
Mobile advertising software makes it easy for businesses to advertise directly to their mobile audience. Businesses can create mobile banners, in-app ads and videos that they can then send directly to mobile ad networks and creators. These tools ensure that the ads look great for mobile audiences. They also help find appropriate venues for the ads.
Mobile Marketing
Similarly to mobile advertising software, mobile marketing software helps businesses coordinate their marketing efforts on mobile devices. These tools help create push notifications, in-app ads, marketing campaigns, and mass SMS or email. Mobile usage is different from most internet usage, so software that accounts for these unique challenges is important.
Mobile App Analytics
Once you build an app, you want to make sure that it's being used, and used by the right people. Mobile app analytics software measures users' behavior while within the app to find out who is using it and when. It can also measure how often users are opening the app and for how long. All this data can help improve app services, therefore improving the success of your m-commerce channel.
---
Next steps for those considering implementing m-commerce
M-commerce is growing and changing rapidly, so becoming involved will require flexibility and a mind toward quick scaling. These are exciting times in the e-commerce world, and there's no better time to get in on the ground floor. If you use e-commerce in any form, you need to consider the potential benefits of implementing m-commerce.
For more information on e-commerce trends, check out AR: The Future of E-Commerce.