Have you ever seen a logo designer's sketchbook?
Talk about chaotic; ideating, revising, creating versions upon versions of the exact same concept.
What could possibly be so difficult about coming up with a little symbol to represent a company?
A lot, it turns out.
Logo design isn't something to engage in half-heartedly. It's one of the many types of graphic design that demands some serious analytical and critical thinking, creativity, and planning.
Wondering how to go about it? We're not going to keep it a secret any longer.
Steps of the logo design process
Minimal logos look like they take almost no effort to create. Look at ours!
But behind the simplicity is an immense amount of research and a plethora of designs and revisions. It takes time to make a successful logo that will make your clients happy. To guide you through this (sometimes) chaotic process, we've broken it down into a few steps.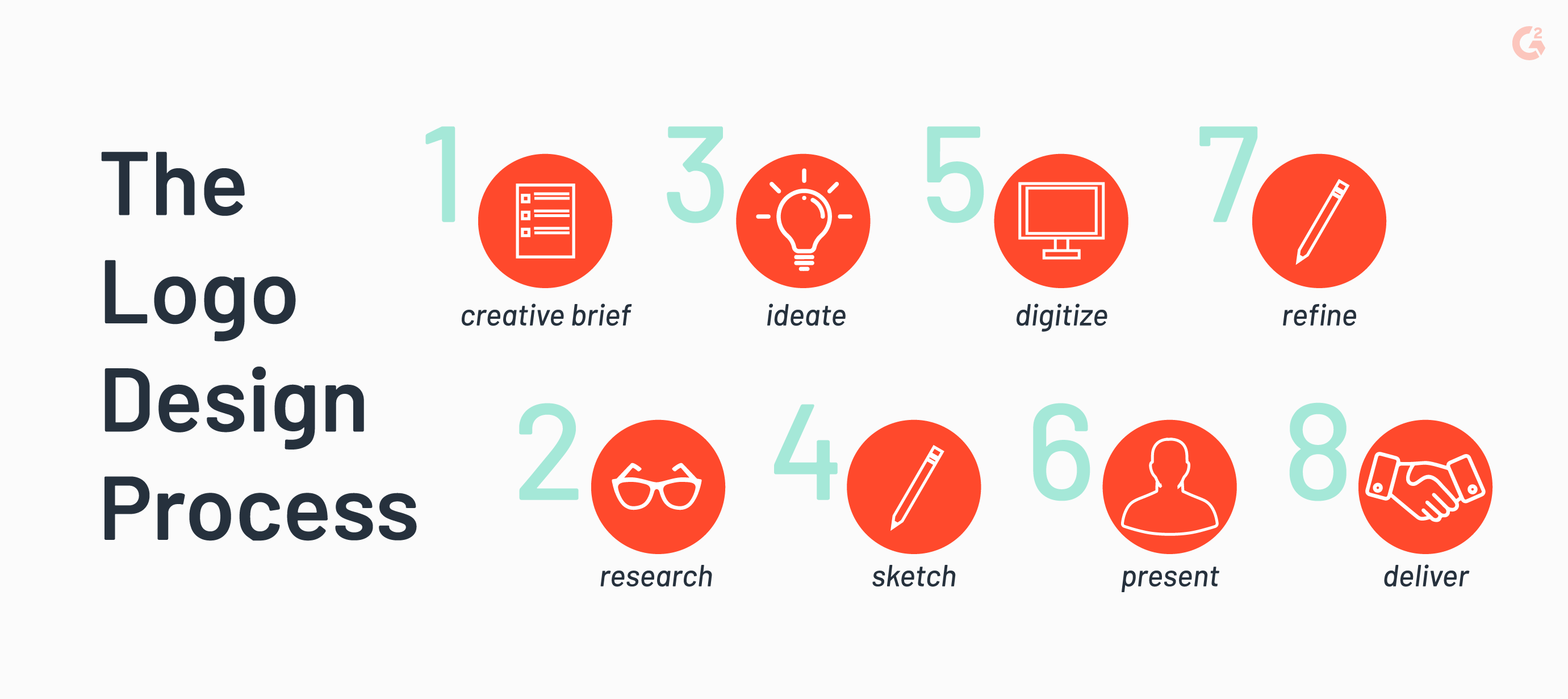 Let's get started.
1. Creative brief
The first step you should be taking when someone asks for a logo is introducing them to a creative brief specific to logo design.
A logo design brief is a document that will ultimately provide the designer with important information about the client's company, desired logo style, and budget.
The details the client gives to the designer about their company are imperative to the logo design. Prompt your client with questions about their company's values, motto, mission, goals, product, and audience.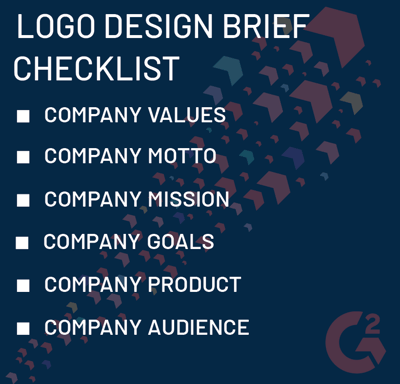 If a piece of paper doesn't do enough for you, ask if your client can make time for a conversation. Over the phone, video chat, or in person, a conversation can actually be more beneficial than a brief because you'll be able to ask follow-up questions in real time. The more answers you receive, the better.
Your goal is to design a logo that appeals to the right audience and emulates the company that hired you.
2. Understand the industry
Hopefully, you've gotten an enormous amount of information from your client. Don't put your feet up just yet - we've got more work to do!
Your client may think they know their competitors, but it never hurts to do a little double checking.
What benefits does your client's industry promise its audience?
Car dealerships and manufacturers promise safety. The healthcare industry promotes trust. The entertainment industry alludes to excitement.
Logos will often align with the feelings/benefits that an industry promises. A logo for a bar isn't going to have the same feeling as a logo for a healthcare facility.
Hopefully.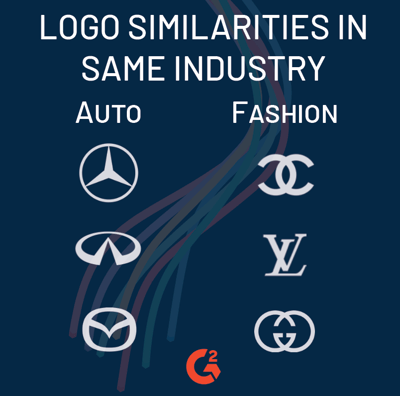 Compare logos from within the same industry as your client's. Pick out the elements they have in common. Do a lot of construction companies use tools in their logo? Do a lot of financial corporations use blue? As these realizations occur, you'll have a decision to make: travel with the pack or stray away?
Being consistent with an industry trend can make it difficult to make your design stand out, but straying too far from the trends in elements may confuse the audience or even lose them altogether.
For example, the finance industry is pretty mellow and traditional. Stepping away from this trend by using bright colors or dynamic shapes in your logo design will definitely help your client stand out, but will also make your client look less professional and and more ridiculous.
3. Ideation
We have a ton of information now. Let's do something with it.
The first way you can begin to organize this information is with a moodboard.
Translating a color or emotion into words isn't easy. Moodboards are a compilation of images that depict those colors and emotions that the client wants to include so they don't have to figure out how to phrase it.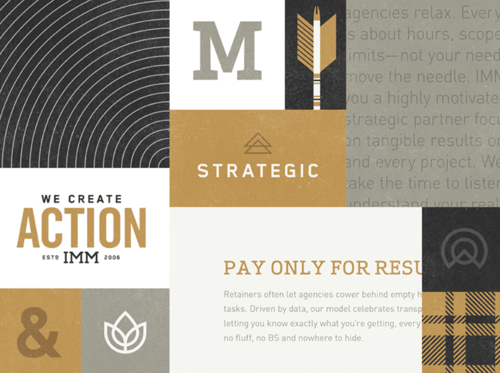 Source: Creative Market

It doesn't have to be that pretty, but asking your client to provide you with a mood board can help set the tone for what your design should focus on, and eliminate any ideas you may have that the client dislikes.
If your client has no visual ideas, see if you can work together and begin mind mapping with the information at hand. Mind maps are visual charts that help the creator connect ideas.
While creating a mind map may seem like a lot of work, it's important that you and your client make time to execute this together. The client is the key to fully understanding the company, its values, and how everything connects. Your job as the designer is to use those connections and create a visualization of them.
When making a mind map, connect similar concepts and ideas and try to pull images, symbols, or colors from key words. From there, you can create a moodboard.
For example, if your client works in a restaurant that serves organic food, your mind map would start with the center being the name of the restaurant. From there, you and your client can branch off into ideas that the restaurant values: health, trust, freshness. This can be taken a step further by branching off of health and begin thinking about different ideas that symbolize health, such as a heart, leaves, and so on.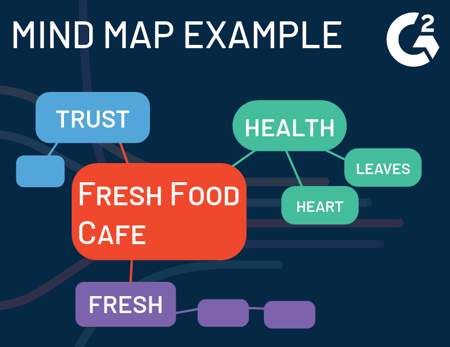 4. Sketch it out
You're not going to get this right on the first try. Nobody does.
Grab that mind map, moodboard, and all of your notes. Then, get a pencil and paper, pen and napkin, or finger and the shower door. Whatever works for you.
Typically, sketching by hand is the best way to get ideas to flow faster, rather than spending too much time messing around with lines and anchor points.
Sketching is the stage when all of your research and abstract concepts evolve into real images. It's very exciting!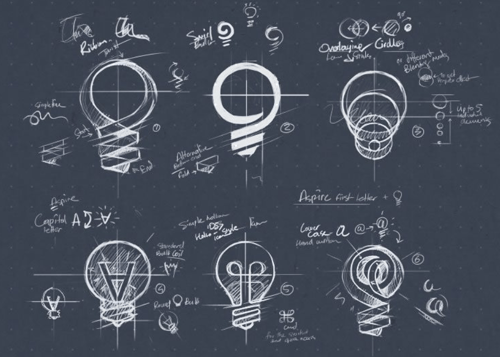 Source: Eddie Lobanovskiy
Don't sit down for an hour, sketch out four ideas, and think you're done. Take a few breaks and come back to it. Time away can help your brain come up with something completely fresh. Now is a great time to take advantage of that shower door.
Sketch out one concept, then another, then combine them. Then put those all away and start from scratch. Once you feel like you've completely exhausted all of your options, pick out a few of your favorites.
5. Drafting
Once you've picked out the best designs from the bunch, transfer those right on over into a vector graphics software. Vector graphics software lets the designer manipulate images with more control than drawing software because it provides the designer with geometric shapes and points to reference to. The preciseness of vector graphics software ensures that all of a logo designer's dots are connected.
Keep your initial drafts black, white, and simple. Doing this shows the client the extremes of their logo: the lightest possible shade and the darkest. It also can help keep the client focused on the concept of the logo rather than the little details and colors.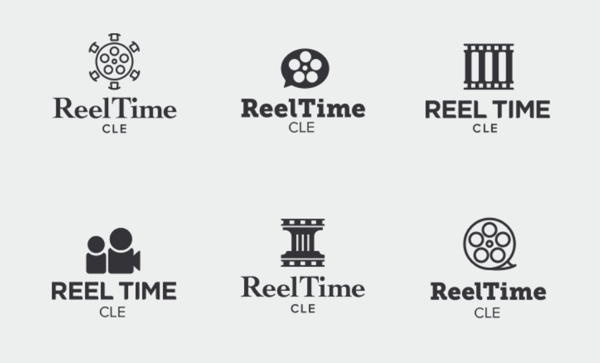 Source: Reeltime Logo Drafts
However, your client may have had a more specific idea that they wanted you to explore. Maybe part of your ideation process involves a color palette. If that's the case, add those to the variations of your design.
Sometimes, the color the client wants isn't necessarily the best choice. You probably know your hex codes better than they do. Play around with a few different variations of colors and see if one shade emits a feeling or mood more than another.
If you think pickle green looks better than olive green, mock up a design using each. Your client may not have ever thought to use pickle. Nobody ever does.
Drafting is also when you're going to begin exploring the logotype. More often than not, the name of the company is somewhere within the logo. Sometimes, it is the logo. You could take the easy way out and use Arial. Or you could use your extensive knowledge of typography and put it to the test.
Try a few different fonts. Use all uppercase, lowercase, bolded, italicized, script, serif, manipulate the kerning and play with the hierarchy until you get a few solid results that work well with your imagery.
6. Refine and display
Once you've collected a few appealing combinations, it's time to put them into a secure document. If you plan on meeting with your client in person, be sure to bring a print-out of all of the samples. If your client is remote, send a document format that can be printed.
Clients should be encouraged to print the samples out, as the colors of the logo may appear differently on a screen than they do on paper.
Additionally, you should consider providing mockups with the logo. Where does the client want to use this in reality? Are they only going to include it on their business card design? Do they need to blow it up for their ad design? If your client sells a product, they may need to revise their packaging design to include the new logo.
The logo for this company won't necessarily appear the same on all marketing materials. Some elements may be left behind, depending on the degree of simplicity necessary for each material.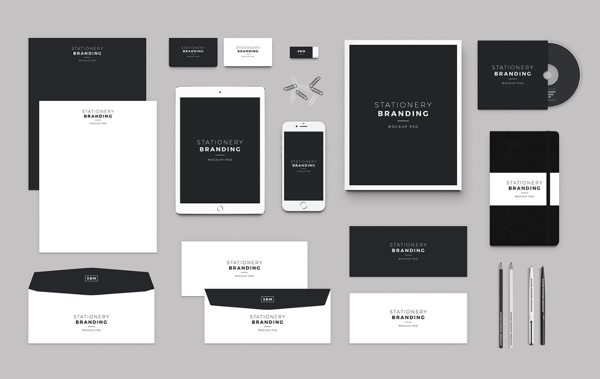 Source: Tony Thomas
Mockups aren't easy to create and they're not required - you make the rules. But if you choose to put a little extra work in, they'll probably blow your client's mind.
7. Feedback and adjustments
After going over your drafts with your client, they may immediately have some objections. They may also ask to ruminate for a couple of days. Don't be afraid if the latter is the case. Your client could be testing the design out, showing it to colleagues and asking for opinions.
When they get back to you, don't expect them to be 100% happy.
They may not like pickle green. They may not like green at all. They may want something bigger, smaller, moved from left to right, a font changed from serif to sans serif, and so on, forever and ever.
This stage could involve a lot of emails and phone calls, but it's important to remember that the ultimate goal is to make your client happy.
If you can't afford to give your client revisions forever and ever, consider making that a point in your graphic design contract. Naming a specific number of revisions in your contract should encourage the client to be more considerate and specific regarding the revisions they request.
8. Deliver
In your graphic design contract, you should specify exactly what the client can expect to have delivered to them. Exactly.
File format is one of the specifications to include. When you deliver the final result, will the client be allowed to make changes? Will they be able to print it?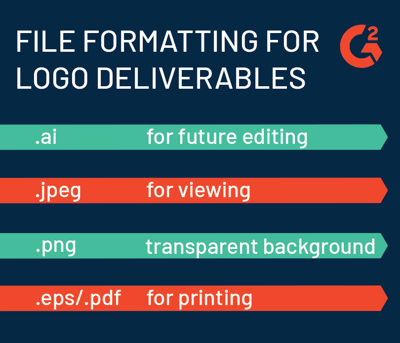 Provide the client with the HTML color codes you ended up using so they can design their website or other web pages in sync with their new logo.
You should also specify how these materials will be delivered: CD, email, USB, a combination of all three, or a completely different method of delivery.
Every promise you make in your contract (especially deliverables) should be kept.
Order has been found
If you're a serious graphic designer, you know that designing a logo is more than just drawing a circle and publishing it everywhere. It takes careful thought, consideration, research, creativity, and patience.
All of that hard work is worth it, though. The end result is one that represents a company for a lifetime.
Sometimes, one logo design isn't enough. Read more about the types of logos that exist and when each one works best for your client.