There's been plenty of noise around voice search over the last couple of years, but for businesses the real opportunities have been slow to progress.
Amazon's Alexa, Google Home, and other voice-controlled devices are becoming commonplace in homes, workplaces, and pockets.
Let's face it, chatter about voice search is everywhere. However, this largely ignores the benefits businesses could reap if they listen up. It's high time businesses realize the potential that these sources of searches could have on their bottom line.
In our recent Voice Search for Local Business Study, we were surprised to see how many people are using voice search to find information on businesses. 58% of consumers used voice search to find information on a local business in the last 12 months. Just 18% of respondents said they wouldn't use voice search for local business information — meaning there's huge potential here for businesses in the know.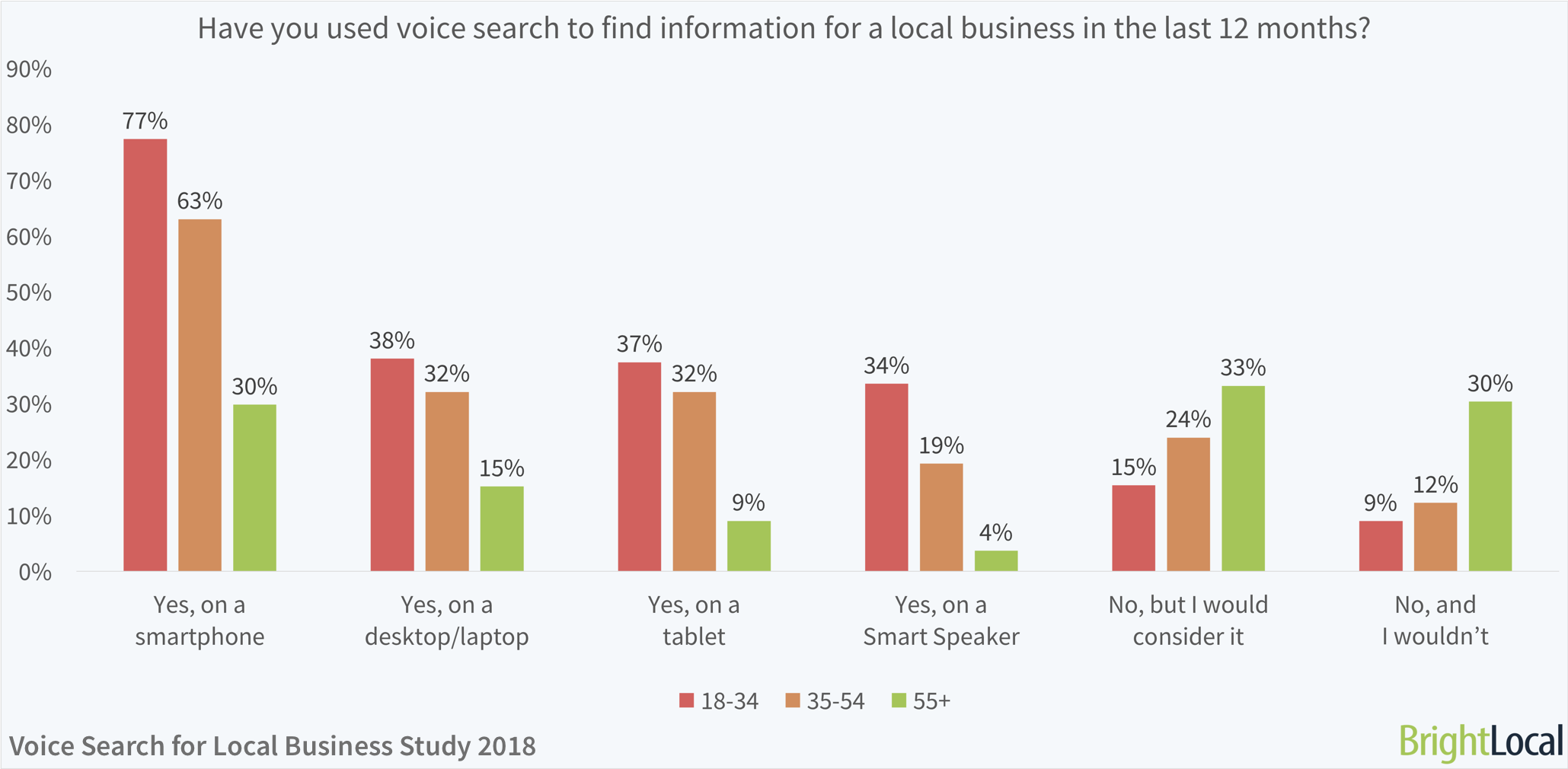 And it's not just a millennial movement. As you can see above, consumers across the age brackets are keeping an open mind about finding businesses using their voices (91% of 18-to-34s, 88% of 35-to-54s, and 70% of over 55s would use voice search to find a local business). While the uptake on smart speakers is comparatively low, this will only grow over the coming years in line with current predictions.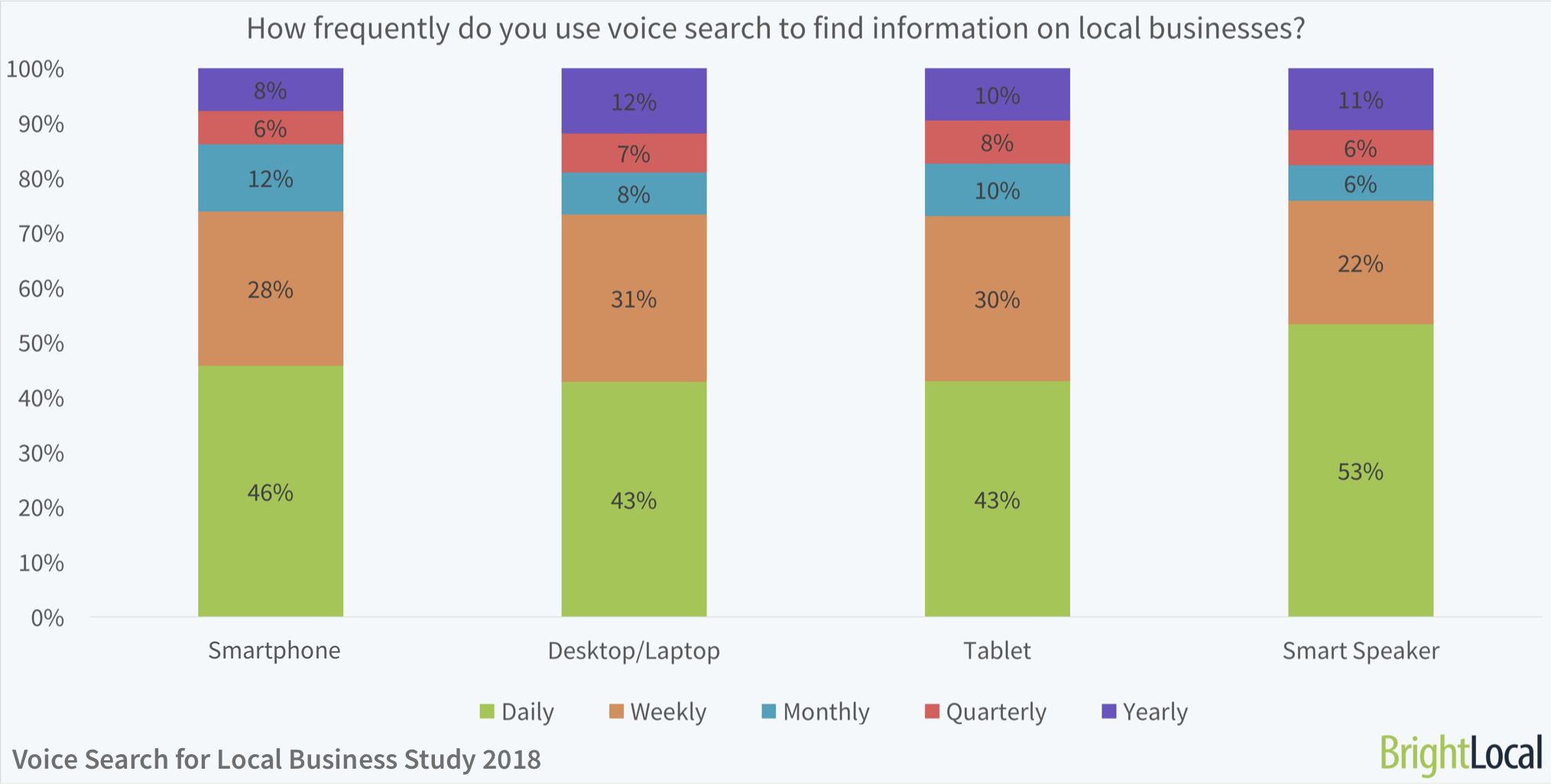 Talking of smart speakers, when people do use these, boy, do they use them. 53% of smart speaker users make local business searches daily, with a further 22% looking at least once a week. While there is potential for a cooling off period with smart speaker usage, if they continue to be popular, these could become an everyday source of searches for a significant proportion of consumers.
Speaking The Truth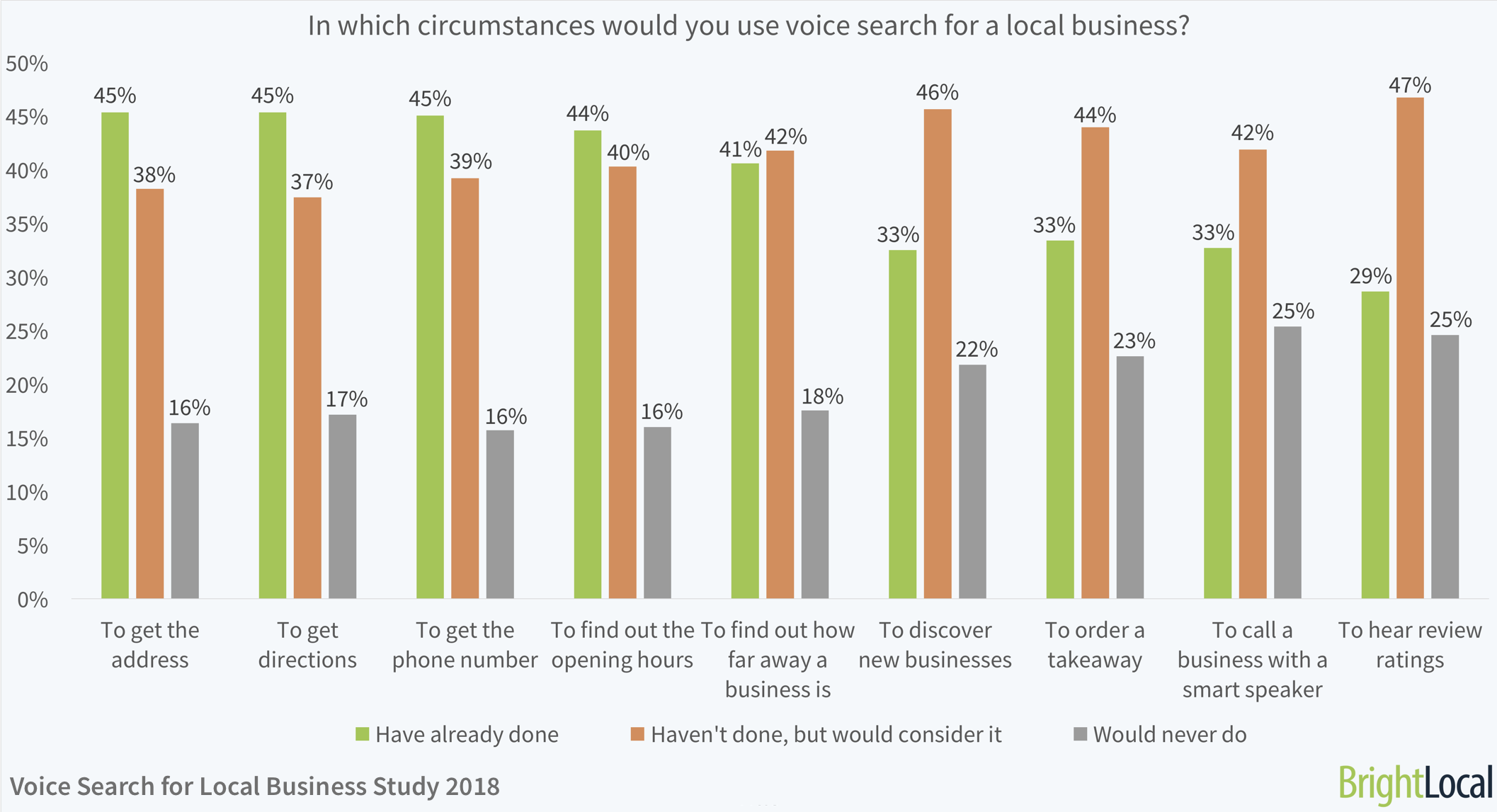 But of course, there are a multitude of reasons people want to find businesses using their voice. The most common circumstances that people have used voice search for a local business are:
To get the address (45% have done)

To get directions (45%)

To get the phone number (45%)

To find out the opening hours (44%)

To find out how far away a business is (41%)
These all have something in common: They're all calls for information. While some voice searchers are opting to do more discovery-based searches, for now at least, most want facts, not opinions.
However, this isn't to say this is a dead-end for businesses. While just 29% of consumers have used a voice-enabled device to hear customer review ratings, another 47% would be willing to do this in the future. Reviews hold significant influence in shoppers' decision-making processes, so it's no wonder so many people would consider asking for these.
Likewise, 33% have used voice search to discover a new business, with 46% saying they'd consider it. We'd expect this proportion to grow in the future, as voice search becomes more normalized, and users feel more able to trust the recommendations of machines.
Getting Your Voice Heard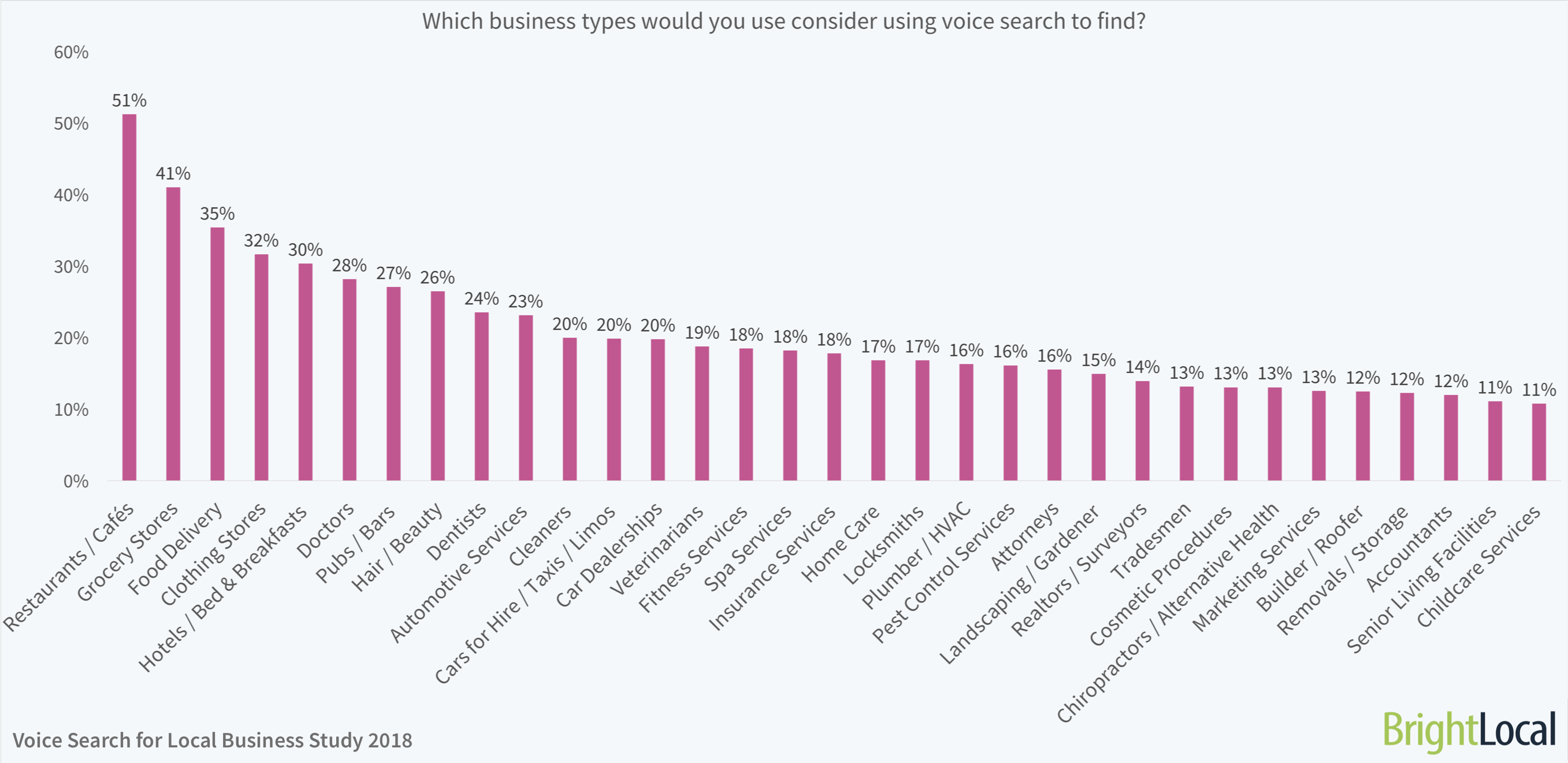 We were surprised to find the breadth of industries that could benefit from voice search. Of course, the types of businesses that consumers use most regularly are the ones that see the highest number of voice searches. Restaurants, grocery stores, and food delivery services are most in-demand from shoppers — but every industry could see potential benefits from optimizing their websites for search.
So how can businesses make the best of the voice search revolution? Of course, capabilities differ between the main players, but there are plenty of similarities.
Unlike normal search engine results pages, voice search users are fed a definite list (normally three) of local results. These are often based on the results that Google likes best (other search engines are available), and don't really differ depending on if you're searching with a device or a voice assistant.
Of course, the method for voice search results could change at any point, but for now, if you rank in the top three online you're far more likely to appear on voice searches.
Businesses that show up in local results, and thus, voice search results, have:
Proximity to the searcher

Regular positive reviews

Frequent links through to their website and content

Conversation on social media

Local and industry-specific directory listings
The other key way to maximize the chance of appearing in voice search results is through the use of schema markup. Schema is a way to tell search engines what's happening on your page — including phone numbers, review ratings, Q&A capabilities, and much more. If search engines can easily find your information, the easier it is for them to repeat these back to searchers.
However, it's not a universal experience across all voice-enabled devices. For example, those using Google Home are often fed results based on the answer boxes you see in search results. These can be difficult to achieve — and tend to be for fact-based results rather than local business recommendations.
Voice search is ever evolving, and requires action and attention to keep up with changing digital trends. This new technology is nothing to be feared — with new features being added every day that could help bring businesses and consumers together. So if businesses really want to make an impact with voice search, now's the time to speak up.