One of the things I love about LinkedIn is that it shows me who has viewed my profile.
However, one of the things I hate about LinkedIn is that I can't browse someone's profile without them knowing. At least, that's what I thought. I had no idea that you could activate LinkedIn Private Mode, making it easy to creep at my heart's desire, and no one will know it's me (unless I want them to).
It's easy to change your settings to Private Mode, so whether you're checking out a LinkedIn business page or the profile of a past coworker, you can choose if you'd like them to know of your visit or not.
How to activate Private Mode on LinkedIn
Click Settings & Privacy under the Me icon
Scroll to How others see your LinkedIn Activity and click Change next to Profile Viewing Options
Choose Private Mode
LinkedIn Private Mode
Out of all the social media platforms, I feel most productive when I'm on LinkedIn.
Whether I'm learning how to endorse someone on LinkedIn or finding out how to post an article on LinkedIn to share my thoughts and expertise, there's a lot more to do than just apply for open jobs. With the debut of Private Mode, users like myself can also check out the profile of a connection without them knowing.
This feature is great for recruiters and other business professionals who are interesting in browsing profiles to find potential candidates, new clients, sales leads, and business partners.
Steps to set up LinkedIn Private Mode
Setting up Private Mode can be done in just a few clicks. If you'd like to learn how, just keep reading.
Click Settings & Privacy
To activate LinkedIn Private Mode, click your profile picture icon at the top and navigate to Settings & Privacy.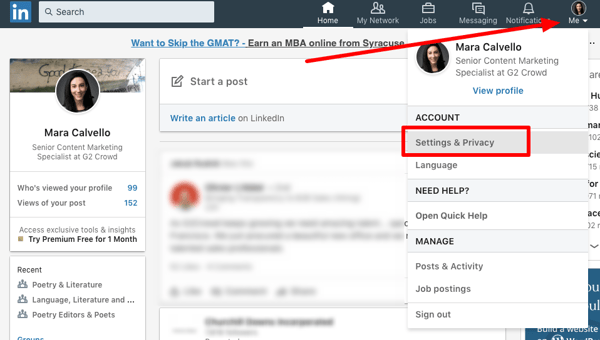 How others see your LinkedIn activity
Scroll to about the middle of the page and find the heading How others see your LinkedIn activity. Then, click Change next to the first header, which is Profile viewing options.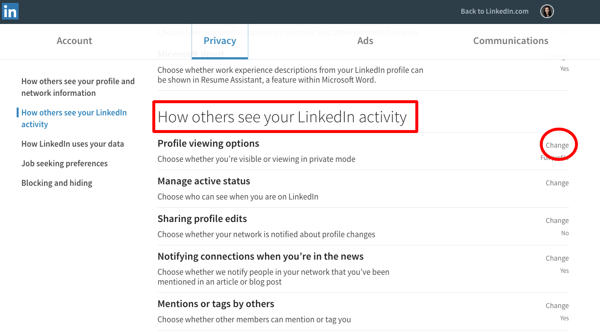 Select your browsing mode
From this drop-down you'll see the options you have for your browsing mode.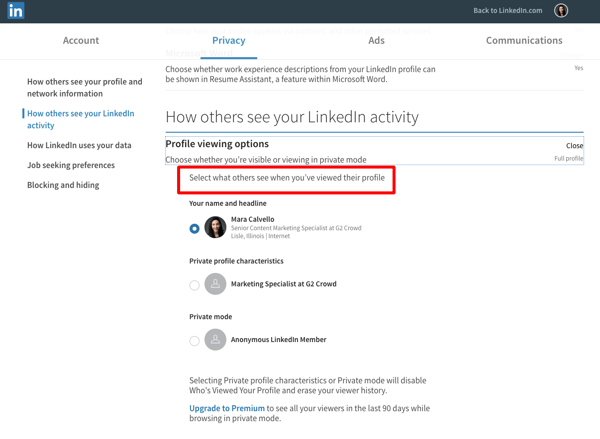 When you choose private mode, you'll appear as "Anonymous LinkedIn Member". With this option, no other information will be shared with the LinkedIn user whose profile you're viewing.
There's also the option to select private profile characteristics. If you do, your job title, company, school, and industry will be shown. In my case, it would show "Marketing Specialist at G2 Crowd" when I view someone's profile.
It's like you were never even there
The next time you want to check out someone's profile without them knowing, take these simple steps to turn on LinkedIn Private Mode. Whether you're doing it for professional reasons or just seeing what someone is up to, it's bound to come in handy.
Related: Tell us what you think about LinkedIn Premium and if you think it's worth it.
Interested in learning more about what you can do on LinkedIn? Check out our articles on: