LinkedIn is known for being one of the best places to connect with business professionals.
Whether you're fostering a business to business relationship, finding new clients, or connecting with job posters, the website offers a variety of ways to find who and what you're looking for. Everyone is on LinkedIn for a common goal: to connect and build their network. With the option to opt-into LinkedIn Premium, many users will at some point ask themselves if the feature is worth it. But first, what is LinkedIn Premium?
What is LinkedIn Premium?
LinkedIn Premium is advertised as a tool for job seekers, sales and talent professionals, as well as the general professional who wants to get more out of LinkedIn. There are four premium packages, each with a different goal (Premium Career, Sales Navigator, Recruiter Lite, and Premium Business).
Each premium subscription speaks to a specific user. Continue reading as we explore the four premium options LinkedIn offers.
Premium Career
Premium Business
Sales Navigator
Recruiter Lite
How much does LinkedIn Premium cost?
Is LinkedIn Premium worth it?
Which LinkedIn Premium subscription is best for you?
So, you're thinking about opting into a premium subscription, huh? Before pulling the trigger, let's walk through the different options you have to choose from.
TIP: See what real LinkedIn Premium subscribers are saying.
Types of premium subscriptions
You can break the four Premium subscriptions into two categories. Career and Business are for the average business professional, while Sales Navigator and Recruiter Lite are for sales and recruiting professionals.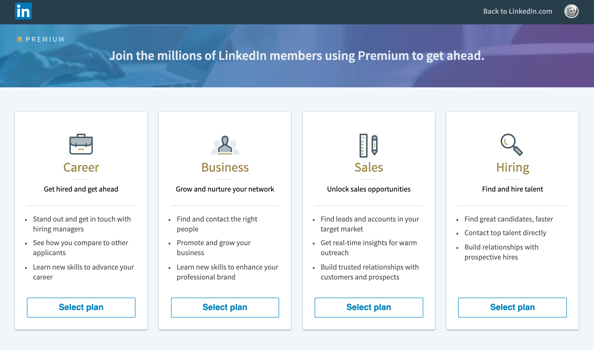 Premium Career
Being the most useful for job-seekers on LinkedIn, Premium Career is a great option for those wanting to stand out to hiring managers and compare their skills to other job applicants.

Perks
Upon confirming your Premium Career subscription, click the "Me" drop-down menu at the top right of the page. This is where you have access to your Premium subscription. Click on "Access My Premium".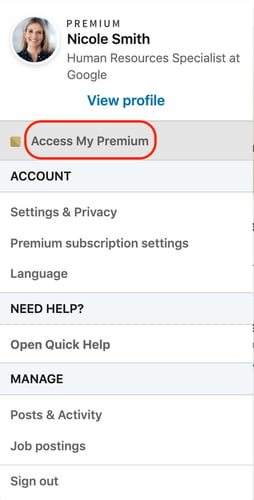 Once clicked, you'll be directed to your Premium page. On the right sidebar, you'll see the remaining InMail credits you have (which you can buy more of), the features available to you, and your billing information.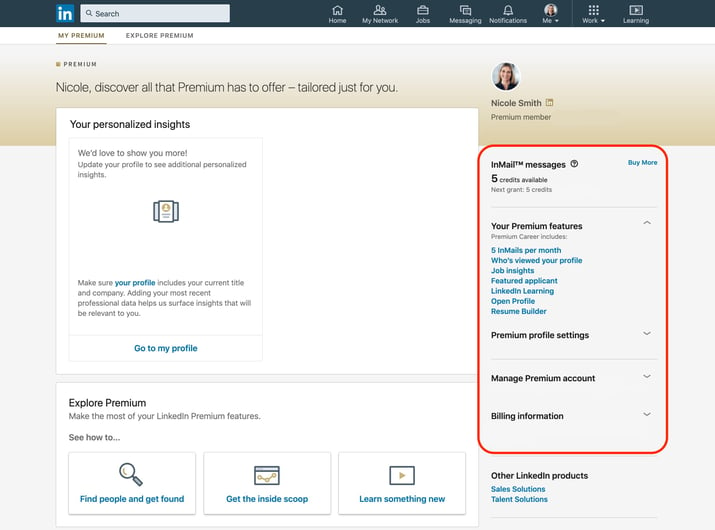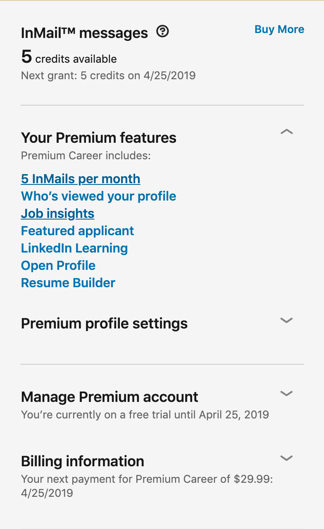 If you click on the blue links under "Your Premium features," LinkedIn lays out how to use each feature with a short, concise blurb about each one. LinkedIn does a great job of providing all the information you need to use these features effectively. Take the InMail blurb for example. You're told how you can use the messages and are even linked to a YouTube video explaining it in more detail.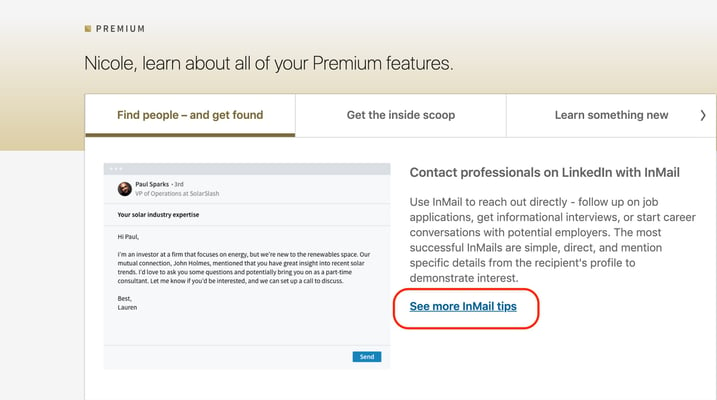 Resume Builder
Premium Career also comes with a Resume Builder. By clicking on this link under "Your Premium features," you'll be able to build your own custom resume right on LinkedIn. Be sure to add all of your personal and professional information before downloading it as a PDF.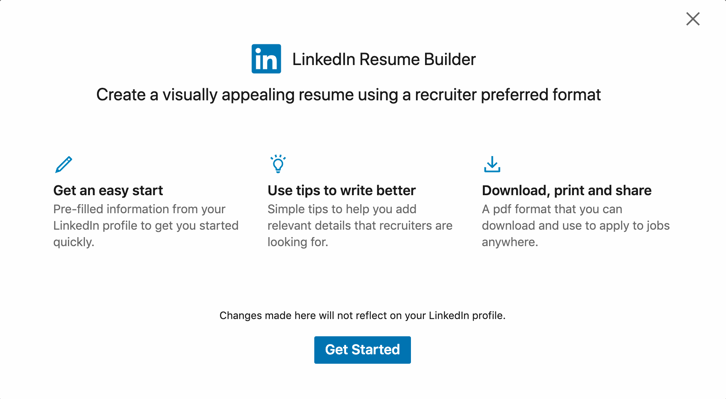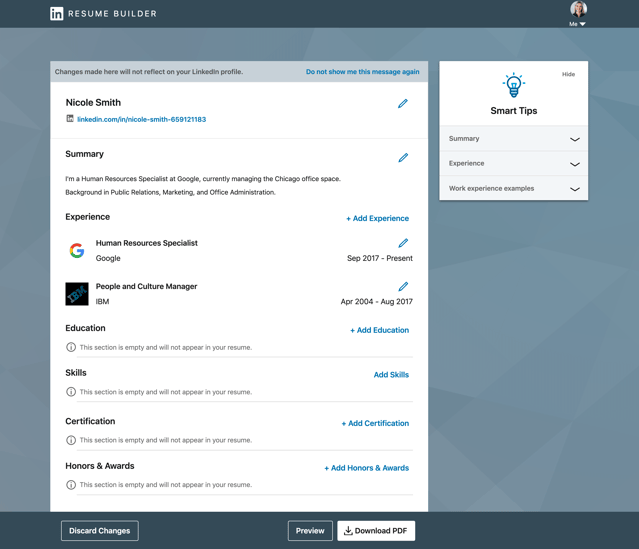 Who's viewing your profile?
If you want to see who's been looking at your profile, Premium Career has the scoop. On the LinkedIn Premium page, you can view your personalized insights and see who's been looking you up.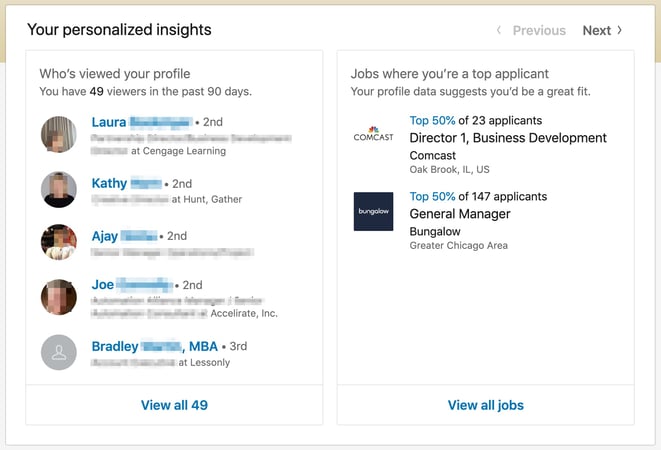 If you click on "View all 49," under "Your personalized insights," LinkedIn generates a data graphic that shows the number of viewers that have visited your profile page. This may not seem like important data, but if you're trying to grow your network and create business relationships, these metrics can help you track your progress.
Top applicant information
If you're searching for a job, you're also able to see positions where you're a top applicant. While clicking on potential positions, you'll be provided with extra information about salary and how you rank against other candidates. Whenever you decide to start hunting for your next position, Premium Career gives you details that you wouldn't know otherwise.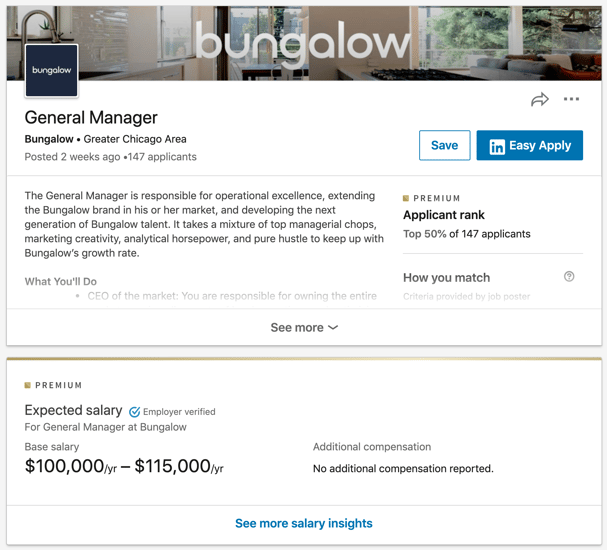 Profile settings
Under "Premium profile settings," you're able to choose if you'd like your profile to be open as well as if you want to display the LinkedIn Premium badge on your profile. We suggest keeping both of these options turned on.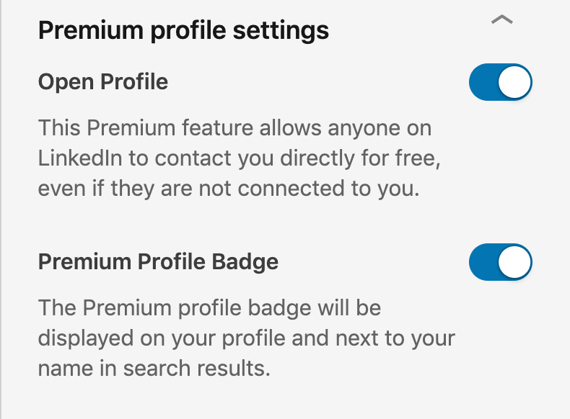 If your profile is open, you'll be able to be reached by anyone on LinkedIn, whether you're connected or not. It's a good setting to keep on if you're looking to grow your network.
Displaying the Premium profile badge is a no-brainer. You're paying for this subscription, so let people know. The golden badge shows that you take connecting and job hunting seriously.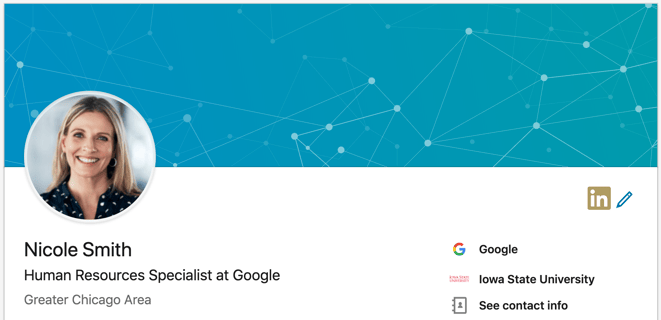 Premium Business
LinkedIn claims that Premium Business members get an average of 6X more profile visits.


There are only a couple of key differences between Career and Business. For starters, when you opt-into Premium Business, you'll get 15 InMail credits instead of the 5 Premium Career allows each month.

Browse more freely
You'll also be able to people browse without restriction. Premium Business allows unlimited people browsing "up to the 3rd degree" which means you'll be able to view any profile and it's information if it's within the 3rd degree of your connections.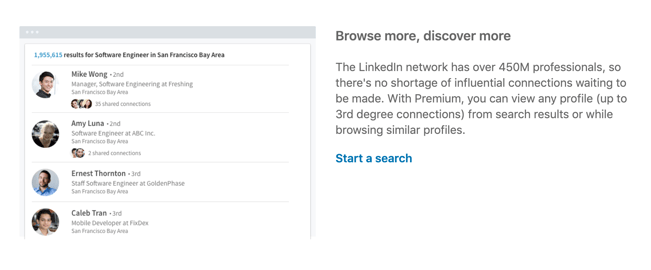 Access to business insights
With Premium Business, you get exclusive insights into over 350,000 companies on LinkedIn. You can keep track of your competitors and view trends within your industry.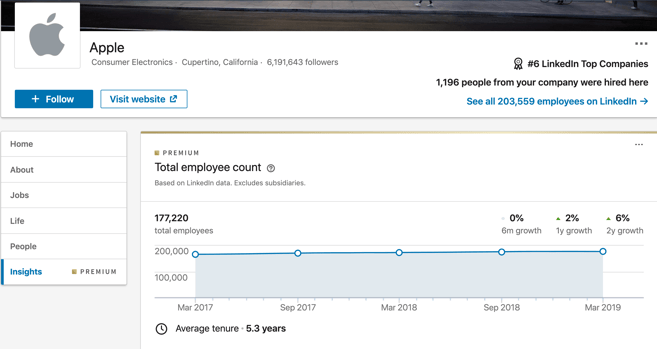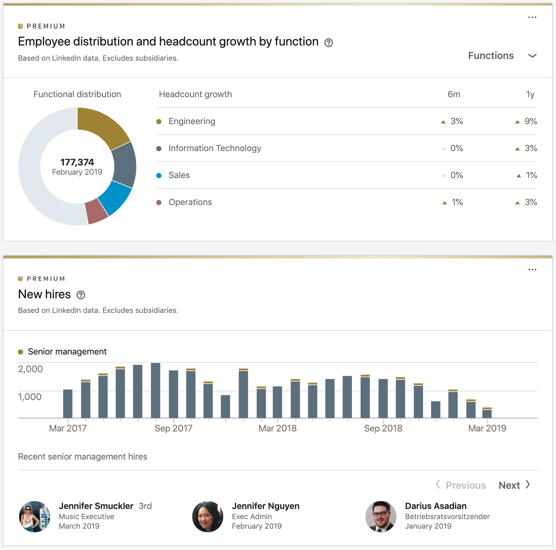 Sales Navigator
Sales Navigator is designed for sales professionals. With this subscription, LinkedIn will help you focus on the right people and companies, stay up-to-date on what's happening with your accounts, and build trust with your prospects and customers.


With Sales Navigator, you'll get 20 InMail messages per month, unlimited people browsing up to 3rd degree, insights on your accounts and leads (like job changes, company growth, and so on), and the ability to see who's viewing your profile. You'll also be able to create custom lead lists with advanced search filters and get lead recommendations and saved leads which can help you find the right people.
TIP: Save time and increase sales with LinkedIn recommended leads from companies actively researching you, your competitors, or your product on G2 using the G2 Buyer Intent + Sales Navigator integration.
Recruiter Lite
Recruiter Lite is specially designed to make recruiting easy. This subscription helps you to find the best talent, manage your potential hires in one place, and build meaningful relationships with them.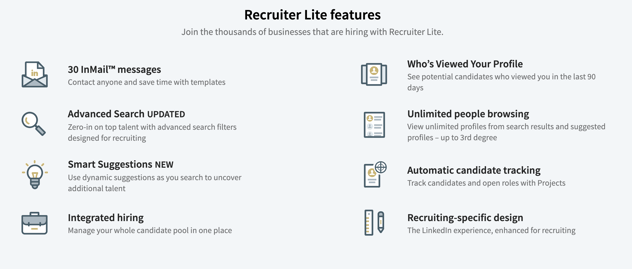 With Recruiter Lite, you'll get a whopping 30 InMail messages per month, unlimited people browsing up to 3rd degree, advanced search filters designed for recruiting, and a look at the candidates who've viewed you in the last 90 days. You'll also be able to manage your entire candidate pool in one place, track candidates, and use Smart Suggestions; a tool to help you uncover extra talent.
How much does LinkedIn Premium cost?
Each subscription tier has a different price tag. The costs are as follows:
Premium Career: $29.99 / month
Premium Business: $47.99 / month
Sales Navigator: $64.99 / month
Recruiter Lite: $99.95 / month
Is LinkedIn Premium worth it?
So, is the subscription really worth it? Depending on how heavily you use LinkedIn, it'll differ for each person. For users looking to grow their network or find their next career move, LinkedIn Premium Career or Business are worthwhile investments. If users are on LinkedIn to generate leads or search for new hires, Sales Navigator or Recruiter Lite are the way to go.
The benefits of subscribing to a LinkedIn Premium plan are not always immediate. It may take time to really build out connections and develop meaningful business relationships. Using your InMail messages to reach out to peers, colleagues, or prospects can be a great way to see if subscribing to a Premium plan is worthwhile. At the end of the day, we're all on LinkedIn to connect.
Try it for yourself
Don't jump into things too quickly. Build out your LinkedIn profile fully before even considering going Premium. Test out a free trial and try out all the Premium features that come along with the subscription. Or, read what LinkedIn Premium subscribers think with verified user reviews.
After reading real user insights, you can make a more informed decision if LinkedIn Premium suits your needs.
On LinkedIn as a business owner? Taking advantage of LinkedIn ads can help you boost your engagement and overall brand image.